Spending more money than necessary on marketing campaigns is among the biggest pain points for marketers. That's why understanding all of your options for marketing to your audiences is a must, especially as the holidays approach. When it comes to low cost marketing solutions that deliver results, EDDM campaigns are right near the top of the list. But what you're probably unaware of is that you may be able to increase savings by mailing to Discount Zones instead. Follow along to understand why!
Defining EDDM Campaigns
Marketers can use EDDM campaigns to send mail to every residential address on a specific mailing route. They don't require permits or mailing lists – just an eye-catching design, along with a compelling message and maybe an offer recipients won't be able to refuse. These types of campaigns are ideal for businesses relying on local residents to increase profits. Let's say you're a local retailer hoping to increase foot traffic ahead of the holidays.
You could use an EDDM campaign to announce changing services or products, share store hours, pictures, along with a message reminding recipients to start shopping for loved ones before it's too late. Since EDDM postage rates are just $.20 per postcard, you could begin building the anticipation needed to surpass your revenue goals for the coming months. And with GrowMail's EDDM map tool, you can view demographic insights related to the mailing route you're considering mailing to, allowing you to reach areas most likely to engage with your message.
What Are Discount Zones?
Imagine if you were able to mail to any chosen geographic area for a total per-piece cost that is lower than the postage price alone on Saturation Mail or EDDM campaigns. The good news is that you can – and for as little as $0.19 per piece (plus tax) all inclusive! These areas are Discount Zones. Mailing to Discount Zones is a privilege that you can take advantage of exclusively with GrowMail. Due to GrowMail's AI capabilities, we can identify areas where our economies of scale can be leveraged to provide users with additional printing capabilities and postage savings. 
Don't underestimate how much you can save on your next campaign with Discount Zones. If you're curious about whether a location you're thinking about mailing qualifies as a Discount Zone, use our map tool to see if it's eligible. And with Discount Zones, you receive many of the same benefits as you would with an EDDM campaign. The low costs that Discount Zones offer have potential to breathe new life into your marketing strategy.
Key Differences Between EDDM Campaigns and Discount Zones
If you're unfamiliar with EDDM campaigns, they may initially seem exactly like Discount Zones. But there are several key differences between the two, and understanding them is key to not wasting your marketing dollars. Some of the most important differences between EDDM campaigns and Discount Zones include:
EDDM Campaigns Offer More Postcard Size Variety:
Mailing with EDDM allows users to send bigger postcards. The EDDM size options range from as low as a standard 6.25"x9" postcards up to oversized mailers that are 12"x15". When mailing to Discount Zones, your mailers need to be 8.375" x 5".
The fact that Discount Zone mailers have to be scheduled five weeks prior to your intended delivery date. When it comes to EDDM campaigns, you control the delivery date. And you can schedule your mailers to be sent any day of the week.
The smallest quantity you can send with Discount Zones is 10,000 pieces. You must send 10,000 mailers at the same time, too.
EDDM campaigns require you to send at least 500 mailers per delivery. Larger quantities can be split into three drops, lowering price per piece, as long as the same design is used.
Even though you can mail each residential address on a mailing route with EDDM campaigns, you'll likely be able to reach more households by sending to Discount Zones. That's because lots of mailing routes may be limited to just a few hundred addresses. Discount Zones, on the other hand, often contain thousands of addresses per route.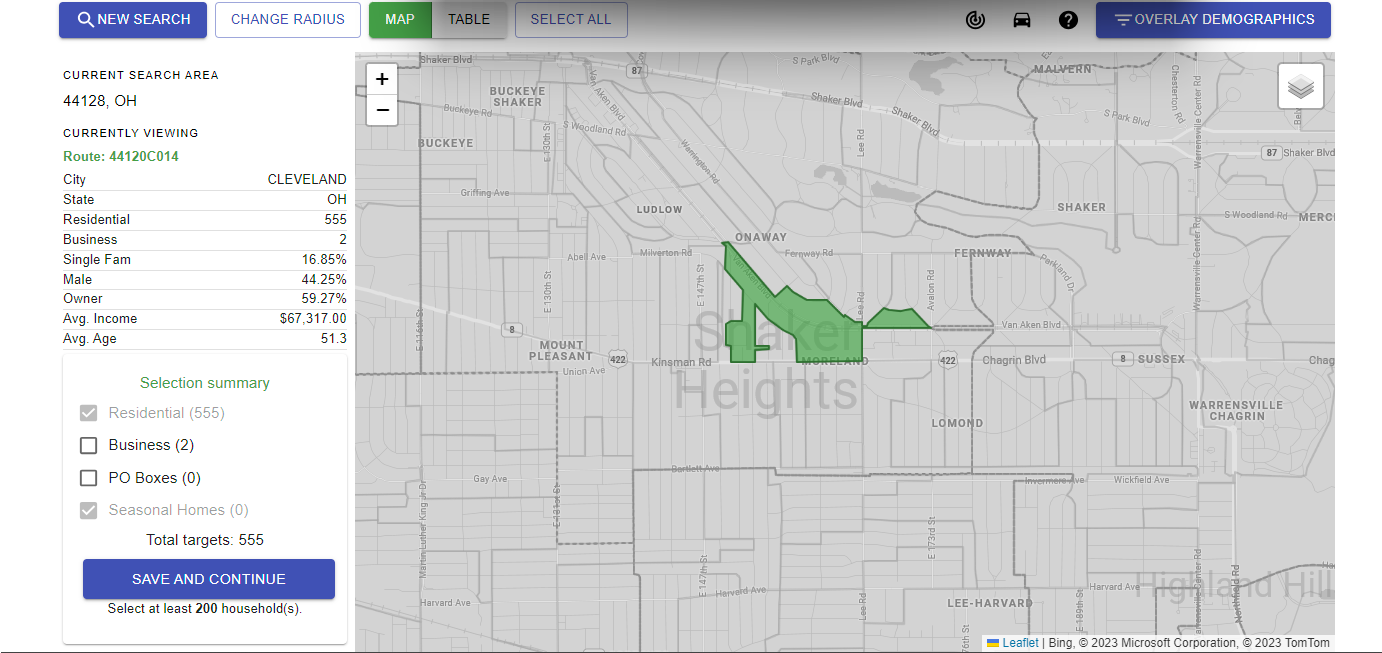 Tips for Deciding Between EDDM Campaigns and Mailing With Discount Zones
Choosing the right solution for your next campaign is always easier said than done. It goes without saying that there are numerous variables that should be considered when deciding between EDDM campaigns and Discount Zones. Here are a few things to keep in mind prior to making your decision:
For marketers on a tight budget, every penny matters. And the ability to send more mail at a lower price could be exactly what it takes to get the results you need. If your goal is to keep costs low, while reaching as many homes as possible, Discount Zones may be the ideal solution for you. Since you can mail an entire Discount Zone for as little as $0.19 per piece, this could be the ideal way to introduce yourself to a community.
If you have an urgent announcement about a changing hours, or you have a sale ending soon, timing is everything. If you need to communicate your message immediately, the best option is to execute an EDDM campaign. But if you are announcing the arrival of a new product, or you're preparing a special event at your location, Discount Zones allow you to plan your campaign around the arrival of the new product or event. This allows you to take advantage of the broader audience, and bigger savings Discount Zones provide.
Keep Campaign Goals in Mind:
The desired outcome of your campaign will ultimately serve as the deciding factor when choosing between EDDM and Discount Zones. If your goal, for instance, is to announce a grand opening, or another type of celebration you can cast a wider net for less money with Discount Zone campaigns. But if your goal is building brand awareness in hopes of getting the repeat business of customers within a certain geographic area, an EDDM campaign will likely provide the most value.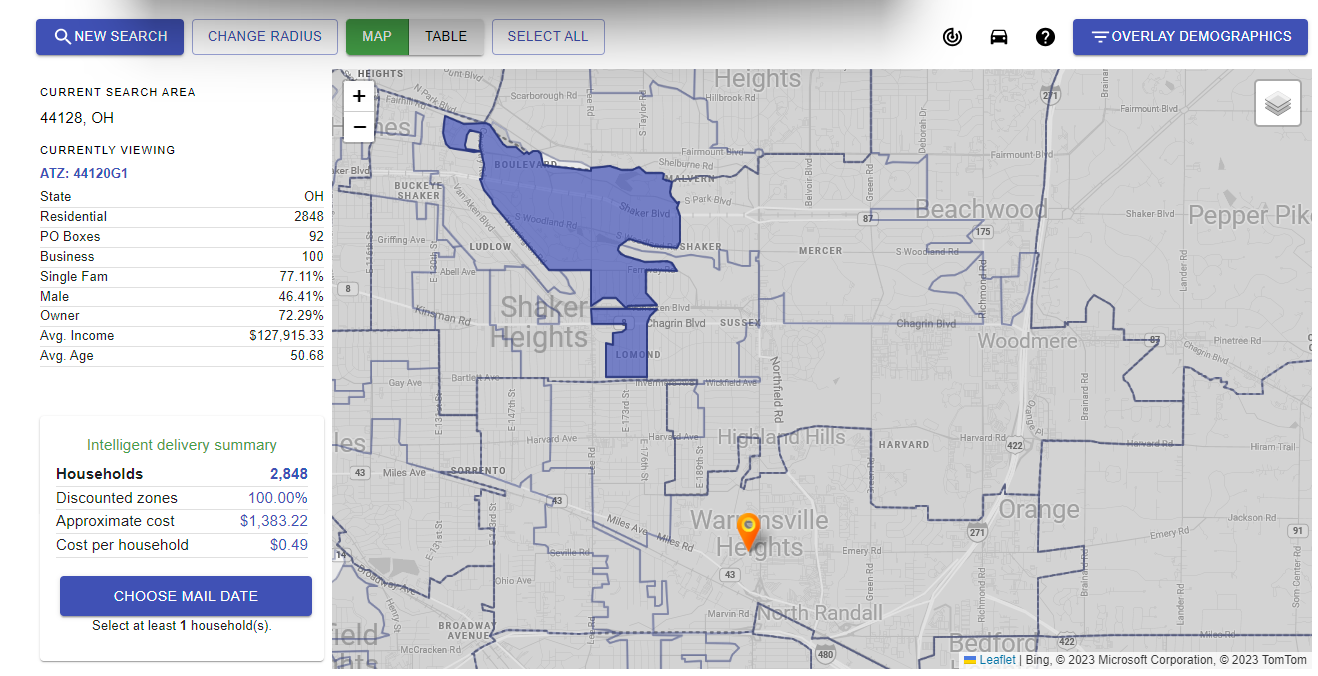 Get The Guidance You Need on Your Next Campaign From GrowMail!
When it comes to mailing solutions, choosing the best one to fit your goals is a big responsibility. The knowledgeable, proven marketing specialists at GrowMail have years of experience helping businesses just like yours begin mailing. Find out why so many organizations across a variety of industries rely on GrowMail for their marketing needs by scheduling a free consultation below. This allows you to get more insights about what you can expect from the various packages we have to choose from. Spots are filling fast, so don't delay. Schedule your free consultation today!