Are you in the process of constructing  a marketing campaign for the first time? If so you likely have an infinite number of questions running through your mind. This can make executing a marketing campaign on your own seem much more daunting than it actually is. By teaming up with a reliable partner capable of providing you with the best practices for your marketing campaign, all of your concerns can be put to rest. Having decades of experience helping marketers get better results from their campaigns, we're aware of many of the questions you might be asking yourself right now. And rest assured that we have the answers you need.
Some of the most common questions that are asked prior to starting a marketing campaign are:
How many postcards should I send?
Although it's understandable to wonder about this, quantity isn't as important as frequency. The most important thing is to send to the same residents each month for brand recognition and consistency in monthly responses. For over 20 years our clients, depending on the industry and business model, have been mailing to an average audience size of anywhere from 1,600 to well over 10,000+ households on a monthly basis.
You can start off by reviewing costs to see what makes sense based on your initial marketing budget. But know that it is the frequency to the same audience that is the common denominator of why our clients are doing so well with us for years. You simply start with the size audience that aligns with your initial marketing budget, and then add additional households as you see the growth and success, but never letting go of your initial audience.
How frequently should I send postcards in a marketing campaign?
As mentioned above, a monthly cadence is the sweet spot for success because of the brand recognition it builds. You also never know what month any individual household may decide to respond to you based on changing needs. It also prevents a resident from jumping online to see multiple competitors when a need arises that you have been marketing for.
Do I have to design the postcard?
The short answer is no. That's because we generally work on the designs for our clients with you providing us the content you would like included by simply filling out a basic design survey. We know that there is a set structure format for the postcard design to function at its fullest potential. So our consultants will go over that with you and even let you know the best promotions or call to actions we see working for our clients. You also get to see proofs and ask for corrections until you approve!
What are clients in my industry doing?
The answer to that question depends on your industry. Fortunately, GrowMail has over 20 years experience in successfully marketing for our clients throughout a broad variety of industries. Seeing them grow with us gives us the clarity needed to understand what is working best in each industry.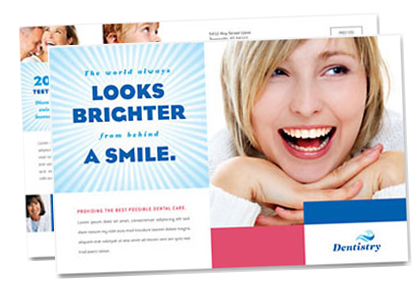 That being said, we would be happy to provide you with all of the knowledge and expertise that we have that contributes to that success. Those insights usually relate to things like best visuals and best performing promotional angles. The lifetime value of our clients means everything to us. That's why we focus on providing you with as much time and information as you need upfront to be confident in your plan.
How do I Start My Own Marketing Campaign?
Getting started is as easy as making an appointment with one of our Marketing Consultants to answer any questions you may have. They can also provide you with top advice, best practices and all cost options. This will help you decide the best first steps to take. Once you decide, we simply email you a quote to sign that reflects your decision.
Alternatively, you have the option of building your own order online if you'd like. By the way, your initial marketing consultant immediately becomes your own personal account manager and contact here for life. This way you get to work with one person directly, allowing them to guide you along the entire way.
Book an Appointment With a GrowMail Marketing Consultant Today!