It is widely understood that marketing within the real estate industry poses significant challenges. Luckily, overcoming these challenges can be simple when employing the right solutions. Real estate postcards are among the most effective ways to get better results from your marketing efforts. 
At GrowMail, our specialty is helping realtors build authority in an area by targeting specific neighborhoods so that they can generate new clients. This is a list of our five best practices for sending out real estate postcards. You can use these tips to farm areas for new clients or build relationships with existing ones.
1. Make the Postcard Pop
People are going to decide instantly whether or not to save your postcard, likely based on its design. That's why your postcard's design needs to stand out so that it captures the attention of a potential client. Making good branding choices allows prospective customers in your targeted area to remember you down the road.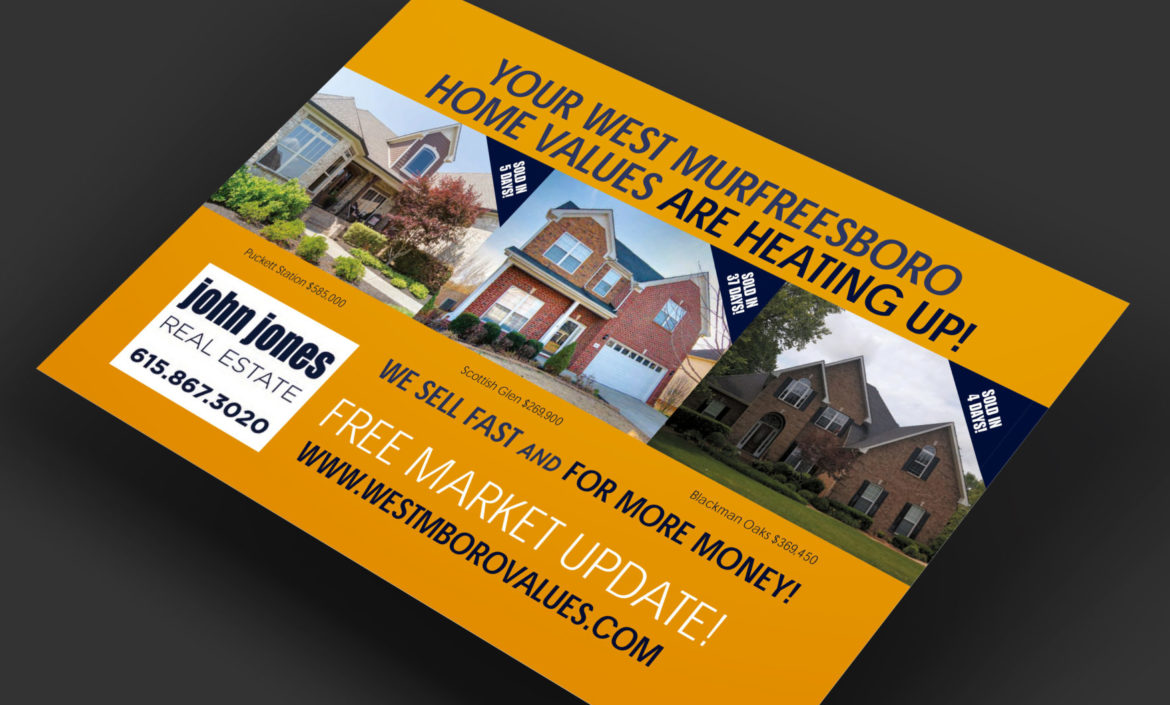 2. Postcard Targeting
It's important to target the right homes with attributes that are complementary to your campaign's objective. You'll get better conversion rates from your campaign by mailing to the right household addresses.
Farming for Customers using Area Mail

: EDDM saves money on postage and lowers your customer acquisition cost. Mailing entire neighborhoods is possible with

Every Door Direct Mail mapping software

too. This is a highly economical way to execute postcard campaigns.
Carrier routes can be targeted based on household income, median age, home ownership, and type of home. You can use EDDM to farm for new clients or to promote an open house.
Mail 1:1 using Targeted Mail:

We connect consumer data from 110 billion intent signals to individual household addresses. Realtors use

Targeted Mail Software

to target specific prospective clients based on 180 different attributes.
Real estate agents could target homeowners over 60 years old who have lived in their home for at least 10 years. These homeowners should have children who have recently moved out. This campaign could be focused on empty nesters.
Engage your Loyal Audience:

Stay top of mind. Mail personalized campaigns to your existing mailing list. This list should include former and prospective clients. This is a great way to generate new clients.
Campaigns that ask for referrals and provide quarterly updates with a market analysis have been highly successful. We can also send postcards to simply wish former clients a happy holiday. The smarter your campaigns are, the better your marketing results will be. Realtors that use audience and location intelligence for targeting will have results from their campaigns exceed expectations.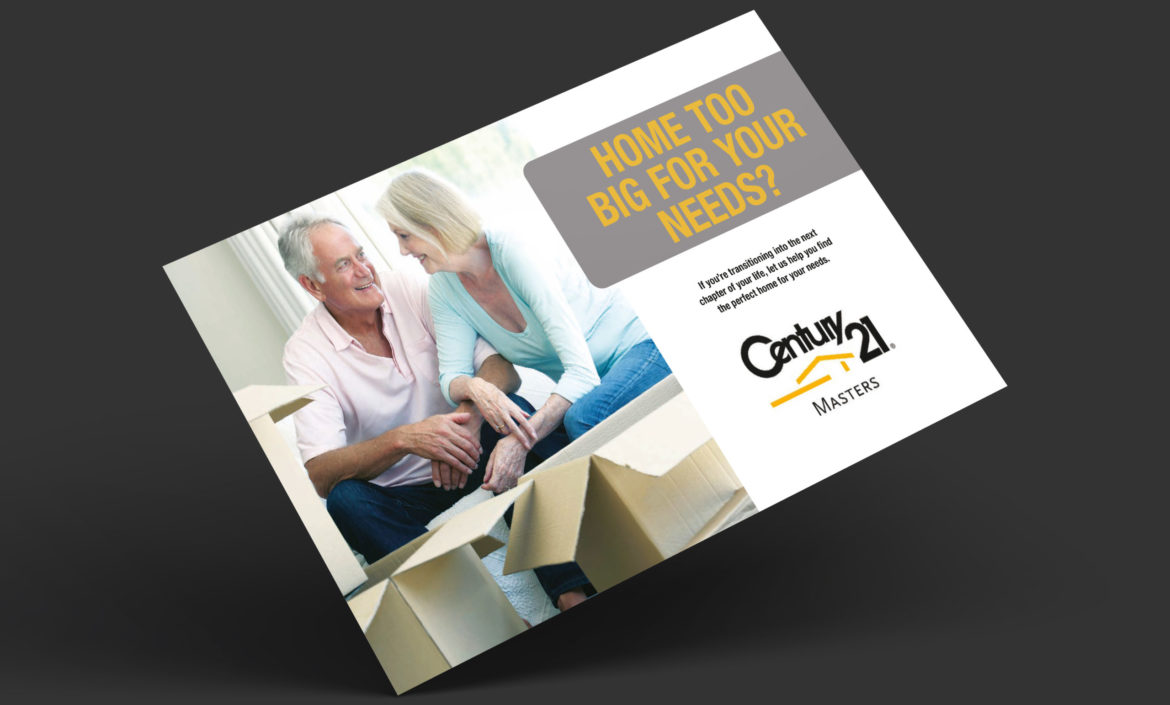 This postcard from Century 21 targets seniors who are looking for help to downsize their home.
3. Personalizing Real Estate Postcards
It's impossible to place too much emphasis on the importance of personalization when it comes to your campaigns. Personalizing real estate postcard campaigns maximizes their effectiveness for real estate agents. Your marketing initiatives can generate a 30% higher response by personalizing your postcard.
Try adding the neighborhood's name, recent sales or new listings. Another trick is to include market trends, housing data, local reviews, and other informative content that adds to your credibility. These tactics will set up your office as the local experts in the local area.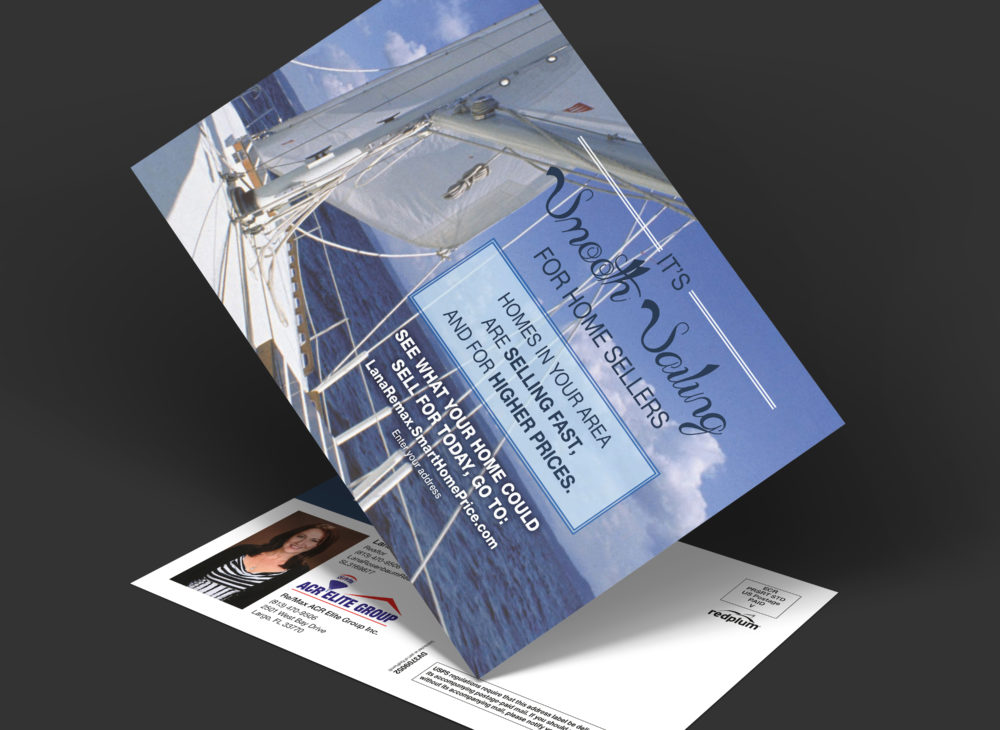 4.  Keep It Clear and Simple
It is important to avoid overloading your audience. Postcards for real estate agents should be clear and feature a simple design. The most important elements of your postcard will be your offer, your call to action and your contact information. Avoid overdoing your designs and using verbose sales language to keep things organized.
Frequently, we encounter a real estate agent who attempts to transmit a document containing a multitude of diverse property listings. The fewer elements on the postcard, the more potent the remaining ones are. Make your value proposition clear by removing distractions and highlighting relevant content with a clear call to action.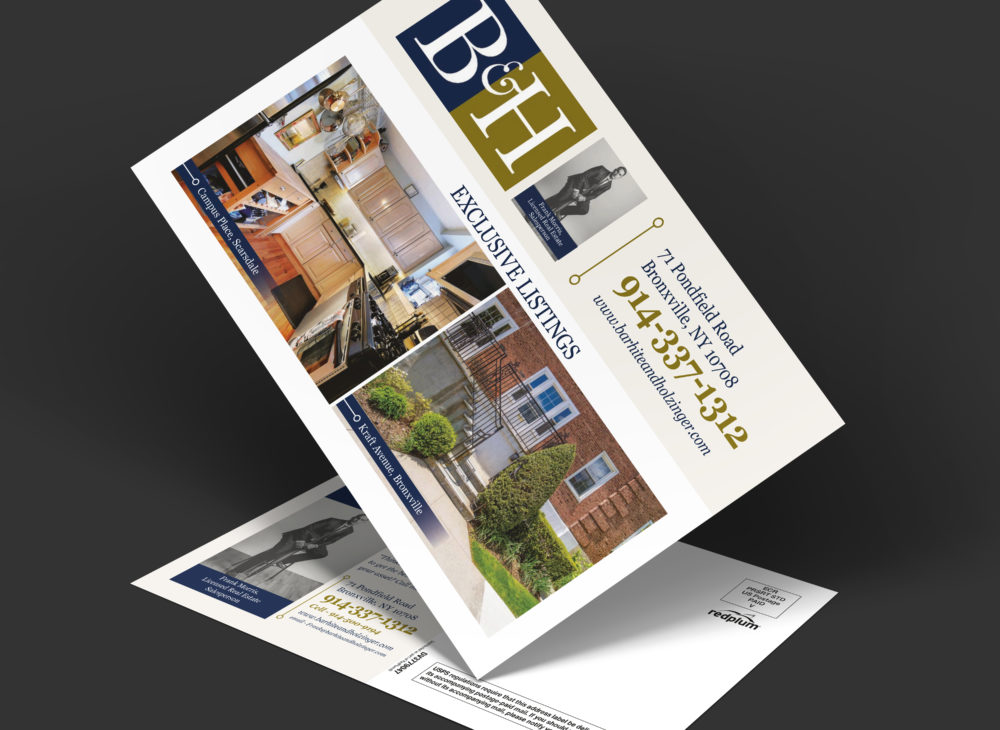 5.  Test, Track and Optimize Your Postcard Design
Each postcard campaign should generate better results than the last one. That's because you should be testing and tracking each campaign to calculate the campaign's cost per lead. Without tracking, you won't be able to get an accurate idea of the type of impact your campaigns are having.
Realtors will see a radical increase in ROI by taking these three steps:
Add Tracking

: Use a unique call tracking number and landing pages so that you know the source of every client. This way you can see exactly how many leads a specific postcard generates.

Experiment

: Try testing different variations of your postcard. Send test campaigns using different targeting attributes, geographies or templates. Consider experimenting with just listed or just sold campaigns.

Analyze Response

: Take time to analyze the results of your campaign. Collect response data from the tracking setup in step one to see how the variables affect response rates.
We frequently see real estate agents who can't answer how a campaign performed or the quantity of leads received from a postcard. These steps allow you to see what works best and how you should be spending your marketing dollars.
Running a Successful Real Estate Postcard Marketing Campaign
Creating postcards for real estate marketing doesn't have to be complicated. Using these tips will allow you to create an effective marketing tool to grow your business.
Are you prepared to begin creating your first real estate postcard? GrowMail's team can help you craft the perfect real estate postcard marketing campaign.  If you have questions or reservations about getting your next campaign started, our knowledgeable and helpful marketing specialist would be glad to help. Book a free consultation below to get your next campaign up and running.