Failing to tap into the potential of highly effective postcard marketing strategies is one of the biggest mistakes you can make. If you're unsure of where to start when it comes to constructing a winning postcard marketing strategy, that's okay. You can breathe a sigh of relief because GrowMail has you covered with more than 20 years of experience helping HVAC companies make the most of direct mail marketing techniques.
Some of the most effective postcard marketing strategies for HVAC companies include:
Running Seasonal Postcard Marketing Campaigns
Running marketing campaigns that line up with the seasons of the year can have a huge impact on the amount of business you get. In order to understand why, picture this: You have a home with an air conditioning unit that breaks during the month of July. Who would you be more likely to call to get your unit back up and running – a random name you found on Google, or a technician that came by to fix your thermostat during the winter?
The answer is probably the second choice. By marketing your services on postcards during the cool weather months, you can build brand recognition with potential customers who may need you during the summer. When constructing seasonal marketing campaigns, here are some things to keep in mind:
Send multiple postcards to the same audience
As demonstrated in the example above, sending multiple postcards to your audience is essential to reaping the benefits of an effective postcard marketing strategy. That's because you never know when things break down. And sending multiple postcards to your audience ensures that they'll easily be able to reach you once a need arises.
Create an eye-catching design for your postcards
Coming up with a design for your postcard is often one of the most challenging aspects of getting a postcard marketing campaign started. That's especially true if you aren't especially well-versed in graphic design. Fortunately, GrowMail provides you with the ability to help you craft a design that quickly captures the attention of your target audience.
Personalize your postcards
Another aspect of postcard marketing that you need is personalization. Using GrowMail's API, you can easily send postcards that are personalized to your audience. This can be instrumental in making it so that your message stands out in the minds of recipients. Without personalization, distinguishing your postcard from junk mail may be difficult for readers, which may result in your postcard being tossed in the trash.
Tracking The Impact of Your Postcard Marketing Campaigns
We all know the old saying, "if you can't measure it, you can't manage it." That saying is especially true when it comes to the success of your postcard marketing campaigns. Fortunately, you have numerous options when it comes to how you track the performance of your campaigns. The most common ways marketers track their postcard marketing campaigns often entail either landing pages or call tracking. The way each method works is simple. Choosing to track the success of your postcard campaigns with a landing page involves prompting the recipients of your postcard to visit a website with a unique URL.
Upon landing on that site, they'll be greeted with information similar to what they see on the postcard they got, while being guided towards taking advantage of the offer you included. If you choose to track the performance of your postcards by using call tracking, you'll include a different phone number from the one you ordinarily would use on your postcard. Then, you can easily compare how many phone calls you get from your postcard marketing campaign against the amount of calls you get from other marketing initiatives. The reporting dashboard offered by GrowMail makes the process of seeing how much traction you get from campaigns simple, regardless of which tracking method you choose.
Using Postcards to Follow Up With Past Customers
Winning back customers who haven't called you in a while is one of the biggest obstacles you'll be forced to overcome. Postcards can be instrumental in helping you regain lost customers though. That's because you'll be surprised at how many of your past customers simply lost your contact information. Sending them a postcard with your name, contact information and the services you offer may remind them of the wonderful service that you provide. This could lead to recipients keeping your postcard close by  for the next time they need your services.
Failing to send postcards to follow up with customers is one of the biggest mistakes you could make. There are a variety of ways you can get creative with your follow-up attempts too. For example, you can send postcards that direct recipients to fill out customer satisfaction surveys after a job. Or you can simply send thank you cards. Regardless of how you choose to follow up with customers after jobs, postcards are one of the best methods of doing so.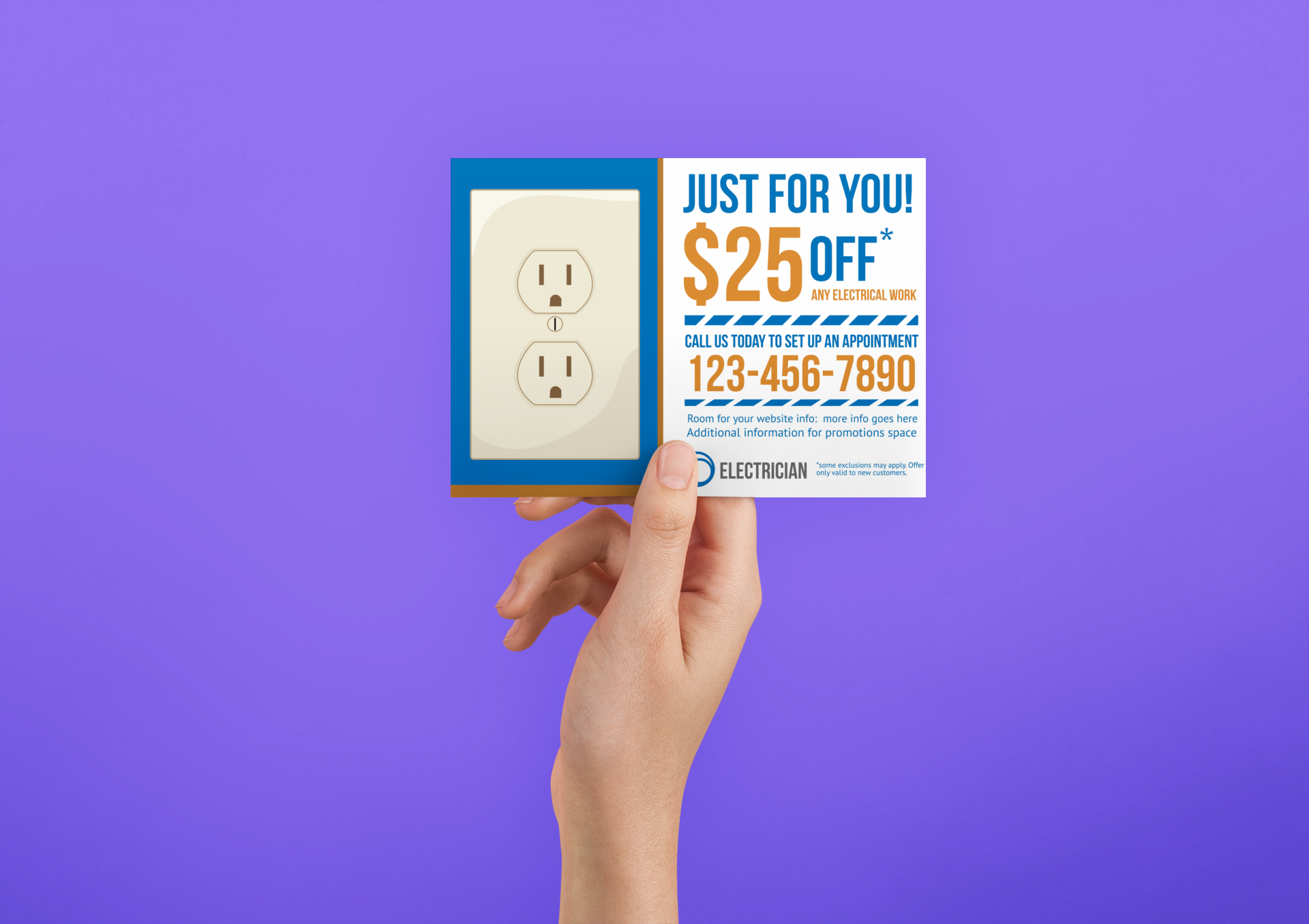 Giving Recipients a Reason to Keep Your Postcard Handy
One of the biggest fears that comes with running a postcard marketing campaign is that you'll invest valuable time and money into it, just for recipients to toss it in the garbage. While this is a valid concern, there are numerous steps you can take to alleviate this concern. Some of them are:
1. Including a special offer with an expiration date
One of the best ways that you can gain traction with your postcard marketing campaign is by including an offer for a flat-rate off a specific service that you provide. This is one of the most effective postcard marketing strategies for HVAC companies because it gets you in the door with new customers who will likely need more of your services down the line. An offer for a specific amount off of a flat-rate is preferable to a percentage off because it eliminates confusion for readers.
2. Making sure your contact info is clear and easy to find
Burying your contact information is another postcard marketing mistake that could be costly. Placing your contact information on your postcard in a bold, clear manner allows your recipients to quickly pick up on your business name and what you have to offer. That's one of the first steps in building much needed brand awareness with your audience.
3. Including a strong call-to-action
An effective call-to-action is a necessity for any successful postcard marketing campaign. But coming up with a call-to-action that leads to jobs is easier said than done. One of the most effective postcard marketing strategies for HVAC companies is to come up with a call-to-action that gets readers thinking about potential problem areas. For example, if a homeowner hasn't had their Air Conditioner serviced in a while, it could be due for a tune-up at any time. A call-to-action that motivates readers to get an evaluation before the temperatures rise could be exactly what it takes to get your phone ringing.
Get More Effective Postcard Marketing Strategies by Partnering with GrowMail!
With more than 20 years of experience helping HVAC companies maximize the potential of postcard marketing, GrowMail knows what goes into successful campaigns. By partnering with GrowMail, you can eliminate the concerns that you may have about your postcard marketing campaign because we know what works. And we're eager to leverage the most effective postcard marketing strategies for HVAC companies to help your business grow. To learn more about how GrowMail can help you reach your marketing goals, book an appointment with a marketing specialist today!
Book an Appointment With a GrowMail Marketing Specialist Below