Creating your first flyer, postcard or direct mail advertisement that you feel confident in delivering to the hands of your potential customers can be a daunting task. From picking colors, stock images, copywriting and making the design attractive, it's no wonder so many first time designers get stuck looking at their screen in frustration.
If you're looking to design a flyer to get the word out about your new business, special promotion or upcoming event, luckily there are resources that make it simple. In this article, we'll break down how to get started with your first flyer or postcard and how to deliver it with GrowMail.
Get A Free Design Quote From GrowMail:
To skip the learning curve, you can start your first direct mail campaign with a free design quote from GrowMail. Our graphic design team has a passion for launching, revitalizing and accelerating brands to create lasting and meaningful relationships between your brand and audience through intelligent thinking and creative design.
Get a free design quote to get started with agency level creative design services that will make your business look great, improve marketing success, and boost recognition for your brand.
Do-It-Yourself:
If you're a do-it-yourselfer, or just want to get started on learning design, Canva is a great tool with a wide variety of useful templates to help get you started. Follow along to learn how to use Canva to create the perfect design for your next direct mail campaign, flyer, postcard, brochure, or whatever you're trying to accomplish.
Whether you decide to design it yourself with Canva or hire a designer like GrowMail's design team, check out the following paragraphs to understand the basics of design.
After all, if you don't feel confident in your messaging, your prospective customers certainly won't!
How direct mail and print media can impact your business:
Effective direct mail campaigns are an impactful marketing channel, especially for businesses that rely on a local customer base and need to cut through national competition on digital media like Email, Facebook, Instagram and TikTok. 
Response rate for direct mail is 2.7-4.4%, significantly higher than email at .6% (Source)
Direct mail helps establish credibility and has a longer shelf life than other forms of advertising
It gives you the ability to target specific areas, ages, and incomes so you'll know exactly who your message is hitting
But again, the most important part about sending marketing materials is that you feel confident in what you're sending. So let's get started with the design essentials you need to know to create messaging that you love.
Design essentials:
Your future customers are inundated with email spam and digital ads. So getting in front of them in the real world is a huge opportunity to make an impression. Here's what you need to know to make sure that impression counts:
Headline
Your headline isn't just an opportunity to grab attention, it's the part of the flyer where the reader determines if they're going to read through it or throw it in the trash.
Tip: Direct mail has a longer shelf life when you deliver something of value that they might want to save for later.
Think of ways that you can draw people in or set yourself apart:
Ask a compelling question: Are you ready to grow your business with direct mail marketing?
Make an announcement: Target customers in your neighborhood for 50% less!
Share an interesting fact about your business: 15 years experience and 60,000 customers in almost every industry. 
Visual Hierarchy
Visual hierarchy is a design method that helps make sure you're getting the right message across to your audience and directing their attention towards your final call-to-action.
Scale: Use size to draw attention to the most important items like headlines and call-to-action or draw attention away from disclaimers and captions.
Color: Use color wheel tools to find complementary colors and assign brighter colors to items you want the reader to see first.
Contrast: Dramatic shifts in color can help drive urgency and highlight the main message within the message of your design.
Alignment: Designers use the Gutenburg Diagram to make designs appealing based on how english and other latin-alphabet readers (left-to-right, top-to-bottom) interpret information (Source).
Proximity: Group items together to give your layout structure. Pay attention to spacing and make sure items associated with each other are closer together.
Dimensions:
Career graphic designers and marketers spend hours in design softwares like Canva and Photoshop and have these dimensions memorized. For your first flyer or postcard, these should be just enough to get you by.
Small:
Medium:
4" x 9"
5" x 7"
5" x 8.5"
Standard:
Regular:
If you're using a direct mail service like GrowMail or your own printing service, make sure you work with them to decide what size is best for your needs.
How to use Canva to create your own direct mail ad
Step 1: Create an account
Go to Canva.com and create an account. If you're new to Canva, you can create a free account.
The free version will give you access to templates and limited content, which might be enough for your first design.
The premium version will give you access to additional features like Brand Kit, Unlimited Content and Background Remover.
I recommend the premium plan, if you can, and they offer a free trial if you're not ready to pay just yet.
Step 2: Decide on a format
Next, choose what type of mailer you want to send and what makes sense for your campaign (see the Dimensions section under Design Essentials).
Here are a few options:
Postcards: One of the most common types of direct mail marketing pieces. They're great for announcements or promotions and the templates will usually come with formatting for postage.
Self-mailers: Similar to letters, but without an envelope. The ad is folded and held together with an adhesive. They're great for announcements, special sales and newsletters and give you more space than a postcard.
Brochures and catalogs: Catalogs are a great way to showcase your business and product lines.
For this example, we'll be creating a single page 4" x 6" postcard.
Step 3: Find your starter template
You can browse the home page for ideas and try to find what fits your perfect idea for your design. Canva provides a ton of well designed options.
To narrow it down, click "Templates" on the left side navigation menu.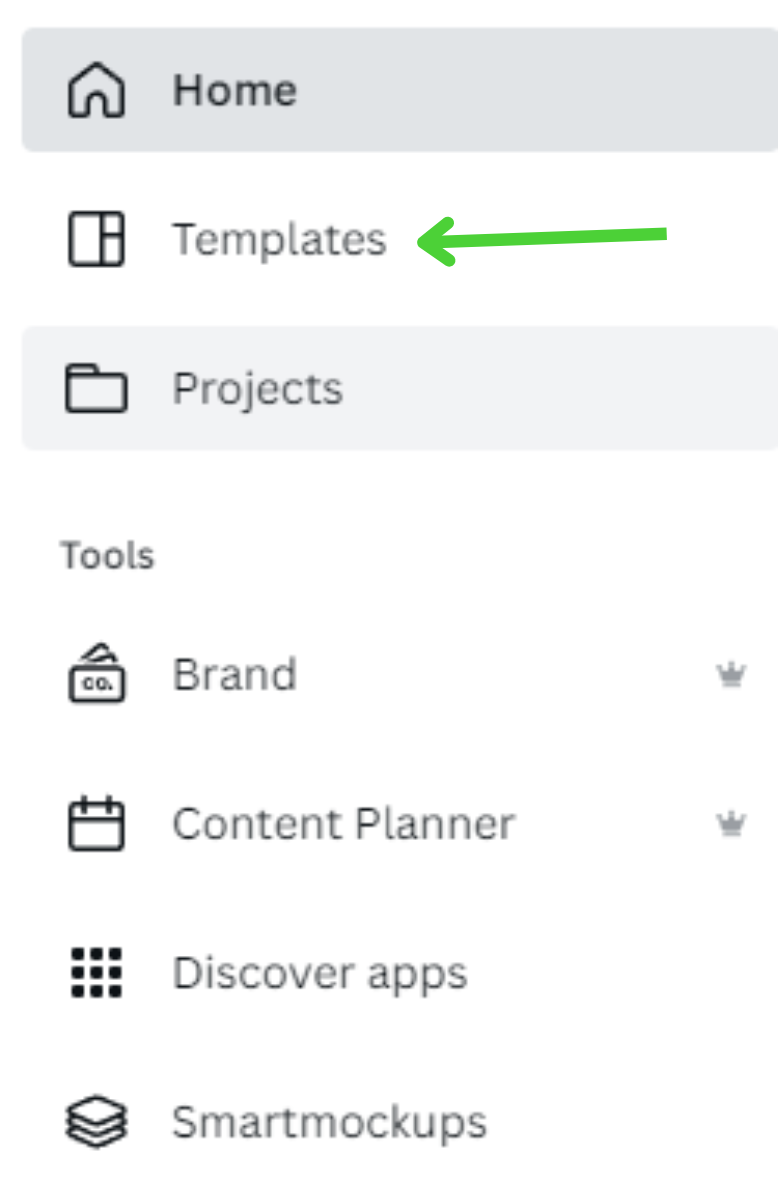 Then scroll down to the "Cards and Invitations" dropdown and click "Postcard."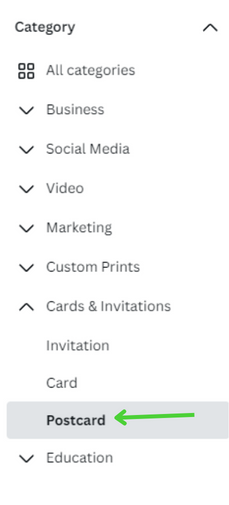 You can now explore postcard options and find what appeals to you the most, and narrow down your search with the filter section on the left hand side by styles, themes, features, subjects, or topics.
Canva has a wide variety of options and usually has assets for every industry. If you don't find an exact match, don't be afraid to explore options and let your creativity do the rest. We'll cover how everything in Canva's templates are fully customizable.
I used the "Business" theme filter to find this one: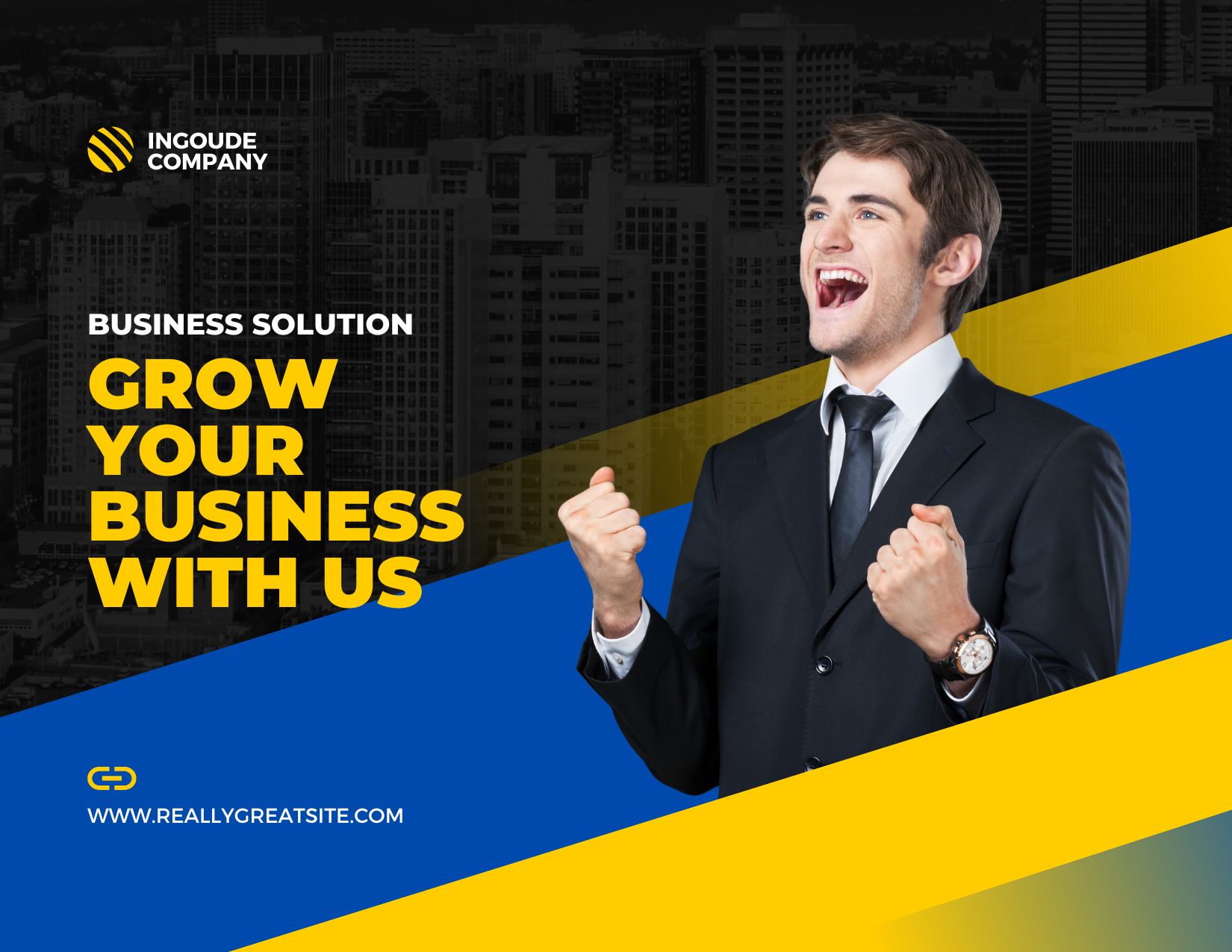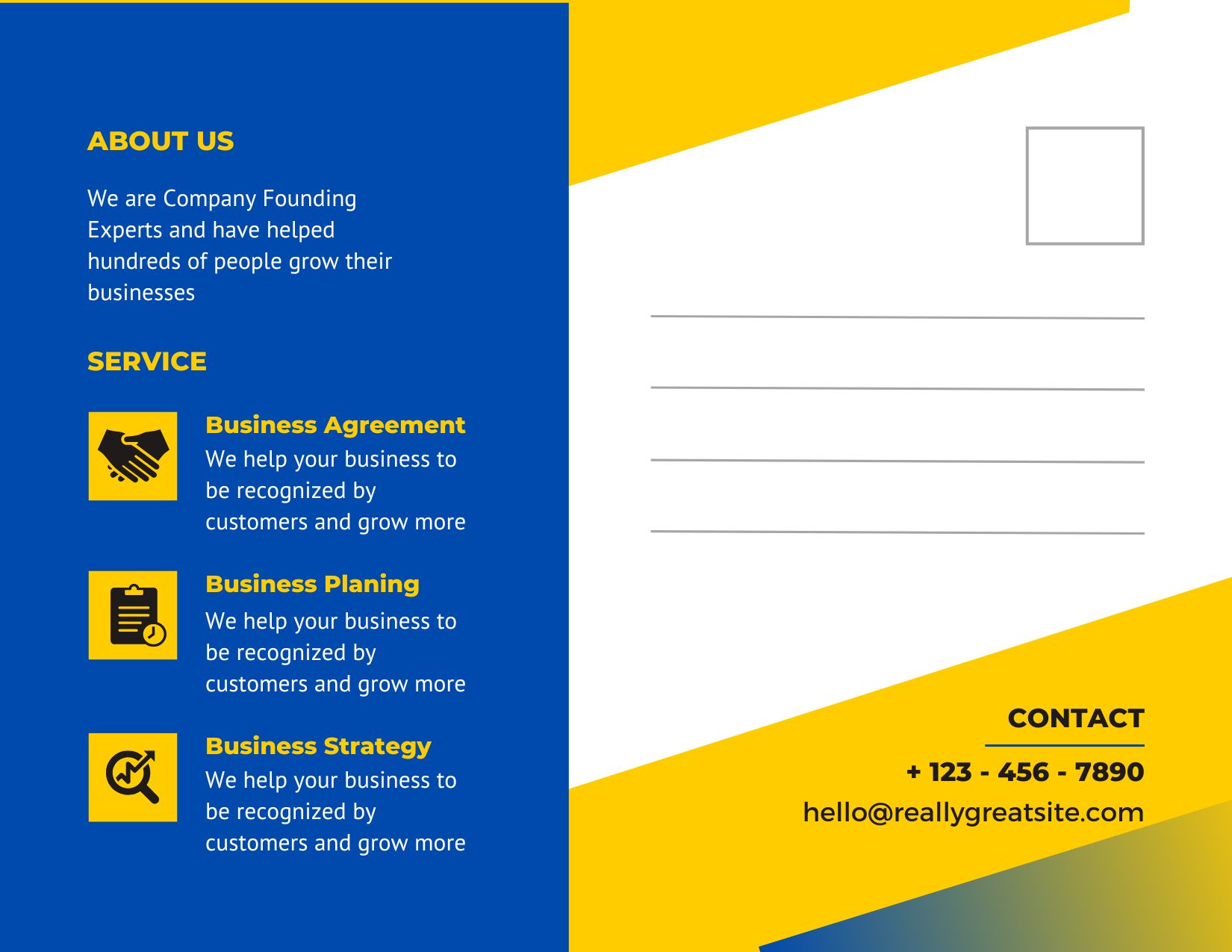 When you've found a template to work with, click on it and select "Customize this template."
Then click "Resize" on the top left menu to adjust the size for what you need: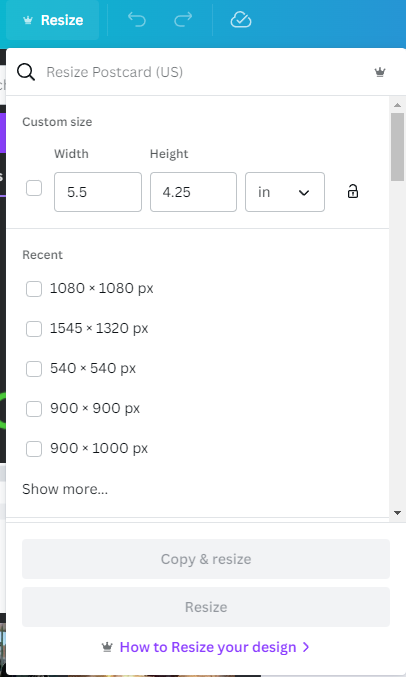 Next Step: Design
You're now in the design workstation and you can customize your template as far as your imagination will let you.
Click the text boxes to customize your text.
Use the right corners to adjust sizing.
Before: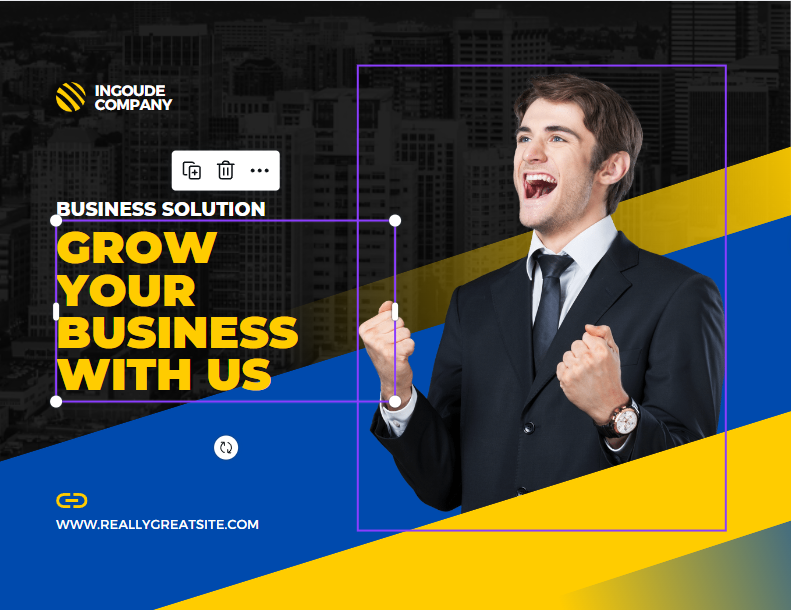 After: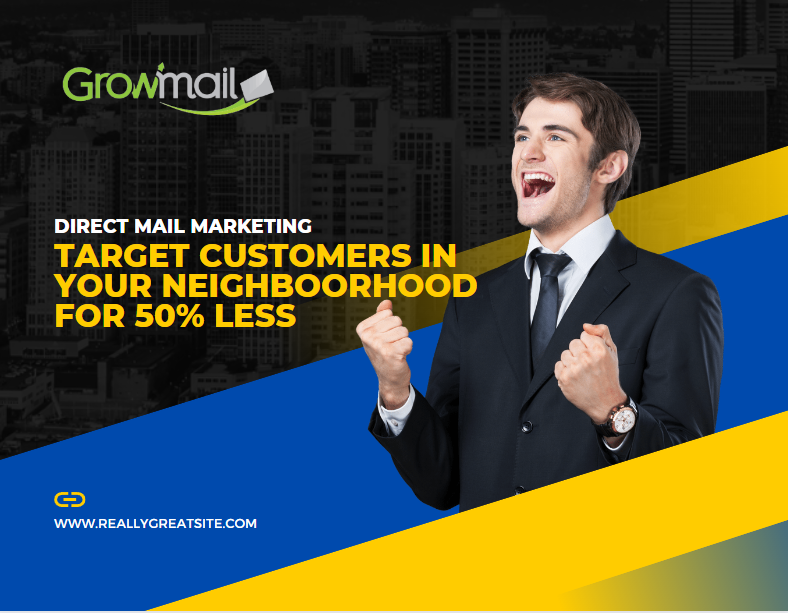 Colors: 
Select elements and use the top left color icon to change color.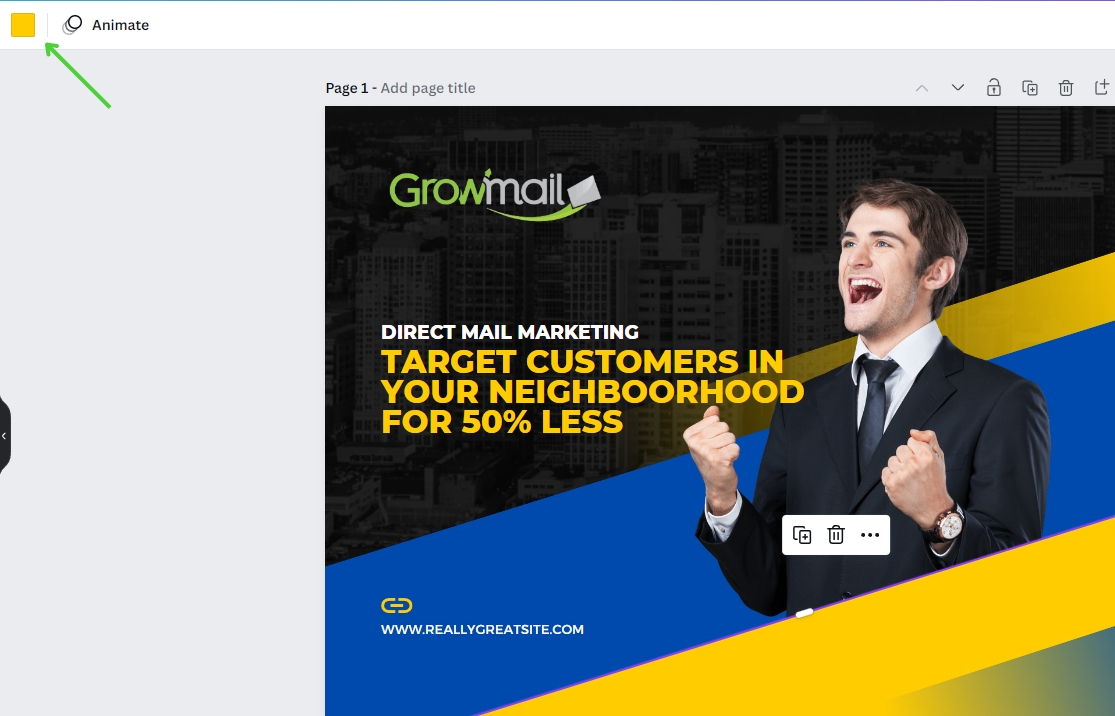 Template background: 
Double click the background image, then right click and select "Detach from Background" to create your own: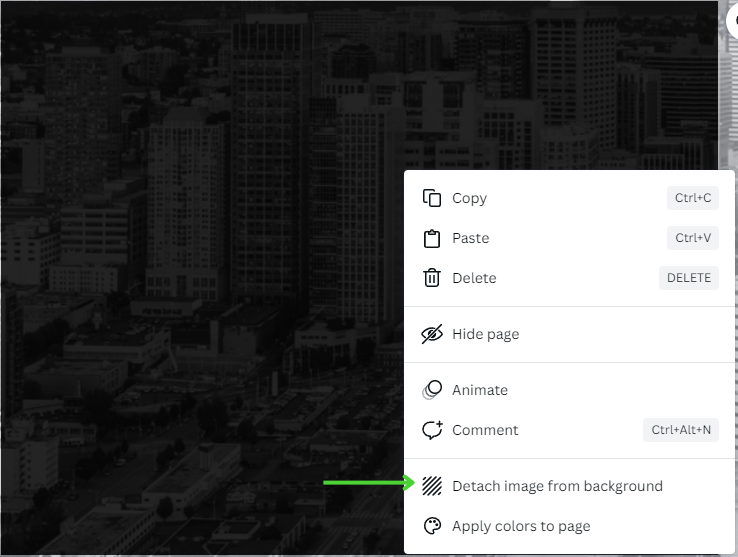 If you have the premium version, you can search for your ideal background image. If you don't, you can try to find your own and Upload them using the Upload button or copy + paste.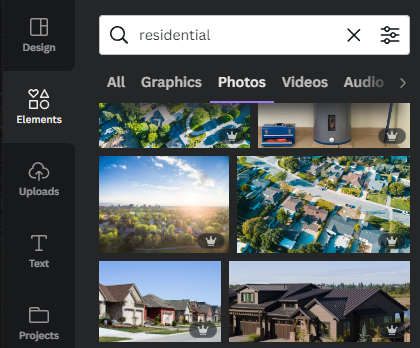 Once you've picked your image. Right click "Send to back" until it's in the background and adjust sizing.
Adjust coloring with the Brightness, Contract and Saturation filters under Edit Image: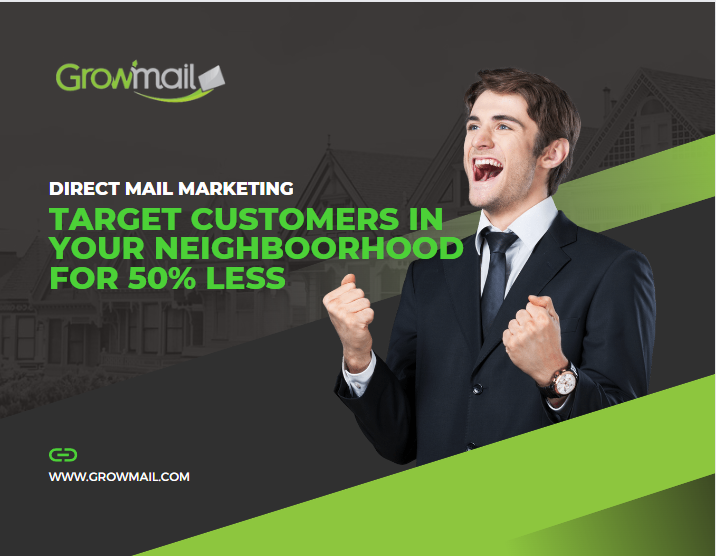 Stock images: 
Canva premium has a great library of stock images and a background remover tool to add a personal element to your ad.
If you aren't on premium, you can try to find your own images with no background or use other tools to edit out backgrounds.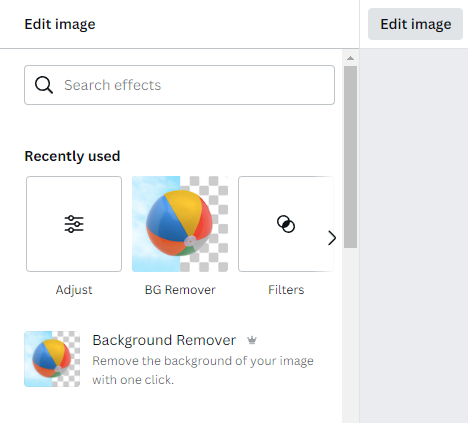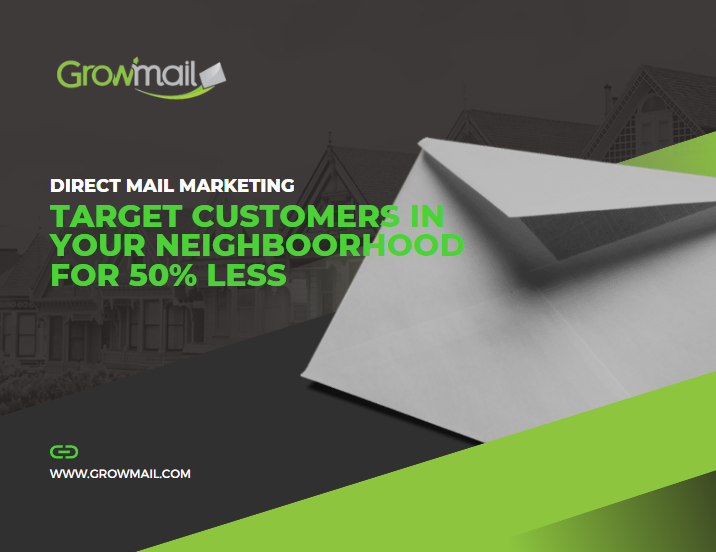 Text Effects: 
Make your text pop with the effects button in the toolbar.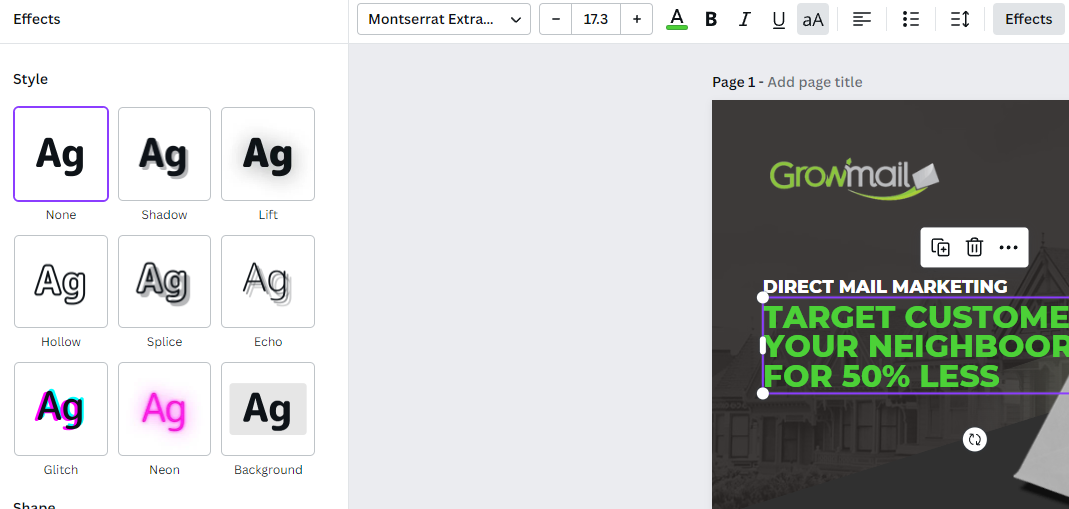 Feel free to experiment, but I recommend using lift with high intensity for text over images.
Make the same adjustments to the back side and you're almost ready to go!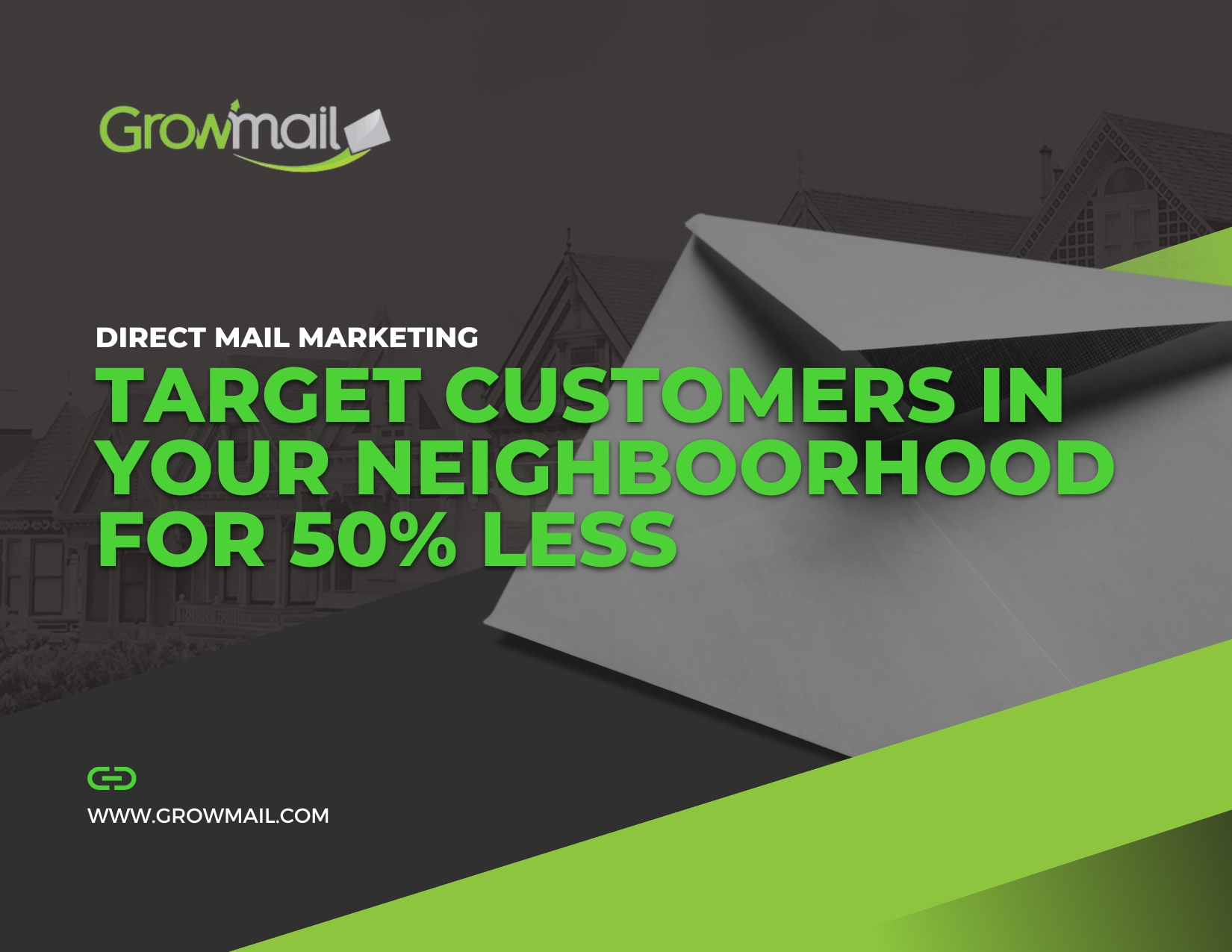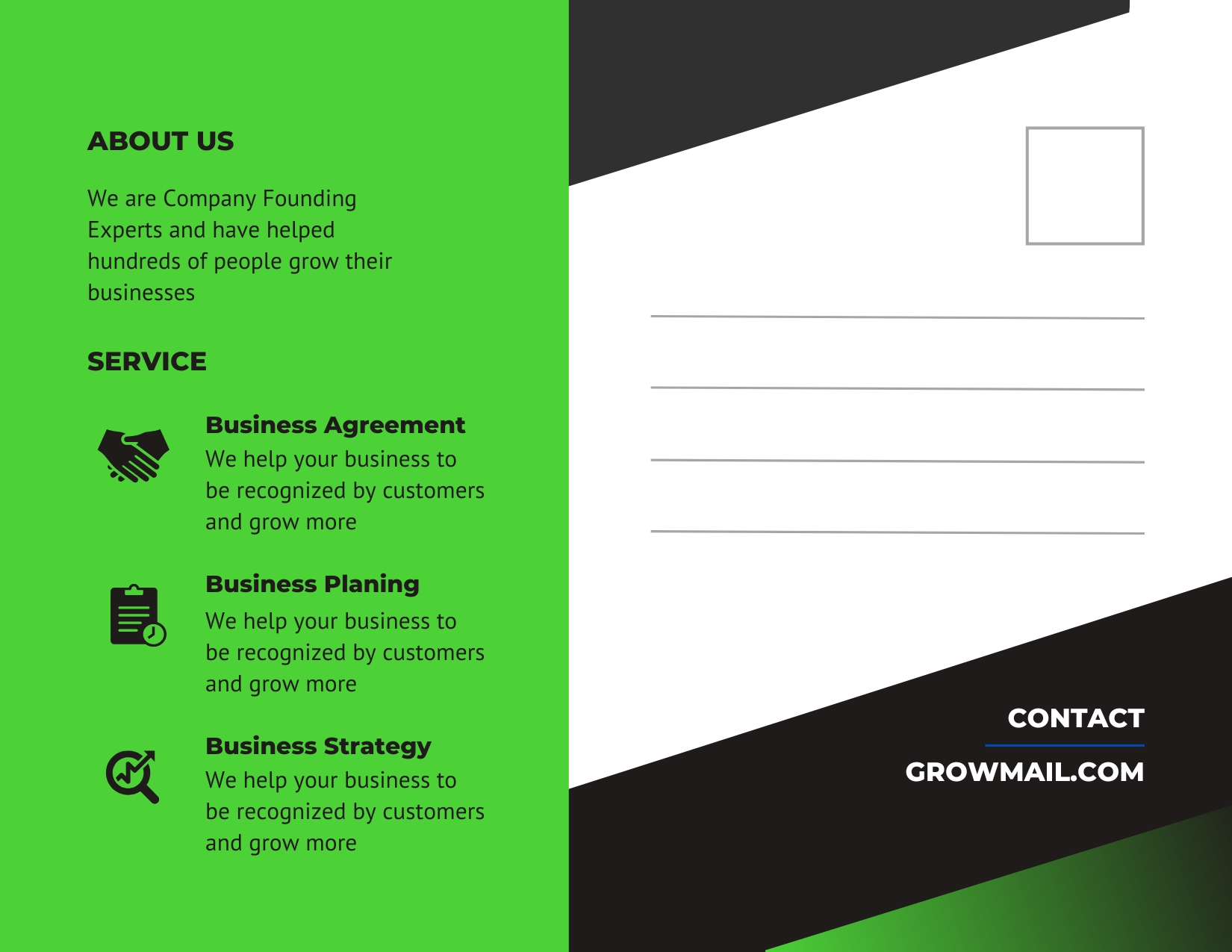 Next Step:
To export your design and get it ready for GrowMail or your printing vendor, click share on the top right and then Download.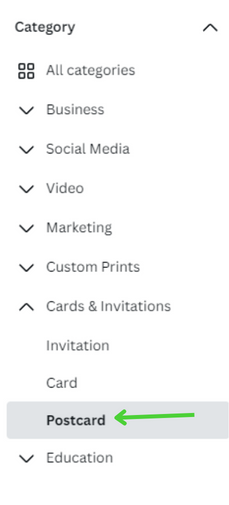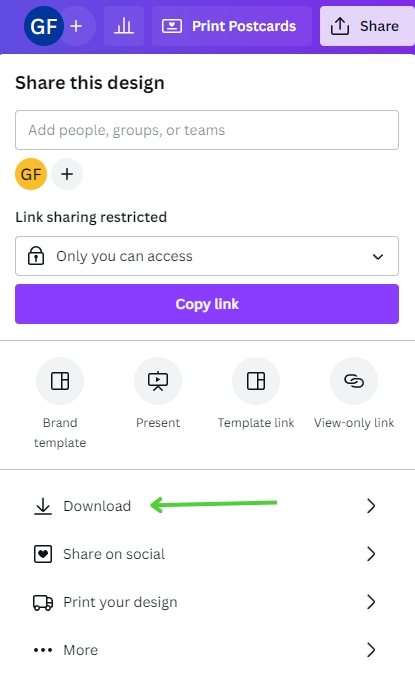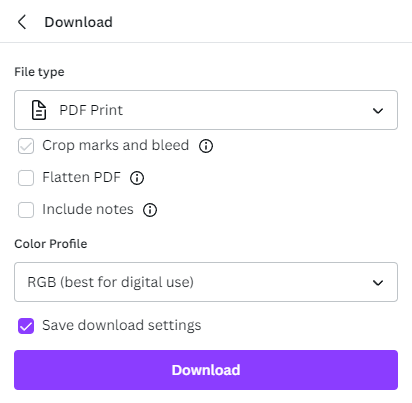 Select "PDF Print" or whatever your vendor prefers, and then "Download." Your file will be downloaded to your download folder and you can now email it or upload it so you can start your exciting journey into print media and direct mail marketing.
Conclusion:
After a few hours of experimentation and learning the tools, basic design isn't that complicated after all.
Once you've mastered design and you're ready to send off your direct mailer, book your appointment with a GrowMail marketing specialist for help with printing and targeted direct mail.
Our marketing consultants have 20 years of experience helping marketers get results with our full suite of marketing solutions. If you're ready to begin getting better results from your marketing efforts, book an appointment with a GrowMail marketing consultant.
Book An Appointment With a GrowMail Marketing Specialist Below