Making the decision to include direct mail into your marketing efforts is exciting, especially if your other marketing efforts have been missing the mark. If you don't know where to start though, you might wind up regretting some of the choices you make. Think about it like this, how annoying it would be to choose a certain direct mail package, only to find an alternative that saves you money while getting you more results? By exploring the various direct mail packages that GrowMail offers, you can drastically decrease your chances of choosing an option for direct mail that you'll regret. Those direct mail packages include:
Discount Zone Monthly Direct Mail Package
The value that monthly Discount Zones, exclusively offered by GrowMail, present is hard, if not impossible to find elsewhere. That's because Discount Zones allow you to drive your messaging home at such a shockingly low cost. All it takes is making sure that your area qualifies for discount zones by using our Map Tool. Zones that have blue coloring are available, while those shaded in green are unavailable.
Afterwards, once you select areas that qualify, you can mail to those addresses for the rate of $0.23 per mailer by choosing at least 10,000 recipients. That rate drops even lower to $0.20 per piece with a commitment to mailing them for three months or longer. Keep in mind that these rates include pricing for everything – including design, print, mailing and postage.
Every Door Direct Mail (EDDM)/Saturation Direct Mail Package
Another all-inclusive option for marketers hoping to maximize the potential of direct mail is GrowMail's EDDM/Saturation starter package. This option allows marketers to send 5,000 6×9 mailers for just $0.42 each. Similar to with our Discount Zone Direct Mail package, that rate includes the cost of design, printing, mailing and postage.
One of the key benefits that this particular option provides is the ability to split the 5000 up into 3 drops if you'd like. Mailing the same 1667 residents the same postcard multiple times could potentially help cement your brand, products or services in the minds of your audience. The fact that this option allows your audience to become more familiar with you makes it incredibly popular with GrowMail's repeat customers.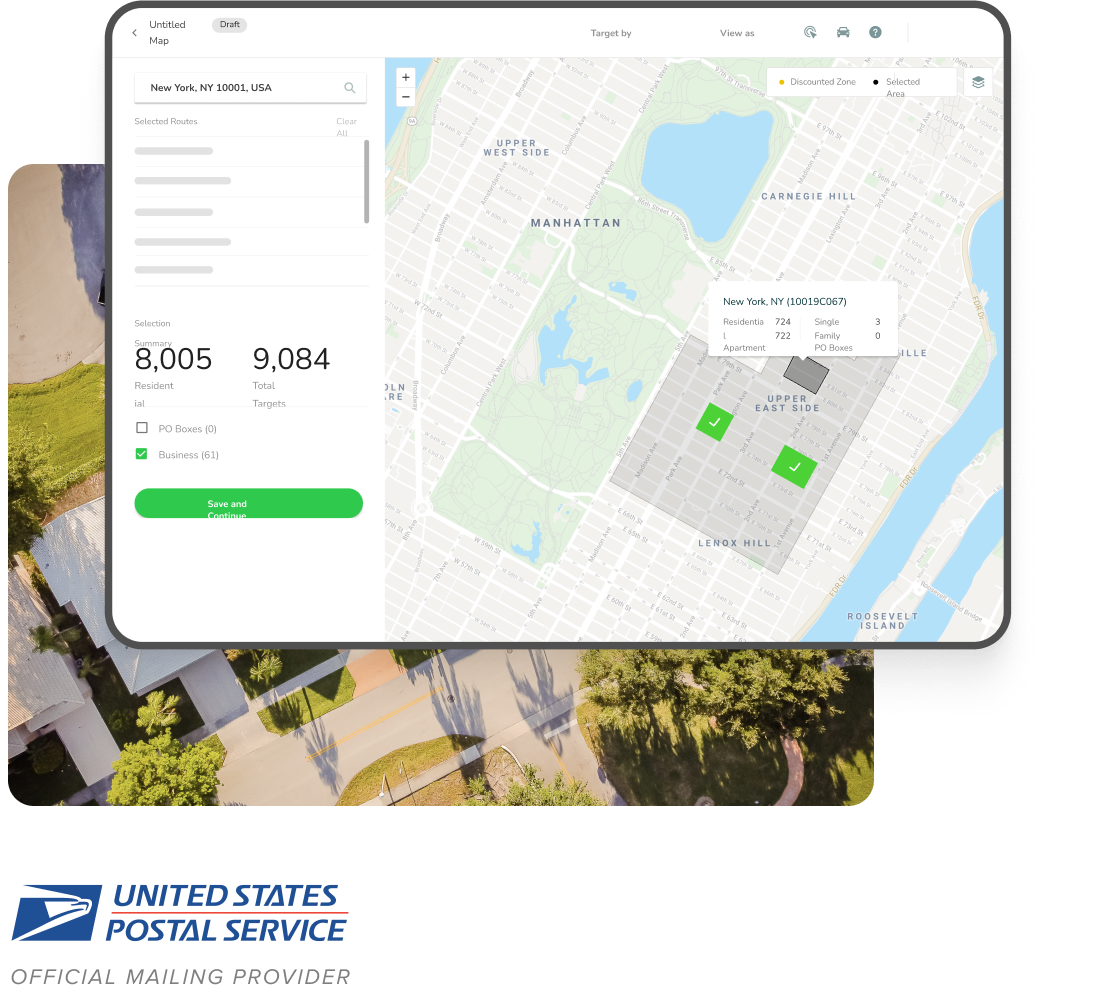 Targeted Custom Mailing Lists
When it comes to direct mail campaigns, sometimes you may be more interested in communicating with an audience that you've already built over time as opposed to starting fresh conversations with a new audience. For marketers who know exactly who they want to speak to in their direct mail campaigns, targeted direct mail is an excellent choice that GrowMail provides. Our targeted direct mail campaigns give marketers the ability to choose from a variety of specific demographic categories to build mailing lists that include members of their core audience.
Those categories include age, income, marital status just to name a few. Since pricing for targeted direct mail campaigns varies, GrowMail has a build and price tool that you can use to get a quote. Some of the factors that go into pricing for targeted direct mail campaigns are the size, turnaround time, and number of recipients you want your postcard to go to. You can also order a mailing list directly from GrowMail if you'd like. Regardless of what your goal is for your direct mail campaign, GrowMail has the solution capable of helping you get there.
Speak With a Marketing Specialist About Selecting the Best Direct Mail Package for Your Needs Today!
One of the biggest mistakes marketers often make when it comes to direct mail is believing that they have to figure it out for themselves. That simply couldn't be any further from the truth. The team of Marketing experts that GrowMail have years of experience helping marketers like you maximize the potential of direct mail.
Being knowledgeable regarding all of the direct mail packages that you have access to plays a pivotal role in having a successful campaign. Whether it's getting your artwork nailed down or getting the audience right, the team at GrowMail is more than happy to answer any questions regarding getting your first campaign started, too. In fact, you can get your first direct mail campaign started today by downloading these free postcard templates!