There are numerous reasons why you might be on the fence when it comes to starting your first EDDM campaign. Maybe you've tried sending direct mail on your own in the past only to find that your mail returned in your own mailbox. Or there's the possibility that you aren't entirely familiar with how it works, and you haven't taken the time to fully understand the benefits and drawbacks of every door direct mail (EDDM). Although that's understandable, if you don't know about all the benefits that come with running an EDDM campaign, that changes today.
You can read more about some of the pros and cons of running an EDDM campaign below.
Pros of an EDDM Campaign:
When it comes to tried and true marketing strategies, EDDM campaigns are right up there near the top of the list. Restaurants, barber shops, doctors offices and home service providers are just a few examples of the types of businesses that rely on EDDM campaigns to connect with customers. And they've been successful doing it for years, which is why the popularity of EDDM campaigns continues to rise.
Making EDDM a staple of your marketing strategy is something you'll regret not doing a long time ago. Here are a few reasons why:
Affordability:
Low cost marketing solutions that deliver results are hard to come by. That's where EDDM enters the picture. By executing an EDDM campaign, you can send postcards for as low as $0.37-$0.41.
With pricing that low, you can easily add EDDM campaigns into your marketing formula, while still using additional methods you've used that deliver results. And as opposed to emails, which are typically only opened roughly 20-30% of the time, Forbes reports that direct mail can achieve open rates nearing 90%. So if you're looking for affordability, along with performance, search no further than EDDM.
No List Necessary:
One of the biggest obstacles that often catches marketers who are new to direct mail off guard is the need for a mailing list. By executing an EDDM campaign, you can work around the need for a mailing list. That's because when executing an EDDM campaign, you're sending your materials to each address on the route you choose. And you can use GrowMail's EDDM Map Tool to easily choose the carrier routes you'd like to mail to. Once you choose the routes you want to send mail to, you can choose if you want your mail to go to residential households exclusively, or to both businesses and residents.
EDDM Campaigns Are Easy and Effective:
Implementing new marketing strategies can be so time consuming that many marketers simply avoid doing so at all costs. Fortunately, starting an EDDM campaign couldn't be much easier. Let's say you're opening a new coffee shop, and after months of preparation, you're ready for the grand opening. So in your efforts to start spreading the news about the new shop, you decide to send postcards to the nearby communities.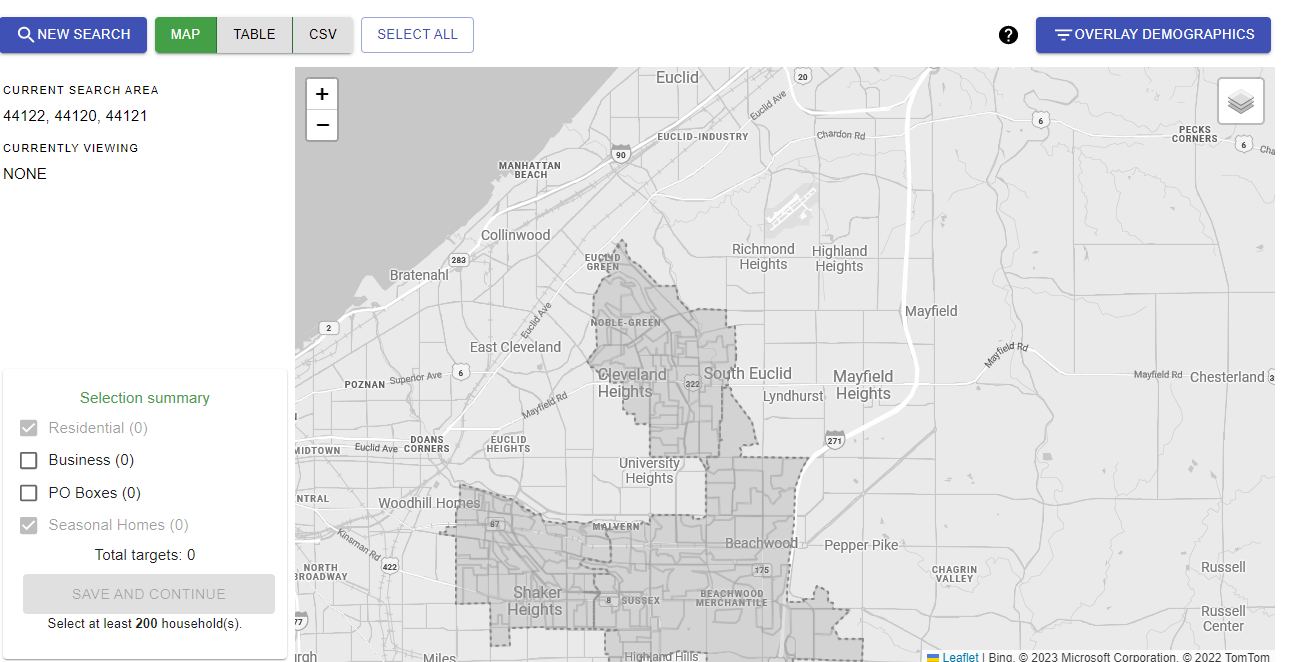 All you have to do to get started is choose the size and quantity of your mail piece, then select the areas surrounding the coffee shop. Once you do that, you can either work with GrowMail to create a design for your campaign, or you can upload it yourself. Then, there's nothing left to do except keep the coffee warm for customers who will be flocking the store in no time.
Cons of an EDDM Campaign:
Now that you're aware of the benefits that come with every door direct mail campaigns, you're ready to learn about their drawbacks. Some aspects of an EDDM campaign that GrowMail's seasoned marketing specialists can help you overcome include the following:
No Personalization:
Have you ever checked your mailbox, and noticed that some of your mail is addressed to "current resident" or "dear neighbor"? If so, that means you've likely been on the receiving end of an EDDM campaign. Since EDDM campaigns entail every address on a specific route receiving the same mail piece, there's no room for personalization. If personalization is a key aspect of your future marketing campaigns, GrowMail's targeted mail solution could be exactly what you're searching for.
Strict Size Requirements:
Another important aspect of EDDM campaigns that you need to keep in mind is that there are stringent sizing requirements that need to be met. Failing to meet these requirements usually results in your mail being sent back. With that in mind, if you plan to send anything involving envelopes or small packages, you should work with GrowMail to find an alternate solution that meets your needs. EDDM campaigns are strictly for flat mail pieces like postcards, brochures and flyers.
Why Every Door Direct Mail is Easier With GrowMail
At this phase, you have one of two options. Obviously, you're more than welcome to use your newly-gained information to embark on your first EDDM campaign alone, or you can partner with GrowMail. By allowing GrowMail to lead the way, you benefit from the fact that we have more than 20 years of experience guiding businesses of all kinds to success with EDDM. Our proven marketing specialists have seen everything when it comes to EDDM. So the best way to avoid surprises (and unnecessary trips to the post office) is to rely on GrowMail for your next EDDM campaign.
Start Your EDDM Campaign With GrowMail Today!
Now that you're familiar with some of the key benefits and drawbacks of EDDM campaigns, there's no better time than the present to try using it. If you still have questions you' need answers before moving forward, that's okay, too. The marketing specialists at GrowMail are more than happy to get your campaign started, whenever you're ready. To connect with one of our highly knowledgeable marketing specialists about starting an EDDM campaign of your own, book an appointment today! We're more than happy to do whatever it takes to help you start sending.
Book an Appointment With a GrowMail Marketing Specialist Below!