Intro: 
The launch of a new marketing campaign always has teams on the edge of their seat waiting to hear about a flood of new business and positive ROI.
But if you're in charge of the campaign, you'll know that tracking the actual success of your campaign is a challenging task all on its own. If you don't do it right, you could miss out on getting the credit you deserve for your success.
Why should you be tracking your lead attribution? 
Leads could come from a variety of places when companies are marketing on multiple channels. If you don't do a great job tracking direct mail leads from your campaign, you could either miss out on opportunities or accidentally ignore areas that need improvement.
Additionally, you could miss out on showing your leadership what a marketing mastermind you truly are!
But the worst part is that by failing to create a healthy marketing mix, you could be throwing valuable dollars into the trash. Advertising on Facebook and Google has never been more expensive. The cost per thousand impressions (CPM) on Facebook has skyrocketed up 89% since July 2021. Google saw their CPM balloon to 108% during that same time.
Direct Mail has an ROI of 29%, several points higher than paid search ads. In a nutshell, what this means is that leads acquired via direct mail can often come at a much lower expense than when they're acquired from other channels. This drives home the fact that there couldn't be a better time to make direct mail a part of your marketing formula than right now.
How to track direct mail leads: 
The number one rule for tracking direct mail leads is to provide a point of contact between you and your recipient that is unique and trackable. This gives you a way to understand where new business is coming from and provides data that helps guide decisions.
Today we'll be covering 5 strategies to track lead attribution:
Landing pages
URL shorteners
QR Codes
Coupon Codes
Unique Phone Numbers
Create a landing page
One of the most efficient ways to track how your audience is engaging with your direct mail is by creating a unique landing page with its own URL.
This page should have compelling content that looks like a logical next step to the viewer after they receive the marketing collateral you sent to them. You can set this up by working with a marketing automation company or working with your own web developer to create a new page on your site. If you want to do it yourself, Unbounce is a great tool for building optimized landing pages with little to no experience. They have hundreds of customizable templates and AI tools that help with the rest.
For Every Door Direct Mail (EDDM) campaigns, you can create a single landing page for the entire campaign.
Example: www.yourbusiness.com/save
For Targeted Direct Mail campaigns you can create landing pages based on how specific you want to get. If you have the capability with your marketing automation and direct mail provider, you can even create personalized URLs (PURLs) for each recipient on your list.
Example: johnsmith.yourbusiness.com
We recommend you choose a direct mail provider with an automated direct mail API that integrates with your CRM to help you track what happens when they take action.
Use a URL shortener
If you've chosen a single landing page method for your campaign, you can use a URL shortening service like Bitly to create a short URL that's easy for your recipients to access.
A huge benefit of Bitly is that they also offer tracking and data analytics so you can see exactly how many people accessed your link.
Step 1: Go to Bitly.com and create an account
Step 2: Press B on your keyboard or click create new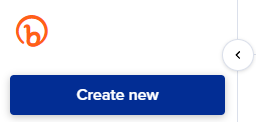 Step 3: Paste your long URL into the Destination Box and give it a title.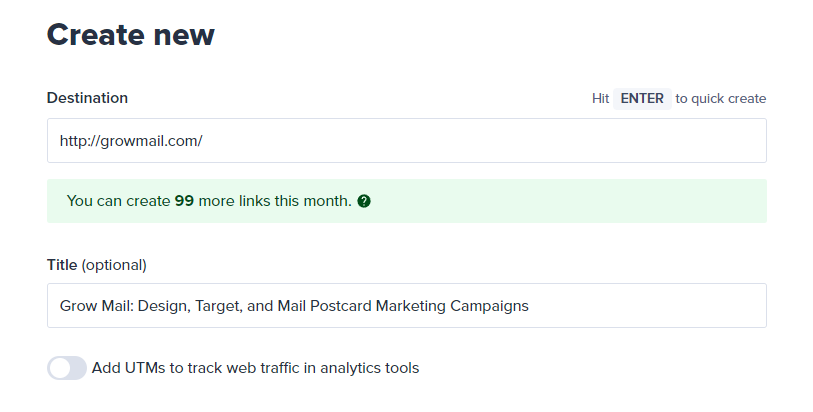 Step 4: Press enter and your URL will shorten to a short bit.ly link.
With the free version, your URL will default to bit.ly. However, you can upgrade to the paid version to create your own custom short URL. Example: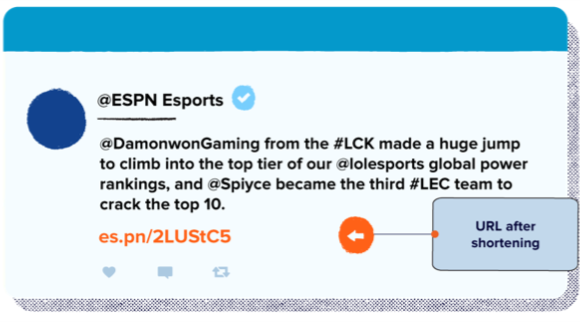 Source: https://bitly.com/blog/url-shortening-101-how-it-works-use-cases-and-examples/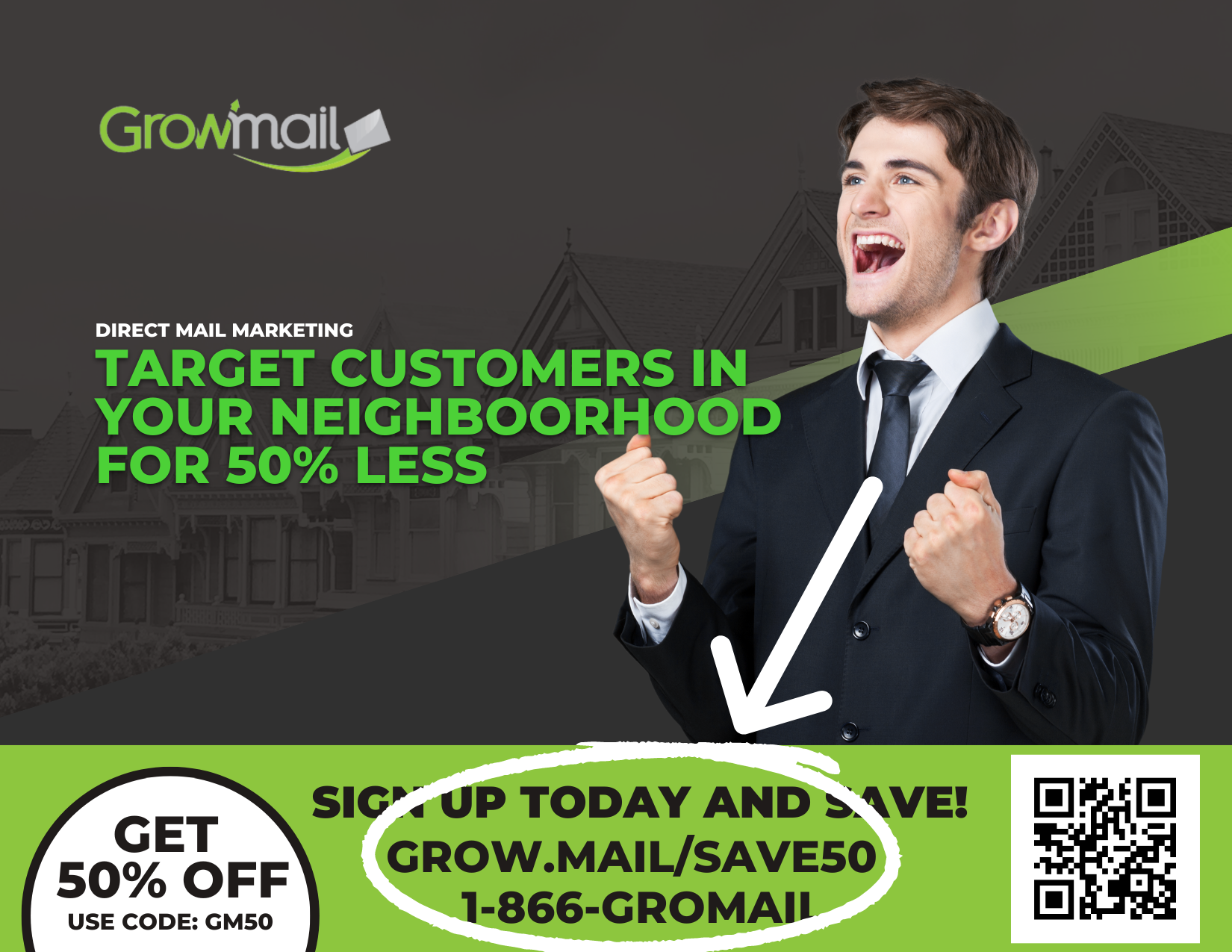 Create a QR Code
"QR" stands for quick response and gives your recipient an easy way to bridge the gap between your postcard and your website. They're also great for taking advantage of call-to-actions that drive urgency.
Examples:
Scan now to save 20%
Get your personal quote here
Use this code to learn more
If you're already using Bitly.com, they will have an option to automatically create a QR code with your Bitly links.
If you're using your own URLs, you can easily create a QR code with qr-code-generator.com (powered by Bitly).
Step 1: Go to qr-code-generator.com
Step 2: Enter your URL.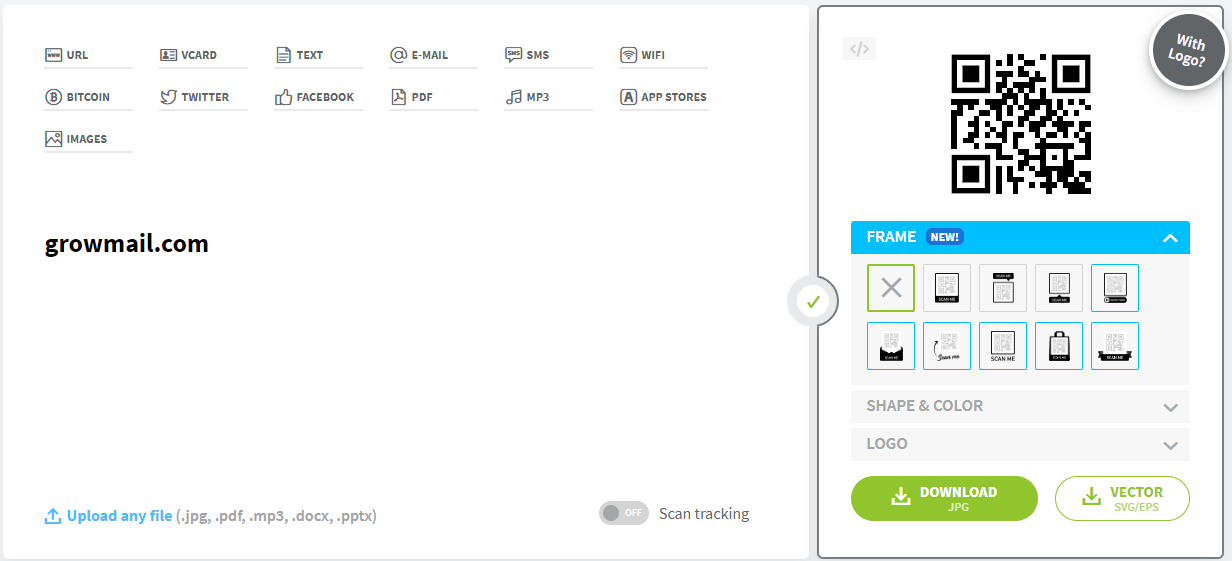 Step 3: Customize your QR code's frame, shape, and color.
Step 4: Click 'Download' and save the file to your computer.
Step 5: Add the QR code to print collateral.
The QR code will save as a JPEG so you can use it on all of your marketing collateral.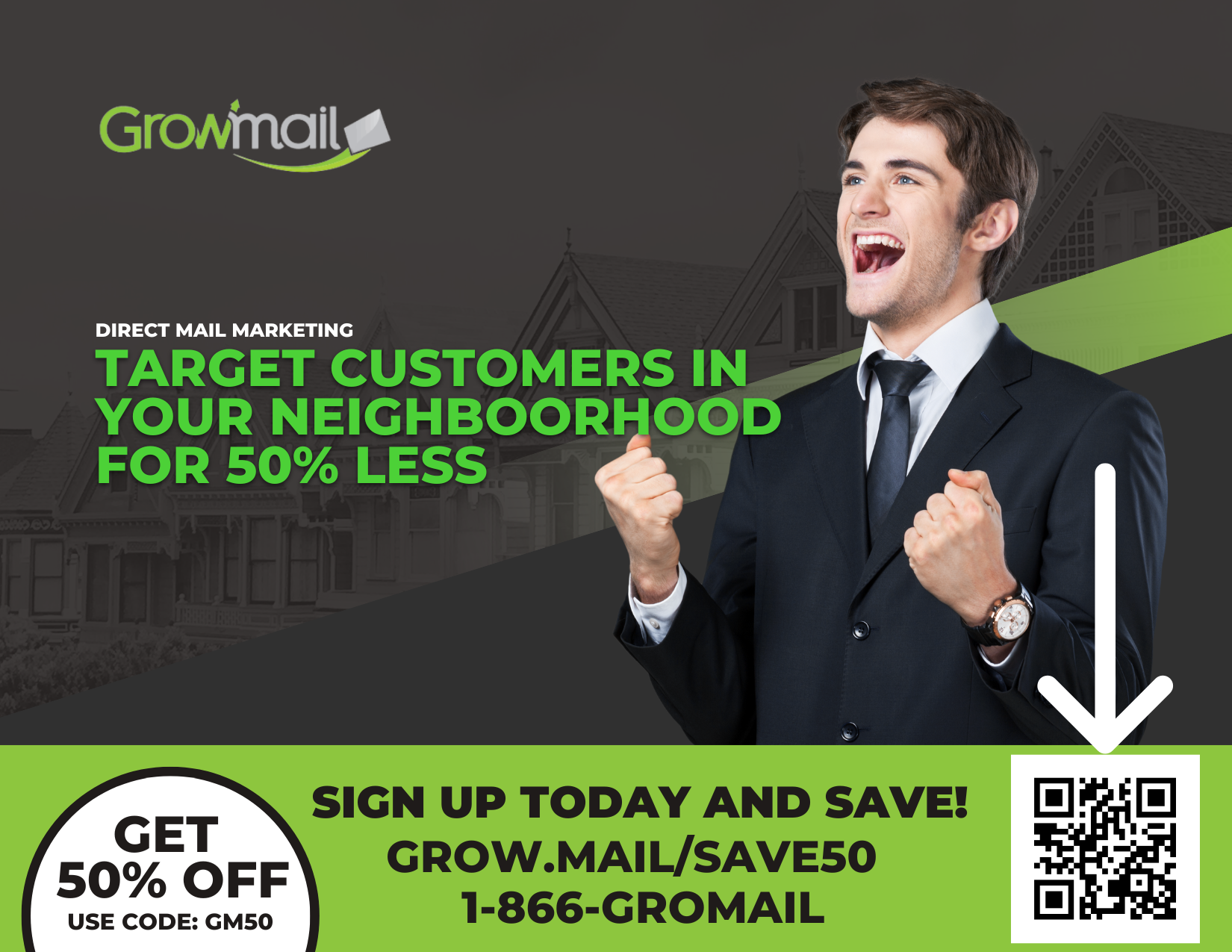 Use a Coupon Code
Coupon codes have always been an effective marketing strategy and can be a great way to make your audience feel like you're actually giving them something they can use.
Coupon codes are great tools because they can be redeemed anywhere, including your store, website and even over the phone. If you don't have the marketing automation resources for tracking, you can train your call takers to ask for the coupon code so they know when to attribute this direct mail source to the campaign.
You can use a different code for each individual campaign, each individual neighborhood, or even each individual person.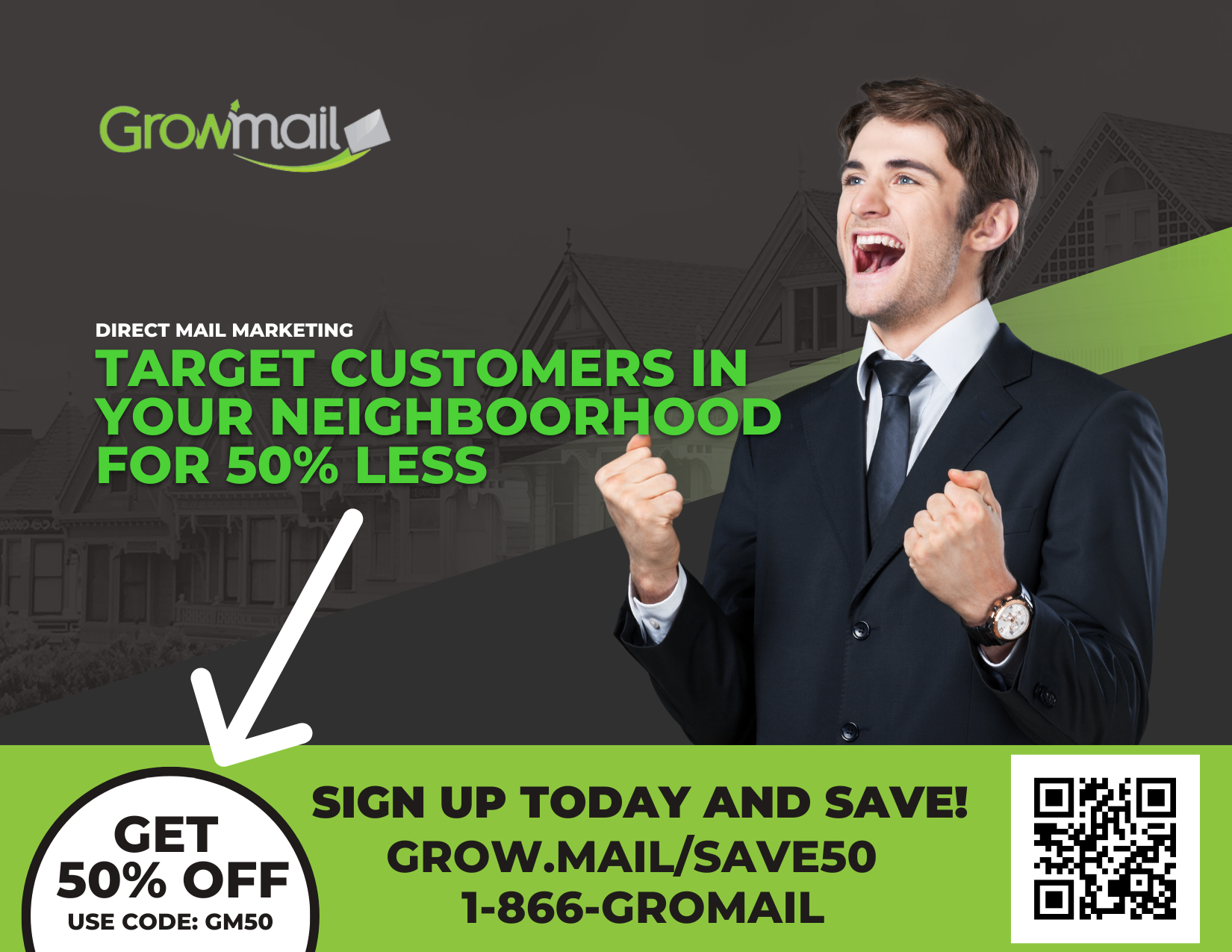 Set up a trackable phone number
Call tracking is one of the best ways to measure the response rate of your direct mail campaign, especially if:
You're offering a service where customers are more likely to call than visit a website
You're offering a promotion that encourages customers to "act now"
Your direct mail piece is saveable and customers could call in weeks or months after they've received it
There are three ways to track calls:
Set up a dedicated toll-free number through your telephone provider that redirects to your business line and tracks/reports dial analytics to your team.
Track the calls using your regular business line but train your staff to keep track of the coupon redemption or simply ask them how they heard about you.
Subscribe to a service from a call tracking software company that will give you a unique phone number and track your analytics on a dashboard that's easy to access.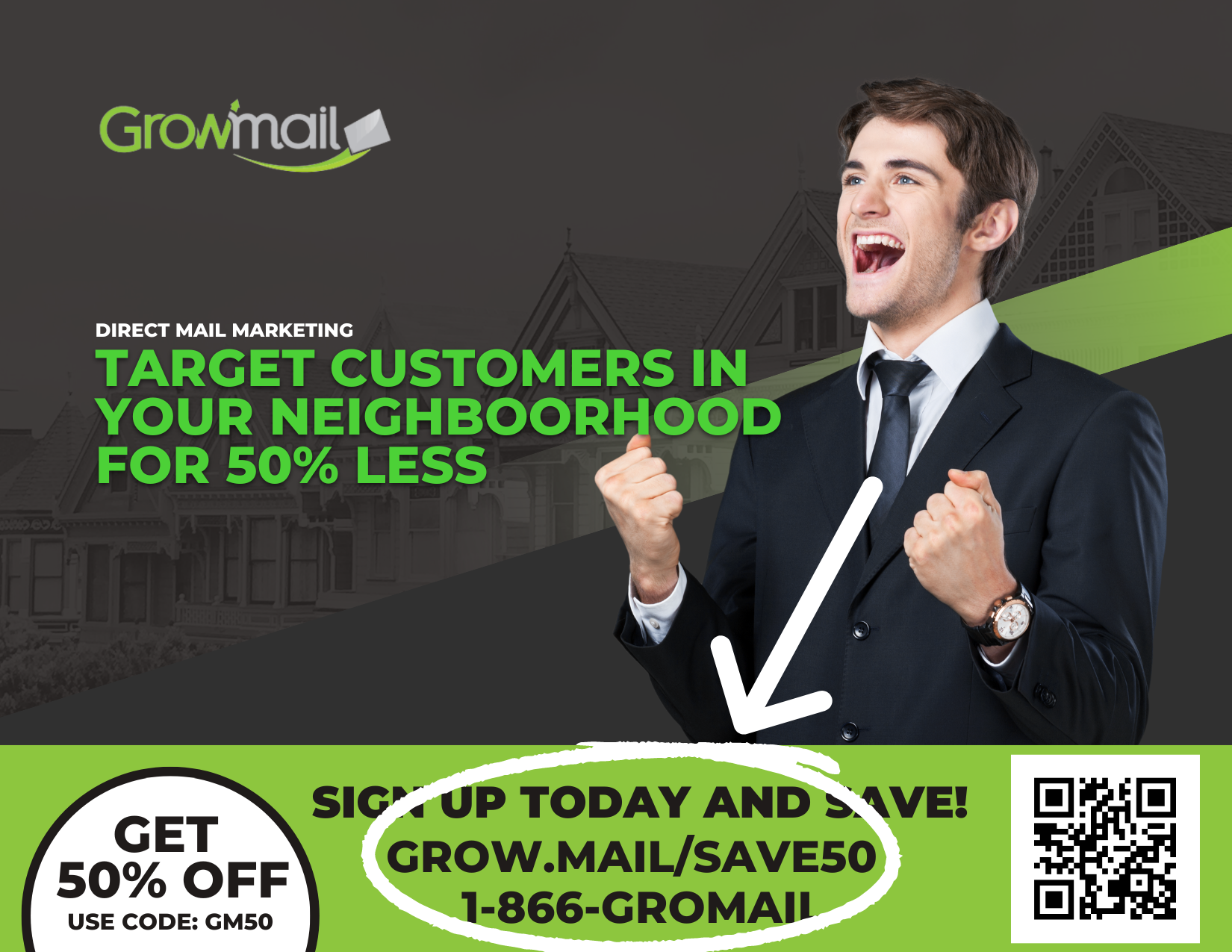 Here are some of our suggestions:
Conclusion
Don't let other teams take credit for the new business that you and your marketing team are bringing in. After you've followed these guidelines, don't be afraid to use your data in presentations to really show off how much your work is affecting the business.
And if you want a partner who can help you deliver it all, schedule a consultation with GrowMail. 
GrowMail offers everything you need in your next direct mail partner and more. Our marketing consultants have 20 years of experience helping marketers get results with our full suite of marketing solutions. If you're ready to begin getting results from your marketing efforts, book an appointment with a GrowMail marketing consultant.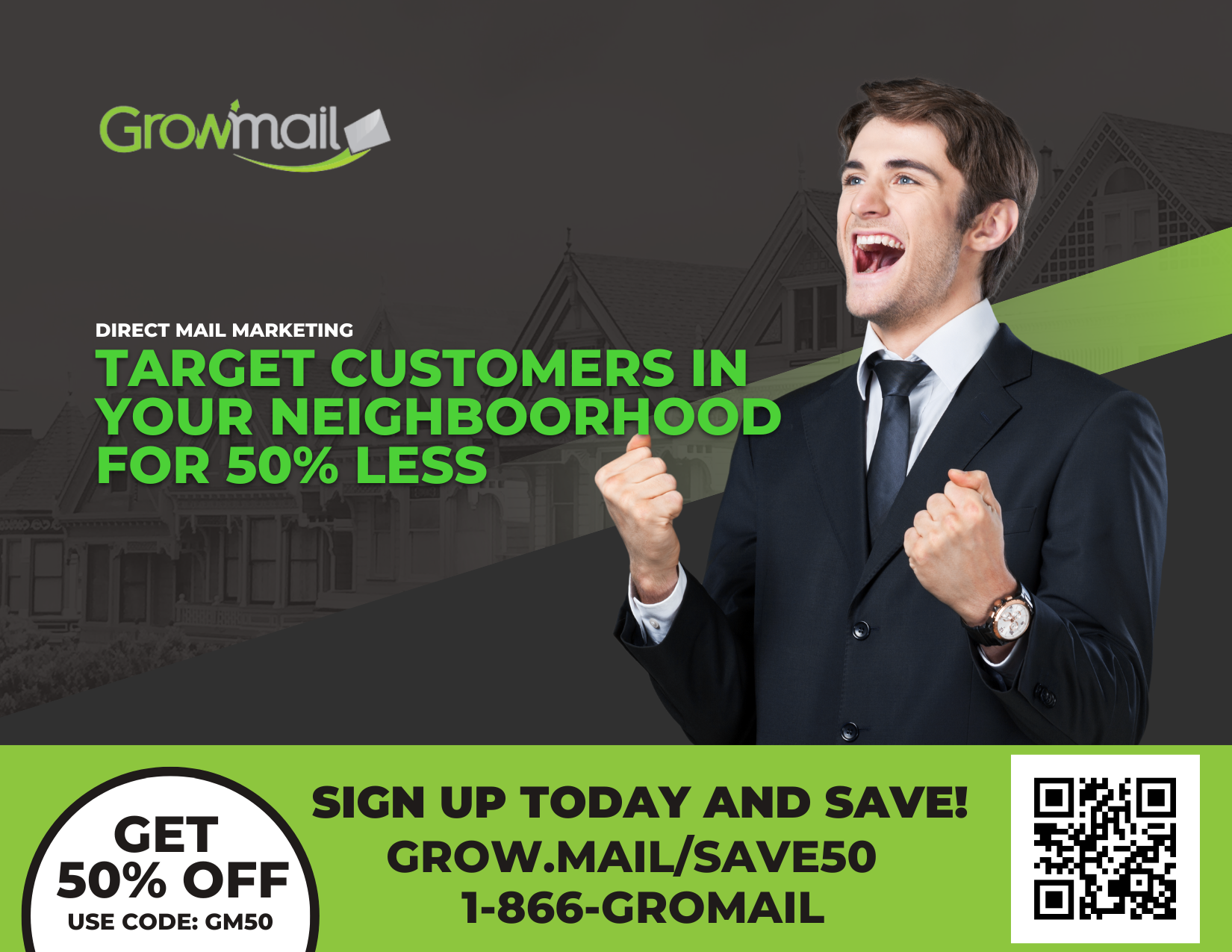 Book An Appointment With a GrowMail Marketing Specialist Below