Figuring out what adjustments you need to make to your marketing strategy may leave you feeling stuck. That's especially true if you've been throwing everything but the kitchen sink at your marketing strategy just to come up short of your goals. That's where being knowledgeable about direct mail automation comes into play.
Making direct mail a mainstay of your marketing strategy has the potential to help you shatter your marketing goals. Some of the reasons why direct mail automation needs to be an integral part of your marketing strategy include:
Direct Mail Can Make Your Marketing More Interactive
Marketers everywhere seek ways to liven up their messaging. What many don't realize is that direct mail could be one of the most engaging ways to interact with an audience. Think about it this way, how often do you receive a postcard or letter from your favorite brand, as opposed to an automated email or paid ad? Mailing your target audience has the potential to generate the engagement you're seeking because there's so many ways for them to engage with your postcard or letter.
For instance, let's say you conduct a postcard marketing campaign to advertise the opening of a new dental office. One creative way to get recipients to interact with it is by adding a unique QR code to the mailer that recipients can scan in order to quickly and easily book an appointment for a first visit at a reduced cost.
Another example of how you could use postcards to increase engagement is by sending thank you cards to your audience when appropriate that gently nudge them to visit you again soon. There are endless possibilities for how you can use direct mail automation platforms to get more engagement from your key audience.
You Can Connect With Customers Better Offline With Direct Mail
One crime that most marketers nowadays are guilty of is focusing too heavily on digital channels. Even though it's the year 2023, believe it or not, there are still people that don't have an online presence.
And get this – they'd be interested in engaging with your brand or products. All you have to do is get them engaged. Fortunately, one of the most effective ways of engaging with the offline members of your audience is through direct mail.
There are a variety of reasons why direct mail is so effective when it comes to helping brands get their message across offline. One of the biggest is the fact that direct mail is so reliable. For decades, brands have spent millions of dollars on direct mail advertising.
Considering how heavily some of the biggest brands in the world have invested in direct mail, it makes perfect sense that it's become one of the most reliable methods for building trust. Additionally, it's fair to assume that many members of your target audience still look forward to checking their mailboxes daily, so why not take advantage of that by sending postcards that catch their attention?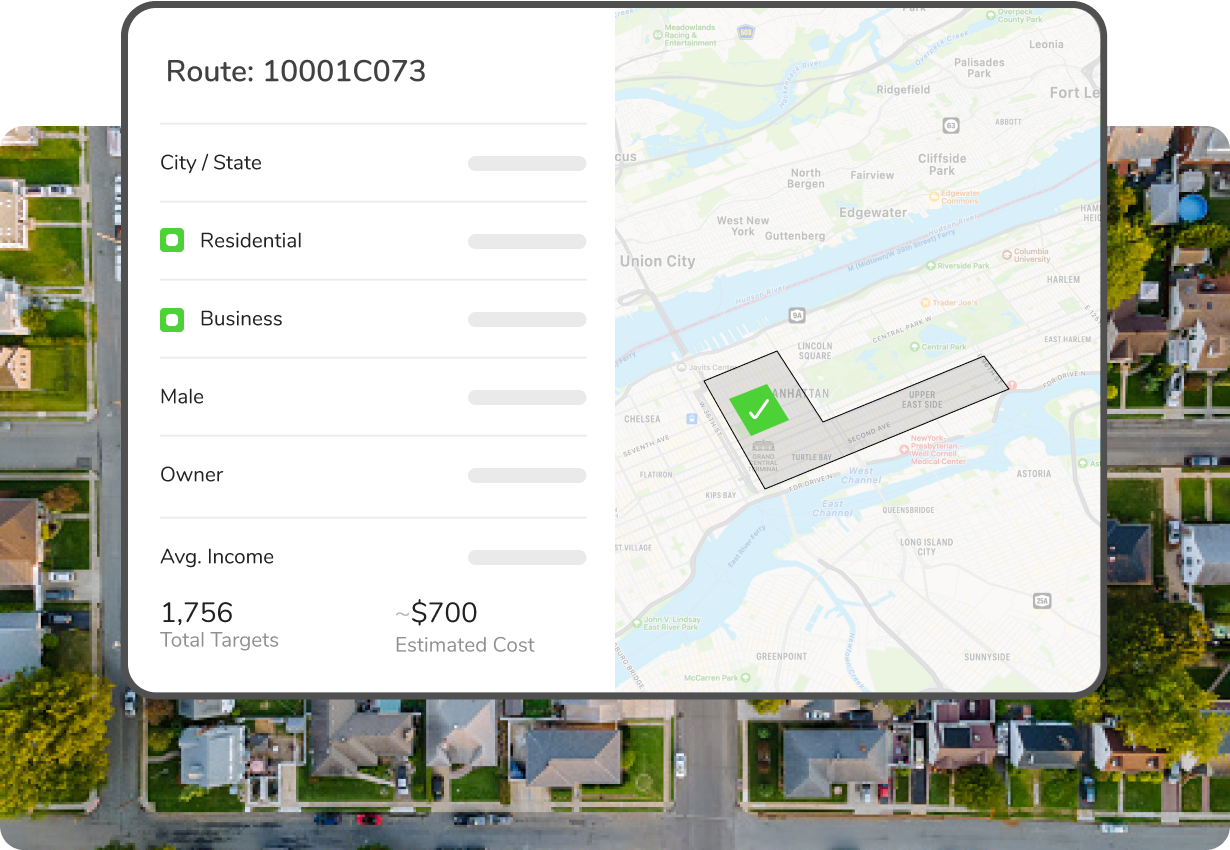 Direct Mail Automation Allows You to Target Your Ideal Customers At Low Costs
Cost is one of the most crucial aspects of deciding whether or not a marketing initiative will work or not. With that in mind, it's important to understand that GrowMail has a variety of options available allowing you to send direct mail at a reasonable rate. Some of those options include:
Discount Zone Mailing: GrowMail's proprietary software uses AI to identify zip codes where we can increase efficiencies to pass along additional savings to users. By choosing to send direct mail for a period of no less than three months, you can mail addresses located in discount zones for as little as $0.19 per piece, including postage.
Every Door Direct Mail (EDDM): The Every Door Direct Mail option provides you with postage at the lowest price point possible ($.018 per piece including postage). EDDM also allows users to send their direct mail without the need for a mailing list, permit or addressing requirements.
Considering the options available for sending direct mail at a low cost, you can keep additional strategies that you've found success with involved in your marketing plans. The same can't be said for other marketing initiatives you may be thinking of going with. GrowMail also has options available for creative for your direct mail campaign if you're starting from scratch.
You Can Easily Track the ROI of Your Campaigns With Direct Mail Automation
Without a method for tracking how profitable your marketing campaigns are, you could be throwing valuable funds in the trash. That's a concern that GrowMail eliminates thanks to its direct mail API which is capable of calculating your direct mail API. Using our direct mail automation software, users also have the ability to a/b test campaigns prior to sending your postcards or letters.
This capability ensures that you'll be able to put your best foot forward when it comes to your direct mail campaigns which is essential in maximizing your ROI. Relying on GrowMail for your direct mail campaigns also gives you access to our marketing specialists who would be more than happy to answer any questions you may have related to the results of your campaigns.
Direct Mail Helps Your Marketing Stand Apart From the Crowd
Along with tracking the returns of marketing campaigns, another common challenge that marketers face is figuring out how to make their messaging "pop." One of your best resources in the fight to catch the attention of your target audience is direct mail. Let's explore why:
Direct mail allows your target audience to consume your message at their convenience: One of the differences between direct mail and forms of digital advertising like display ads or social media ads is that they can put your postcard down and read it later. By allowing your target audience this convenience you may have a better chance at getting the responses you're looking for.
Your target audience is suffering from digital fatigue: Considering how much time we all spend on our smartphones and behind our laptops nowadays, many members of your target audience are likely suffering from digital fatigue. By incorporating direct mail into a multichannel marketing strategy, you can give your target audience a much-needed break from consuming advertising messaging behind a screen.
People remember your brand better when you use direct mail: One of the best ways to help your brand stand out from the crowd is to increase brand recall. Since direct mail stays with customers for roughly 17 days on average, direct mail automation software is one of the most important resources you can have for remaining at the top of mind.
You Don't Have to Worry About Manual Labor With Direct Mail Automation
If it's the thought of having to stamp hundreds of postcards prior to hauling them all the way down to the post office during your busy day that scares you away from direct mail campaigns, don't worry. By using a direct mail automation software platform like GrowMail, all you have to do is select your product, along with your mailing date and let our specialists take care of the rest!
Direct Mail Delivers The Results You're Seeking
Far too often when trying out new marketing initiatives you're probably left wishing for your money back. GrowMail has all the pieces in place to help guide you towards the success you're seeking from your direct mail campaigns, and we have decades of experience to prove it. Regardless of whether you're a seasoned vet when it comes to direct mail, or if you're brand new our dedicated team of marketing specialists are committed to helping you reach your marketing goals.
Automate Your Next Direct Mail Campaign With GrowMail!
The impact direct mail could have on your marketing efforts is undeniable. Making direct mail automation a mainstay of your marketing toolkit is easier than you think, and could yield serious benefits. If you're ready to begin reaching your target audience using postcards and letters, now's the time to set up a free demo with a marketing specialist at GrowMail today.
Book an Appointment with a GrowMail Marketing Specialist Below