Getting more new visitors at your Worship services doesn't have to be costly or time consuming. If you're looking for proven, affordable methods for helping you draw bigger congregations at your services, look no further than direct mail. The right church direct mail campaign has the potential to leave a lasting impact on your church or religious institution. To get the results you need from direct mail, follow the suggestions below.
Track Your Campaign
Failing to measure the impact of your campaign is one of the biggest mistakes you could make. Measuring the results of your postcard campaign allows you to determine what messages or images resonate with your audience most. Tracking your campaign results also gives you insight on what changes you should make for future mailers. A few ways you can measure the impact of your direct mail campaign include:
Using QR Codes:



Are you aiming to increase turnout for a special holiday program, or other type of special event? If so, you can allow recipients of your mailer to easily learn more about it by adding a QR Code that takes recipients to a landing page where they can learn more about it. This method also allows you to track how many scans your code got once your campaign ends. That data lets you know how successful your mailer was in generating interest in your event.
Including a Specialized Tracking Phone Number:



It's fair to assume that there will be people who get your mailer that will have some questions that lead them to making a phone call. By including a tracking phone number on your mailer, instead of your ordinary phone number you can easily see how many phone calls your mailer resulted in at the conclusion of your campaign.
Providing a Unique URL:



Making sure that your website in your mailer is a must. But you can take it a step further by

including a unique URL taking recipients to a landing page

catered to your campaign's message. Doing so allows you to see how many recipients were interested enough in your mailer to learn more about it online. 
Ensure That Your Design Aligns With Your Message
Don't underestimate the power of a stellar design. A well-designed mailer is capable of catching the attention of recipients, quickly while helping to reinforce the message of your mailer. Let's say for instance that you're promoting an event for kids or local schools in your church direct mail campaign. The mailers in this type of campaign should include images of previous events, or of happy kids that are current members of your congregation. If you need assistance designing your mailer, GrowMail's creative team is glad to step in and help.

Our creative team has helped churches and religious institutions across the country when it comes to designing direct mail campaigns. Yours can be next by reaching out to GrowMail's creative team to discuss the details of your campaign. If you need help gathering inspiration for your next direct mail campaign, we've got you covered. Feel free to browse through our library of free church direct mail templates and download your favorite one.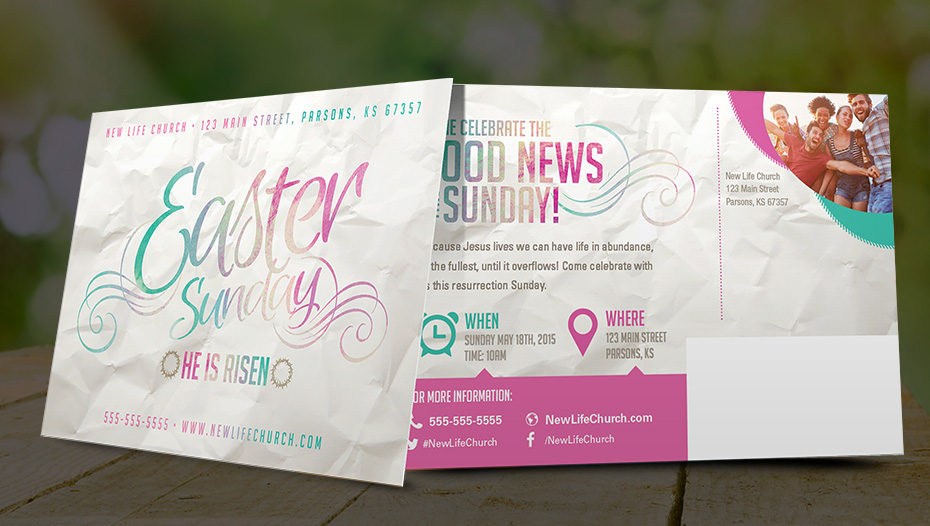 Choose a Mailing Solution That Can Deliver Your Desired Outcome
Design isn't the only obstacle that prevents people from sending direct mail. Another common barrier is a lack of knowledge regarding the many direct mail solutions that you can choose from. The most effective solution for your campaign depends on the outcome you're hoping to achieve. Below, you'll find a few of GrowMail's most popular mailing solutions and how they can support your campaign goals.
EDDM

Campaigns sent with EDDM

allow you to reach all of the households on a particular mailing route. And you can send mailers ranging from postcards, to 12×15 brochures with EDDM. The ability to send bigger mailers for less with EDDM make these campaigns especially appealing for those who are hoping to continue to build recognition within a specific community.



Saturation Mail:
Sending a saturation mailer allows you to reach all of the households within a mailing route. And with GrowMail's saturation map tool

you can research mailing routes that contain a high concentration of your target audience. This allows you to craft a message on your mailer that is likely to resonate with your audience.
Targeted Direct Mail:

Let's say for instance that your goal is to attract more families to your services and events. You can use targeted direct mail to craft a mailing list of all of the families within a specific mailing route. That's just one example of the types of demographic you can target. The insights you can use to create a mailing list include income level, age, marital status and more. And you can personalize messages sent with targeted direct mail, unlike with EDDM or Saturation Mail campaigns.
Offer a Clear Proposition/Call to Action
One of the biggest mistakes that beginners make with direct mail is adding too much information. If your mailer isn't focused on achieving one particular outcome, recipients may lose interest in it quickly. And that will likely result in your mailer, (and subsequently your marketing budget) being thrown away. Providing a call-to-action that's easily understood increases the odds of your campaign yielding the outcome you hoped for. Resisting the urge to list all of the great things about your church or religious institution is tough. But doing so is essential to getting the results you need.

Imagine receiving two postcards in the mail from competing brands. One contains a pair of bulleted lists detailing all of the benefits of shopping with their brand. The other has a tagline, along with a call to action, saying "Save 10% on Your First Order!" It's fair to assume that the latter would catch your attention. The previous postcard, on the other hand, would likely be trashed. The best way to avoid such an outcome, partner with GrowMail on your next campaign.
Rely on a Direct Mail Partner With Proven Success Putting These Church Direct Mail Tips to Use!
Don't trust your next campaign to just anyone. Increasing turnout at your church or religious institution is a tall task. You can rest assured that you can rely on GrowMail to ensure that your next campaign exceeds your expectations. Churches and religious institutions all over the country have been relying on GrowMail to increase their congregation sizes for years. Schedule a free consultation below with one of our proven, knowledgeable marketing specialists to find out why!