Does searching high and low for ways to get more customers for your lawn care business have you stumped? If so, you're not alone, as figuring out how to get more clientele is an obstacle lawn care business owners everywhere struggle to overcome. The good news is that  postcards, a solution that is more than capable of delivering results, are easier to start using than you think. That's especially the case if you know how to craft a postcard that makes recipients act. Some ways that postcard marketing can be essential in helping you earn more clients for your lawn care business include:
Postcards Allow You to Get the Word Out About Your Services Early and Often
It's never too early to begin letting your potential clients know about how you can take care of their lawns. Even though the yards of your clientele are likely wet with rain or snow, you can bet that homeowners are already thinking about their springtime lawn care plans. That's why it's never too early to begin letting potential clientele know about all of the services you offer. Let's say for example that you send your first postcards in January or February.
If you continue sending them regularly, by the time spring arrives, you'll have much more brand recognition among your prospective clients than competitors. Additionally, they'll be familiar with the services you offer. Getting a head start when it comes to informing your potential clients about your services could be exactly what it takes to generate more revenue for your lawn care business.
They Allow You to Showcase Your Work
If you do great work, why not show off what you're capable of, every time you get the chance? By including photos of prior landscaping jobs that you've completed, it's easy for recipients of your postcards to envision the type of work you'll do for their lawns. In most cases, seeing is believing, so in order to get prospective clients to begin calling to book appointments for your services they may need to see what you're capable of first. So in order to begin attracting your dream clients this spring, now's the best time for you to begin gathering up your best photos.
Another reason why it's important to display your best photos of your work on any postcards that you send out is because they can communicate what jobs and services you offer without being too wordy. Let's say for instance that you offer several services, including:
Lawn Mowing
Leaf Removal
Tree Trimming
Landscape Design
Pruning
Mulching
Irrigation
Obviously listing all of these different services on a single postcard would be really difficult. So that's where your pictures enter the equation. By including photos of things like a freshly-mowed lawn, or a home with newly-designed landscaping, you can drive home the fact that you offer these services without wasting valuable words. This strategy leaves you with enough space on the postcard to include your contact info, website and more. If you've never designed a postcard before, the creative team at GrowMail would be glad to assist you.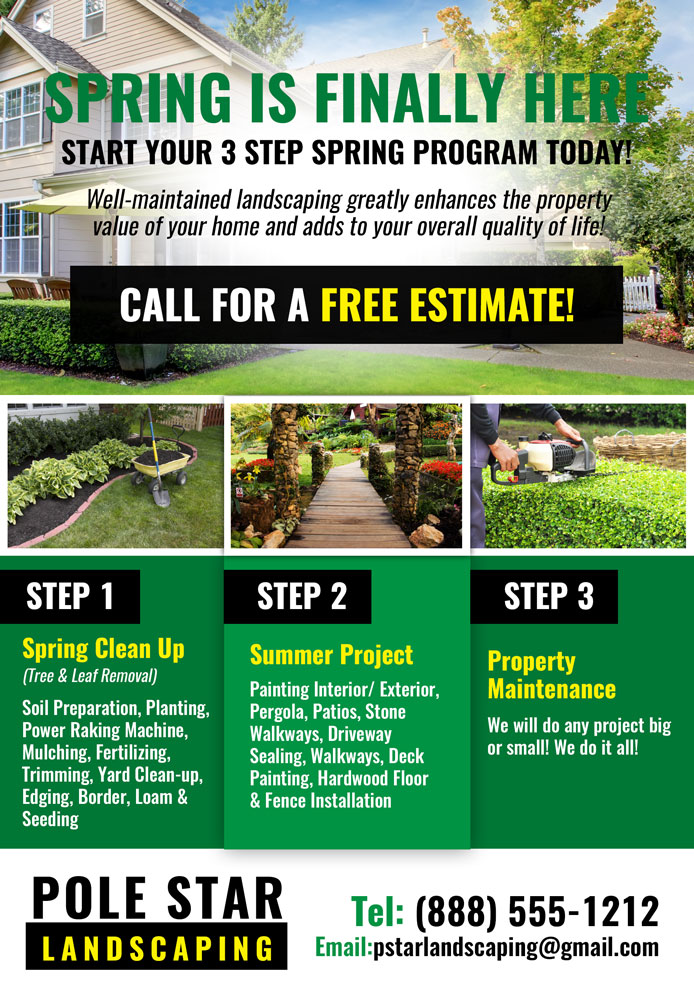 Postcards Inform Your Audience About Services They May Not Have Known You Offer
Postcard marketing could lead to an increase in some of your lesser-known services being taken advantage of. That's especially true if you're persistent in getting the word out about those services. Let's say for instance the majority of your revenue comes from the sales you get from mowing lawns. With an effective postcard marketing strategy that effectively communicates all of the services you provide, your potential clients can easily store your postcards until they need one of your additional services like irrigation installations or fall clean-ups for example.
Think about how often your prospective clients are going to Google to find a lawn care business that completes the same services you offer. By sending postcards, your prospective clients will be able to call on you directly once they have a landscaping need. Even though they may not reach out right away, rest assured that by getting your message across often you're positioning yourself to be the first person they call once that need arises.
Postcards Can Differentiate Your Lawn Care Business From Competitors in a Variety of Ways
By Simplifying the Appointment Booking Process:
One way you could gain more clientele for your lawn care business is by making it easier for them to book an appointment by using a unique QR code, or by including a unique phone number. Along with making the process for booking appointments easier, this would also help you track the performance of your campaign.
By Allowing You to Share Positive Experiences from Past Jobs:
Since so many customers rely on reviews in order to make decisions, you'd be remiss not to include any positive reviews about your work in your postcard marketing efforts. Whether they're from Google, Facebook or elsewhere, including positive reviews about the work you've done in your postcards is a great way to help differentiate your landscaping business from competition.
By Showing Recipients What They Can Expect Instead of Telling Them:
We all know that a picture is worth a thousand words. That's why you benefit from making sure that the photos you use for your postcard marketing campaign drive home how good of a job you do. Using high-resolution images of well-manicured lawns and landscaping designs could be exactly what it takes to win over your ideal clients.
Rely on the 20 Years of Experience GrowMail Has Helping Lawn Care Businesses Like Yours Succeed
Getting more clients for your lawn care business is easier said than done. Without the right expertise, getting more expertise for your lawn care business may seem impossible. That's why you're encouraged to lean on the two decades of experience GrowMail has helping lawn care businesses like yours grow with postcard marketing strategies that work. Getting started with your first postcard marketing campaign is simple, too. By implementing the right postcard marketing strategies, you'll begin attracting the clientele you need sooner than you think.
Book a Free Marketing Consultation With GrowMail Today!