Home service business owners and marketers, know that new customers don't grow on trees (no pun intended). If you're used to growing your business at networking events, posting flyers on doors and winning referrals, we salute you. But there are so many additional ways to get the results you need from your home service marketing strategy. Small businesses like yours are the backbone of the economy. And GrowMail is here to help you smash your next revenue goal.
If you're just branching out with your home service marketing endeavors, you're in luck. Below, you'll learn proven postcard marketing tactics for tree removal, gutter cleaning and other home service service businesses. 
Show, Then Tell: Display Photos From Previous Successful Projects
Recipients of your direct mail will quickly identify a stock photo as opposed to a real picture of your work. In this digital era where people are inundated with advertisements, authenticity will set you apart and put you above the rest. This can be a powerful way to demonstrate the quality of your work and give potential customers an idea of what they can expect if they choose to work with you. 
If you have success with a large project, it's worth the investment to take a high quality photo to use in your future marketing assets or even hire a professional photographer. The photos should be high-quality and clearly show the transformation your business should provide.
3 Picture Ideas: 
Show off your best project – Take high quality photos of the best work and/or the biggest job you've done for a client.
Take before and after photos – If you have an especially messy job, make sure you take pictures before you start so you can show off what an incredible transformation you're able to offer.
Show the step-by-step – A great way to show your expertise is to take photos of each step of the process. You can show off tools you're using and how you perform the work with a Step 1, Step 2, Step 3 format.
Advertise Your Lesser Utilized Services 
Introducing your potential customers to services they may not have been aware of can be instrumental in generating more business. Highlighting lesser utilized services, while detailing the benefits of the service could be the perfect formula for success. For bonus points, you can bundle these extra services at a discount with your flagship services so you can increase revenue per visit to your customer's home. 
It's also important to include a CTA (Call-to-action) that encourages the recipient to contact the business for more information or to schedule a service. 
Examples: 
"Schedule your stump removal today for 20% off trimming services."
"Clogged gutters? Call today for a free quote and save $30 on a window or roof clean."
"Bundle your patio and driveway pressure washing for 10% off."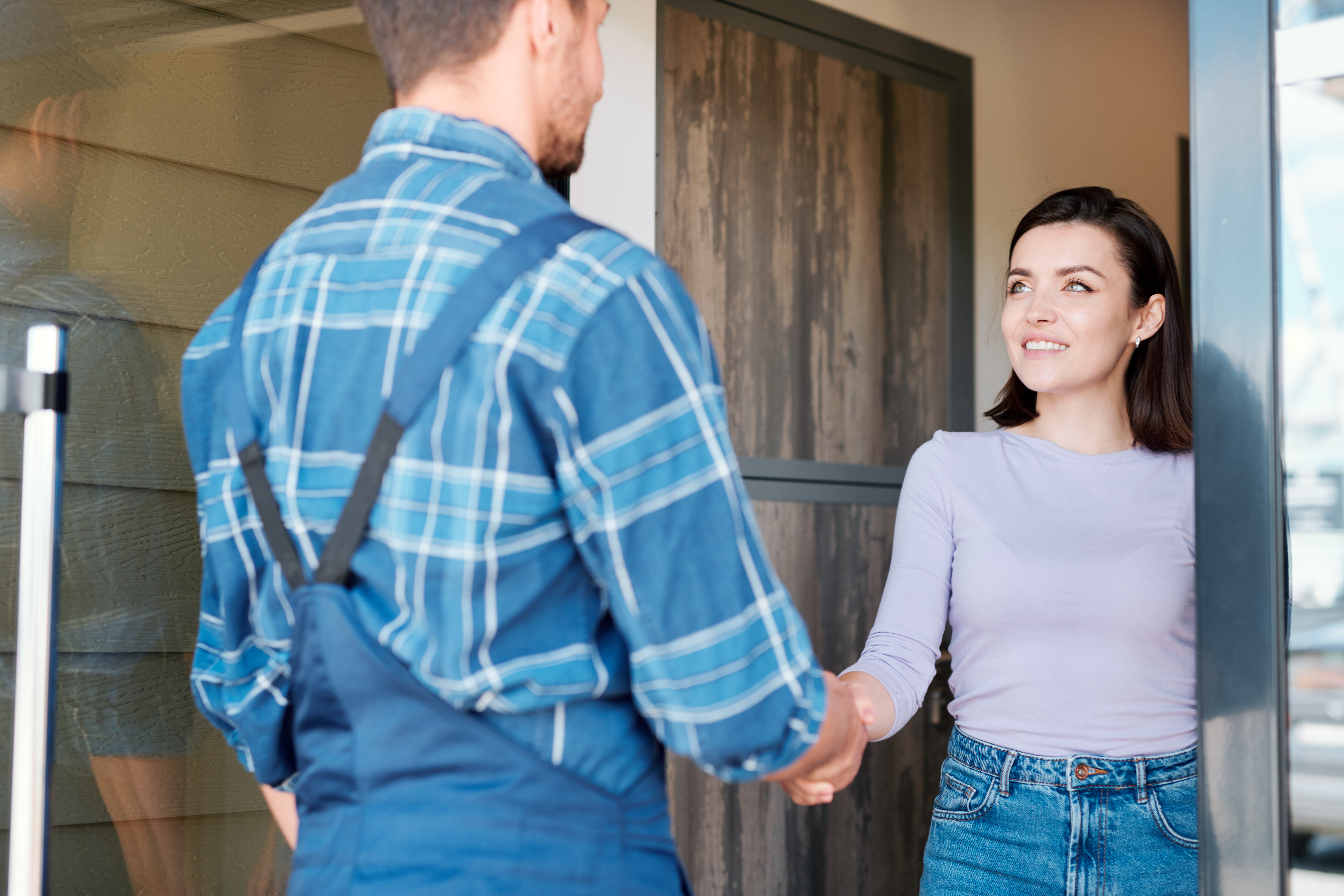 Introduce Yourself to New Members of Your Community
Make it easy to introduce yourself to potential customers and generate leads from people who may not have been aware of your business using New Mover Direct Mail. Your postcard should include information about your services, your contact information and a friendly message introducing them to the community. 
With GrowMail, you can partner to set up New Mover Direct Mail and be one of the first to welcome new movers into the neighborhood using variable data from reliable database partners. 
You can take this to the next level by following up with personalized direct mail, which uses data to personalize each mail piece with their first name, custom landing page and even a special promotion that might appeal to them individually. 
43 Million people move per year and 34% of people don't live in their home state. Don't miss out on an opportunity to be their go-to business for the service you offer when your postcard stands out from the spam.
Make Getting in Touch Easy in Case of Emergencies
Finally, it's important to make it easy for potential customers to get in touch with your business in case of emergencies. Especially for businesses that offer emergency services, like plumbing or HVAC repair.
Your postcard should include your business's contact information prominently displayed. You also need a message emphasizing your business's commitment to emergency services. It's also important to include a CTA that encourages the recipient to contact the business in case of an emergency.
Finally, you can take this step to the major leagues using landing pages, short URLs, QR codes, Coupon Codes and Unique Phone Numbers. These tools give your reader a frictionless way to get in contact with you. On top of that, it gives you a way to track your lead attribution so you can accurately calculate ROI, fix areas that need work or double down on areas that are getting the best results.
Get Your Home Service Marketing Strategy Off the Ground Today With GrowMail!
Postcard marketing is a cost-effective way for home service businesses to reach a targeted audience and generate leads. The steps outlined above are just a few ways to take your postcard marketing to the next level. 
To work with an expert who can help with all of the other components, schedule a free consultation with GrowMail. 
GrowMail offers everything you need in your next direct mail partner and more. Our marketing consultants have 20 years of experience helping marketers get results with our full suite of marketing solutions. If you're ready to begin getting results from your marketing efforts, book an appointment with a GrowMail marketing consultant.
Book A Free Home Service Marketing Consultation Below