Getting the results you need, without taking too much time is every marketer's dream. But you need the right resources to be able to make that dream a reality. Luckily we've got what it takes to streamline the process of starting your next direct mail campaign. GrowMail's full library of free direct mail templates allows users to take a pre-designed postcard and customize it to fit their own branding, promotions and services. Here's a rundown on how they can be used:
Defining Direct Mail Templates
A direct mail template is a downloadable file that comes pre-loaded with a design. All you have to do is replace the text, logos and other information with the details you want to communicate. The fact that design often serves as a barrier of entry preventing lots of marketers from sending postcards means free direct mail templates could be essential to getting your first campaign off the ground. 
Instead of designing your campaign from scratch, you can simply browse a variety of designs and choose your favorite. For teams that are limited when it comes to design resources, direct mail templates provide everything necessary to begin sending.
How to Use Direct Mail Templates
If you think that you have to be an expert designer to make use of postcard templates, think again. Using direct mail templates for your next campaign is easier than you think. Here are some steps to keep in mind:
Choose Your Format

You can download a template of your choice in either PDF, PSD (Photoshop), AI (Illustrator/InDesign). If you don't have access to Adobe Creative Suite, your best option is likely going to be a PDF.
Edit

Once you've chosen the template you're most interested in using in your campaign, the next step is to swap out the placeholder text. Along with changing the text that's currently on the templates, you'll also want to make sure you include an updated phone number, along with your website and address. You'll also want to make sure that you include a high quality, updated version of your logo in the final version of your template. 
Save and Upload Your Artwork

The final, and arguably most important last step is to properly rename and save your template. Once the edited version of your template is saved, you can prepare to use it on your next campaign by logging in to your GrowMail account and uploading your artwork. Then, in many respects the hardest part is over – once your artwork is uploaded you can take the necessary steps to finalize your campaign.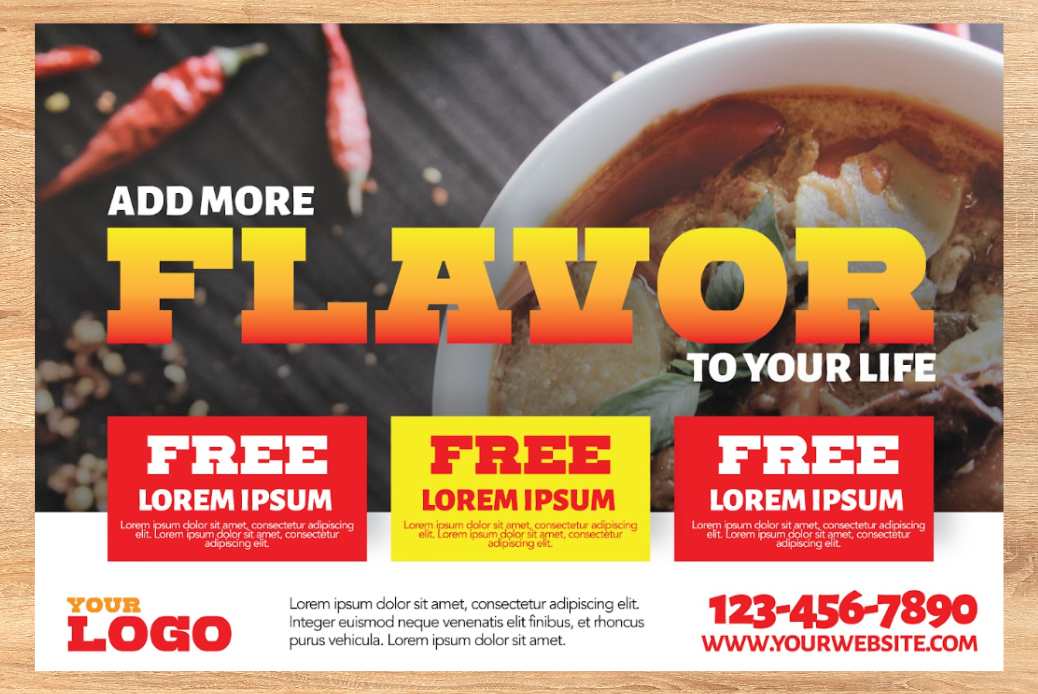 Benefits of Leveraging Direct Mail Templates
The benefits that come with using free postcard templates are immense. The fact that they eliminate design as a barrier of entry for executing direct mail campaigns is just the tip of the iceberg. A few more of the key benefits of leveraging direct mail templates include:
Saving Time

It's no secret that your time is valuable. So not having to spend it sourcing designers or approving proofs is ideal. But this isn't always the case when it comes to designing direct mail. By relying on ready-to-use templates for direct mail campaigns, marketers can reap the benefits of direct mail without having to take time away from other responsibilities.
Great Designs at No Cost

A not-so-well kept-secret when it comes to direct mail campaigns is that they can get expensive to design. The price tag associated with design costs is one of the key reasons why design has become such a common roadblock stopping marketers from sending direct mail. The ability to leverage free direct mail templates allows marketers to get the full benefits of a well-designed campaign without having to break the bank.
No Sizing or Formatting Issues

Another one of the little-known obstacles associated with direct mail design is the formatting that goes into finalizing them. If you're unfamiliar with file types, sizing and other intricacies associated with designs you're a bit behind the 8-ball. After all, you could spend hours trying to figure it out on your own. Using templates allows you to avoid the confusion of learning the ins and outs of direct mail design alone.
Use GrowMail's Library of Free Direct Mail Templates to Kickstart Your Next Campaign
Don't let a lack of design resources stop you from sending direct mail any longer. Browse through Growmail's library of free direct mail templates to begin gathering ideas for your next campaign. Then, whenever you've found one that you like, download it and start editing! We're happy to answer any questions you may have while you get your campaign off the ground. Schedule a free consultation with a GrowMail marketing specialist today to discuss how we can make your upcoming campaign your best yet!