You might not know where to start when it comes to conducting your first EDDM campaign. If that's the case, GrowMail's EDDM map tool provides you with the perfect launching pad. In order to execute your campaign, you'll need to choose the EDDM postal routes you want your mailers to go to. And as you can imagine, no two postal routes are exactly alike. GrowMail's online EDDM map tool was created to help users identify the best routes to send their EDDM mailers to. Here's how:
What is GrowMail's EDDM Mapping Tool?
Nobody wants to waste their valuable marketing dollars by overspending on a marketing campaign, or by targeting the wrong audience. And those are the exact mistakes GrowMail's EDDM mapping tool is here to avoid. The online mapping tool offered by GrowMail allows users to pull crucial data about the EDDM mailing routes you may be considering mailing to. GrowMail's online map tool also allows users to gather information about all the households within a 40 mile radius of your chosen mailing route, too. 
Identifying certain data points regarding the areas you're considering mailing prior to crafting the messaging on your mailer is instrumental for crafting a mailer that resonates with your audience. Starting your next EDDM campaign by researching your desired EDDM postal routes using GrowMail's map tool also simplifies the process of placing your order. Once you've chosen your mailing route, you can simply continue following the prompts, which will allow you to finalize your campaign. More benefits of using GrowMail's online EDDM map tool also include:
It Allows You to Select EDDM Postal Routes Based on Valuable Demographic Insights
If you think the data GrowMail's online map tool provides stops at the number of households that are within a certain EDDM postal route, think again! You can use it to receive data regarding a variety of crucial categories. The insights that you can draw from GrowMail's online map tool include:
Percentage of Male & Female Residents

Average age

Median Income

Percentage of Single Family Homes

Homeownership Status
There's no limits to how you can leverage this data when it comes to your next EDDM campaign. No matter who you're hoping to reach, you can quickly and easily identify where they live and send mailers that resonate with them. And with GrowMail's tracking capabilities, like unique phone numbers, campaign-specific URLs and QR codes it's easy to see how impactful your campaign was once it concludes. Data, combined with robust tracking capabilities provides you with all the resources necessary to conduct campaigns that exceed your expectations.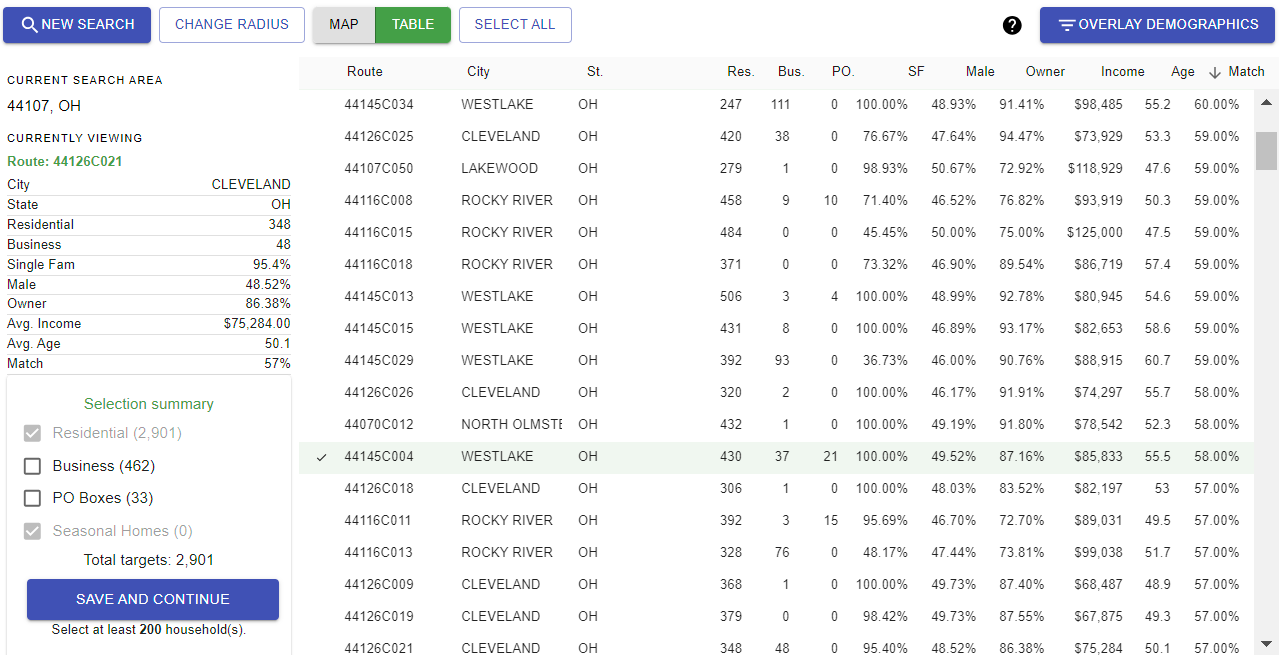 GrowMail's Online Mapping Tool Allows You to Indicate Whether an EDDM Postal Route is Primarily Residential or Businesses
Perhaps you're a home service provider, landscaper, or healthcare provider hoping to reach households with families. In this case, you wouldn't want to spend your valuable marketing budget mailing areas that are highly concentrated with businesses or factories. Ideally, you'd like to send those mailers to residential neighborhoods, maybe one with lots of kids and families. GrowMail's online map tool allows you to quickly identify how many businesses or non-residential addresses are within an EDDM postal route.
Obviously, you wouldn't go putting postcards into random mailboxes blindfolded. But finalizing your campaign without using GrowMail's online map tool is essentially doing the same thing! Sending mail communicating the benefits of your services to a business or industrial district could result in your mailers being thrown right out. GrowMail's online map tool allows you to determine if the amount of households within a mailing route outnumbers non-residential addresses.
You Can Use GrowMail's EDDM to Choose The Best Mailing Solution for Your Campaign Goals
If reaching a specific audience is your goal for a campaign, you may assume that a targeted direct mail campaign is the way to go. But the demographic insights you can uncover with GrowMail's online map tool, you could reach the same audience you were hoping to reach with a targeted direct mail campaign at a fraction of the cost. Pretend that you're a dentist, hoping to connect with families in the area. Checking the GrowMail online map tool to see how many families with children are in the area prior to finalizing a Targeted Direct Mail list could save you hundreds.
That's because you can execute direct mail campaigns for the low cost of just $0.19 per postcard. And with EDDM campaigns, your mailers will arrive at every home on your selected carrier route. Not just the ones that check the boxes of meeting the requirements for being a part of your target audience. This presents an opportunity for marketers to cast a wider net, allowing people who ordinarily may have missed out on your message to find out about what you have to say.
Get Your Questions About Choosing EDDM Postal Routes Answered Today By Booking a Consultation With GrowMail Below!
Kickstarting your next EDDM campaign is easier than you think. By connecting with the marketing experts at GrowMail today, you can get on the fast track to direct mail success! We provide a variety of resources that make getting started simple, like our EDDM map tool and free direct mail templates. And our creative and design team is more than happy to assist you in helping to bring the vision you have for your campaign to life. The marketing specialists at GrowMail know what it takes to conduct EDDM campaigns that deliver results. Find out why so many businesses rely on GrowMail by scheduling a free consultation below!