Low cost marketing solutions that actually yield results are hard to come by. But conquering one of the oldest, most reliable means of getting messages across means big things. It creates a path to crushing your revenue goals. So get comfortable. In the guide below, we'll answer all of your questions reagarding Every Door Direct Mail (EDDM) campaigns. Even the ones you haven't thought of quite yet. Let's get started!
Defining EDDM
Every door direct mail (EDDM) is mail that goes to each address on a mail carrier's route. This particular mailing solution allows businesses to reach thousands of potential customers. That's because it allows marketers to send mail pieces to every address on a USPS carrier route of your choice. For the low cost of $0.37-$0.42 per piece (including postage), you could get your name, products and services into the homes of your audience, without the need for a permit, or mailing list.
Imagine opening a new restaurant in your neighborhood. You could use EDDM to send a postcard to the community informing everyone about specials you offer. You can also share directions to your location and more. Realtors could use EDDM to inform residents about having a partner available. One who is capable of getting residents out of their old homes and into new ones with "just sold" photos. Essentially, when it comes to EDDM campaigns, once you have your offer and design nailed down, you're ready to send!
What Are the Pros and Cons of an EDDM Campaign?
EDDM campaigns can be highly effective. But you need to understand all of the capabilities and limitations they possess in order to fully benefit from them. Even though EDDM campaigns are capable of delivering big results at low prices, you may find that targeted or saturated mail campaigns are more up your alley. Some of the benefits of EDDM campaigns include:
No Opt In Necessary:
It's no secret that most marketers depend on digital channels to get their message across. But this results in so many marketers disregarding the digital fatigue audiences experience nowadays, leading to high opt-out rates. A big hurdle that marketers are constantly fighting to overcome is connecting with people who have chosen not to receive your communications. There's no opting-in required for direct mail campaigns. That means EDDM could be ideal for anyone experiencing more email unsubscribes or a drop-off in social media traction.
Sending an EDDM Campaign is Simple:
Typically, a mailing list is required to send direct mail, and the criteria for who makes it onto those lists can be highly detailed. In order to get the full value of a mailing list, you need an accurate understanding of your target audience. Otherwise, you may wind up wasting your precious advertising funds. Eliminate the need for a mailing list while collecting the customer insights you need to successfully identify your target audience in one fell swoop with an EDDM campaign. Placing an order is as simple as selecting your size and quantity, prior to using the EDDM Tool to choose the routes you'd like to mail to.
No Manual Labor When Using a Partner Like GrowMail:
Searching online for some of the biggest drawbacks regarding EDDM campaigns, will yield some pretty scary horror stories. When many people think of EDDM, they think of bundles of brochures and postcards being rubber banded together and hauled to the post-office.
Allowing a USPS-approved vendor like GrowMail to execute your campaigns, eliminates the hassle that many people envision upon hearing the words "direct mail." This allows you to continue to focus your efforts on your daily responsibilities without a hitch.
Now that you understand the benefits of EDDM campaigns, here are some of the limitations of running one:
No Personalization Involved:
If catching the attention of recipients with personally addressed direct mail is your goal  a targeted direct mail campaign may be your best option. Have you ever entered the lobby of an apartment building and seen postcards or brochures in a common area that are addressed "dear neighbor?" There's a good reason why you'll find this type of standard greeting on EDDM mailers. EDDM mailers go to every address on a specific route. That means there's no way you could personalize each mailer tailored to an individual's name.
One Size Fits All Messaging:
The lack of personalization that can be used within EDDM campaigns limits your ability to craft messaging geared towards making specific recipients take an action. That means you need to go above and beyond to make sure everyone that receives your mailer understands what action you want them to take. Your best course of action when it comes to messaging for EDDM campaigns is to keep things general. You can't go wrong with announcements like store openings, new products, or important business changes like new locations or hours of operations. Making the messaging in your mailer clear and actionable is essential to getting your money's worth.
EDDM Size Guidelines
You could have the perfect message, along with a dazzling design. But if your EDDM mailers don't meet the size requirements established by the USPS, none of that will matter. Here's everything you need to know regarding the size requirements for EDDM Mailers:
Maximum Size: Each side must remain beneath 15 inches in length and 12 inches in height.
Minimum Size: EDDM Mailers must be at least 6 ⅛ inches high or 10.5 inches in length.
EDDM Mailers cannot weigh more than 3.03 ounces
EDDM Mailers must be at least 0.007" thick but no less than .75"
Even though there are stringent sizing guidelines for EDDM postcards, you can still get creative. For instance, did you know that EDDM can be folded? As long as your brochure weighs less than 3.03 ounces, you can send it with EDDM. If you're unsure of whether or not your mail piece meets EDDM guidelines or if you need help getting started, contact our team of marketing specialists who can help you review the dimensions in your mailers today.
Details to Include in Your EDDM Mailer
Now that you know what it takes in order to get your mail sent via EDDM, you're ready to begin crafting stellar content for it. In a lot of cases, this mailer is how many people will initially learn about your business for the first time. That means you need to put your best foot forward when it comes to every aspect of your postcard. Some of the most important details to remember when it comes to crafting your EDDM mail piece include:
Location: If people don't know where you're located, they won't be able to patronize your business. Make sure you don't forget to include your address in your EDDM postcard. Also include directions on how to get there from main streets and freeways.
Hours of Operation: You don't want a recipient of your postcard to appear at your location while you aren't there. Avoid this by remembering to include your hours of operation in a prominent place on your postcard.
Contact Information: Perhaps recipients of your mailer have questions about your services or the offer in your mailer. If they do, make sure they can get a hold of you by making sure that your contact information is included.
Photos: Seeing is believing. And that goes double when it comes to brands and services people haven't heard of. That's why you need to include high quality photos that can make an instant impression on your audience on your EDDM postcards.
Call to Action: Once your audience gets your EDDM mailer you need to inform them of what next steps they need to take. Making your call to action clear and effective is essential to getting recipients to engage with your brand.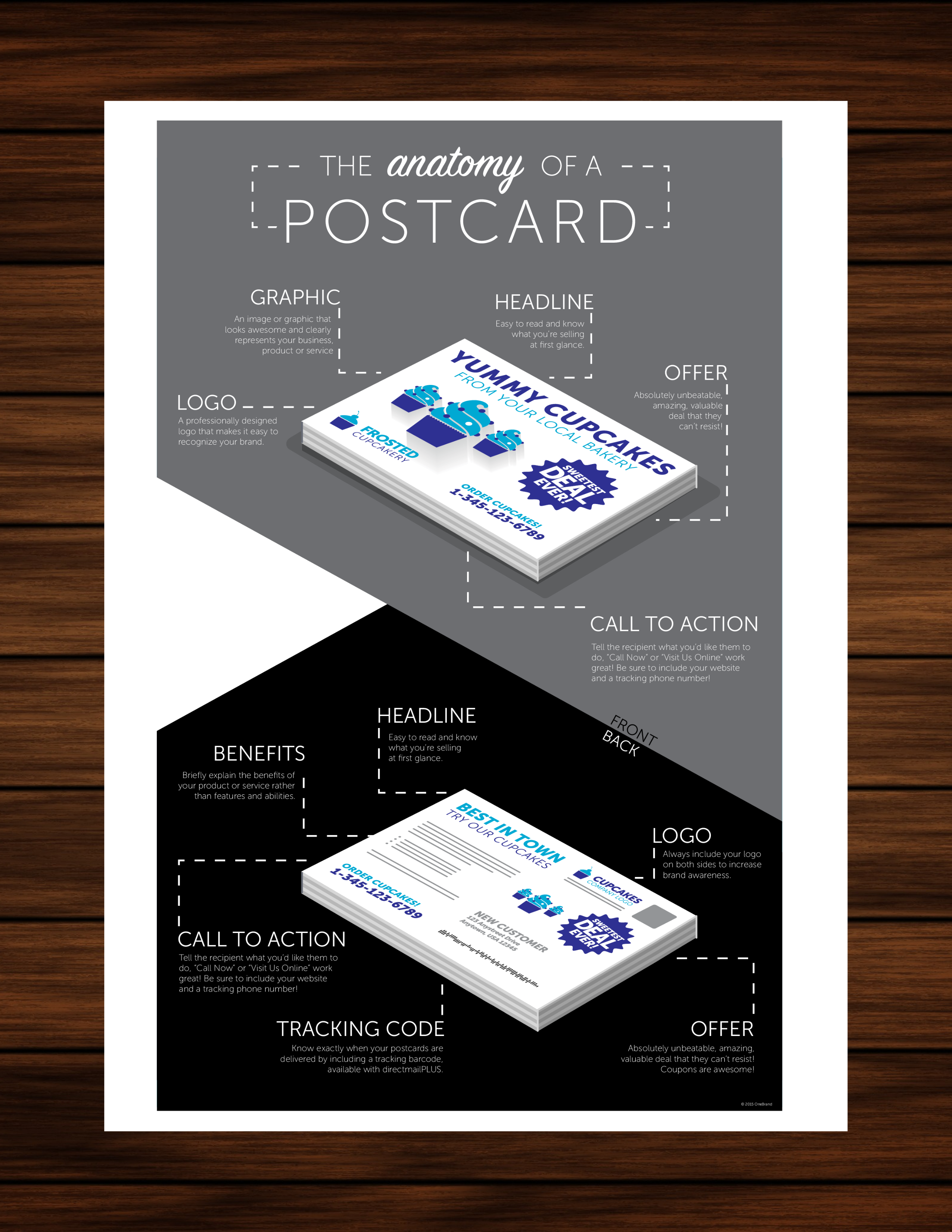 Tracking the Results of EDDM Campaigns
Failing to include tracking within your EDDM campaign is one of the biggest mistakes you could make. Without tracking, you'll fail to understand exactly how much of an impact your EDDM campaign has on your bottom line.
QR Code: Restaurant menus aren't the only place QR codes can be useful. QR Codes allow you to track the attribution of the leads you engage from your direct mail campaigns all while nudging them to take your desired next steps.
Unique Discount: Another way you can track the effectiveness of your EDDM campaign is by associating a unique discount code with it. Once your campaign has concluded, compare how many people used the discount associated with your EDDM campaign with a discount used in your other marketing campaigns. This can provide you with an accurate view of how your audience is responding to your efforts. This allows you to make necessary adjustments.
Landing Page: Including a landing page specifically for the recipients of your EDDM postcards is a simple, yet seamless method for tracking engagement. Instead of having a link that simply takes recipients onto your website, this unique landing page will drive home the same offer and insights as your postcard. This not only makes it easy to find out who's interested in your messaging, it also helps reinforce brand recognition.
Special Phone Number: Simply add a call tracking number onto your EDDM postcard different from your regular hotline. Then, once your campaign concludes, tally up how many recipients of your mailer called to see how much of an impact it had.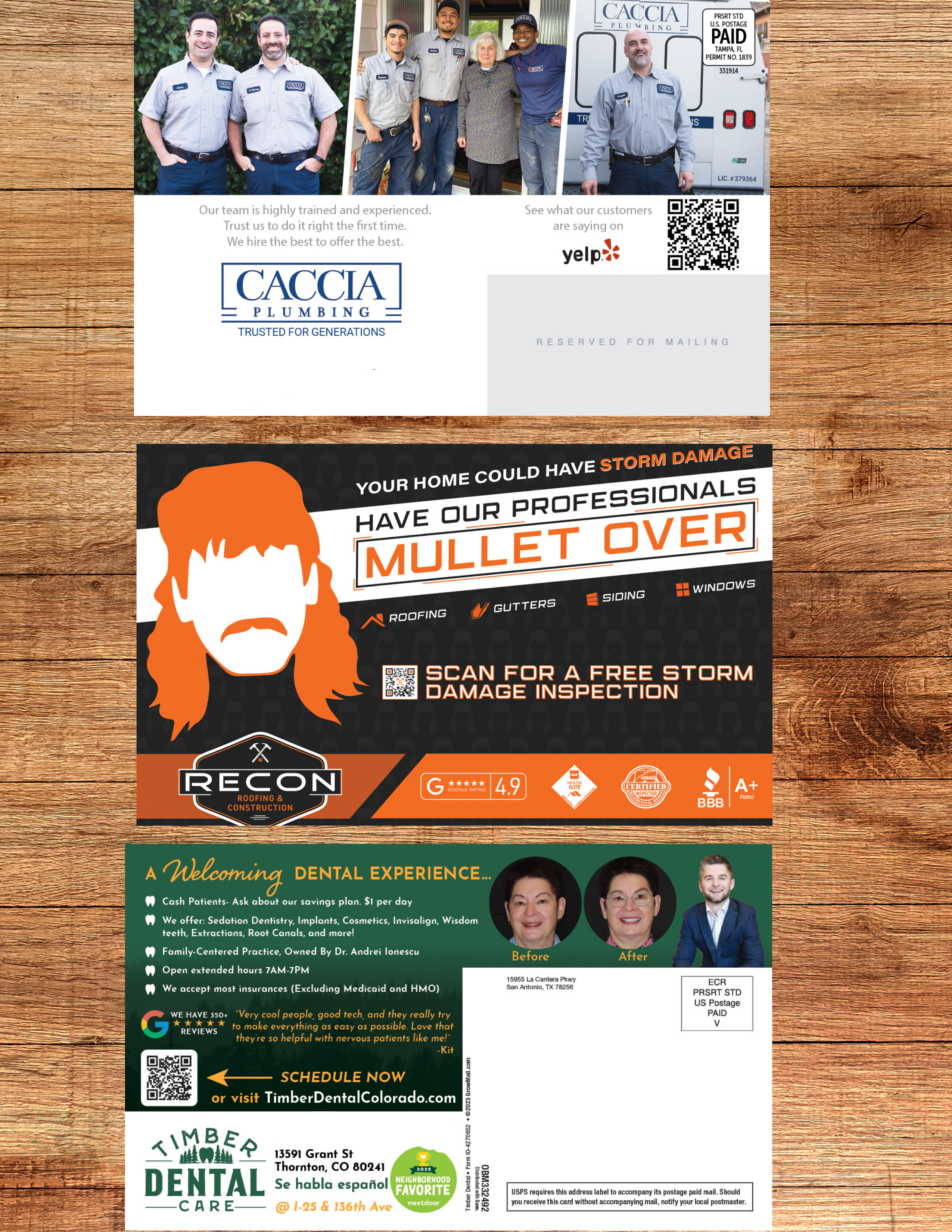 Selecting Your EDDM Routes
You have all the insights necessary now to create and track a winning postcard marketing campaign. Even though you might think that's all you need to get started, think again. Choosing the right routes for your campaign is a must. Here's how you can go about choosing the best EDDM routes for your campaign.
Thorough Demographic Research: Without an accurate idea of who your target demographic is, you'll essentially be relying on the "spray and pray" method for your EDDM campaign. Avoiding the mixed results this strategy can yield is simple though. If you actively collect customer data, you can perform an EDDM campaign in locations with high concentrations of your key demographic.
GrowMail's EDDM Map Tool: Let's say for instance that you have an area in mind that you believe would be ideal for an EDDM campaign. Enter the zip code (s) into GrowMail's EDDM map tool to reveal insights about said locations.
Discuss Your Next EDDM Campaign With The Marketing Experts at GrowMail Today!
That's it -congratulations on making it it to this point! That means you've completed the journey to gathering all of the insights necessary for executing your EDDM campaign. The next step is to determine how to get your message across. You can let us do all of the work, or take advantage of our print and ship options. Seriously, getting your next campaign started couldn't be easier. The marketing specialists at GrowMail are eager to help you through every step of the process, from design to distribution. To get your next direct mail campaign off the ground, book an appointment with a GrowMail Marketing Specialist below!