Getting your mail to stand out in a world littered with direct mail spam is easier said than done. So what can you do to save your mail from entering the recycling bin? Collect first party data (information directly from your customers) and use it to create memorable, highly-personalized direct mail campaigns. Sending mail without proper targeting will land your postcard in the trash with all the others. However, with proper use of first party data, your mail advertisement can make its way to the place all postcards dream about – stuck on the fridge with a magnet!
First party data makes automating direct mail campaigns a breeze. And personalizing each piece to really appeal to your future customers couldn't be easier. It makes all the difference, too. Seventy-two percent of shoppers expect businesses to recognize them as individuals and know their interests.
Below, you'll learn how to collect first-party data and maximize it with direct mail. You will learn why using that data matters and the difference personalized direct mail and automation can make for your business.
How to Collect First Party Data with Contact Forms:
Before you can personalize your direct mail, you need to know a little bit about your customers. This means setting up a system for collecting valuable information. These insights should include name, address, email address, phone number, and purchase history. There's a few different ways to collect this information, one of them being adding a contact form to your website.
To create a contact form, you'll need to:
1. Choose a platform – you can use Google Forms, or Typeform to create your form to add to your website. 
2. Customize the form fields to match all the information you would like to collect.
3. Add the form to your website. This can be done using shortcode or a widget, depending on the platform you are using. 
4. Make sure you have a confirmation message set up letting people know their message has been received once they hit submit.
Now that you have a contact form set up, here's a few ways to encourage people to fill them out. 
1. Use the contact form for online booking. This is a quick and convenient way to collect customer data. 
2. Create a loyalty program. This is a great way to collect customer data and help build loyalty to your brand. You can offer discounts or prizes once customers hit certain tiers. 
3. Offer coupons. You can offer a small coupon or discount in return for someone filling out their contact information.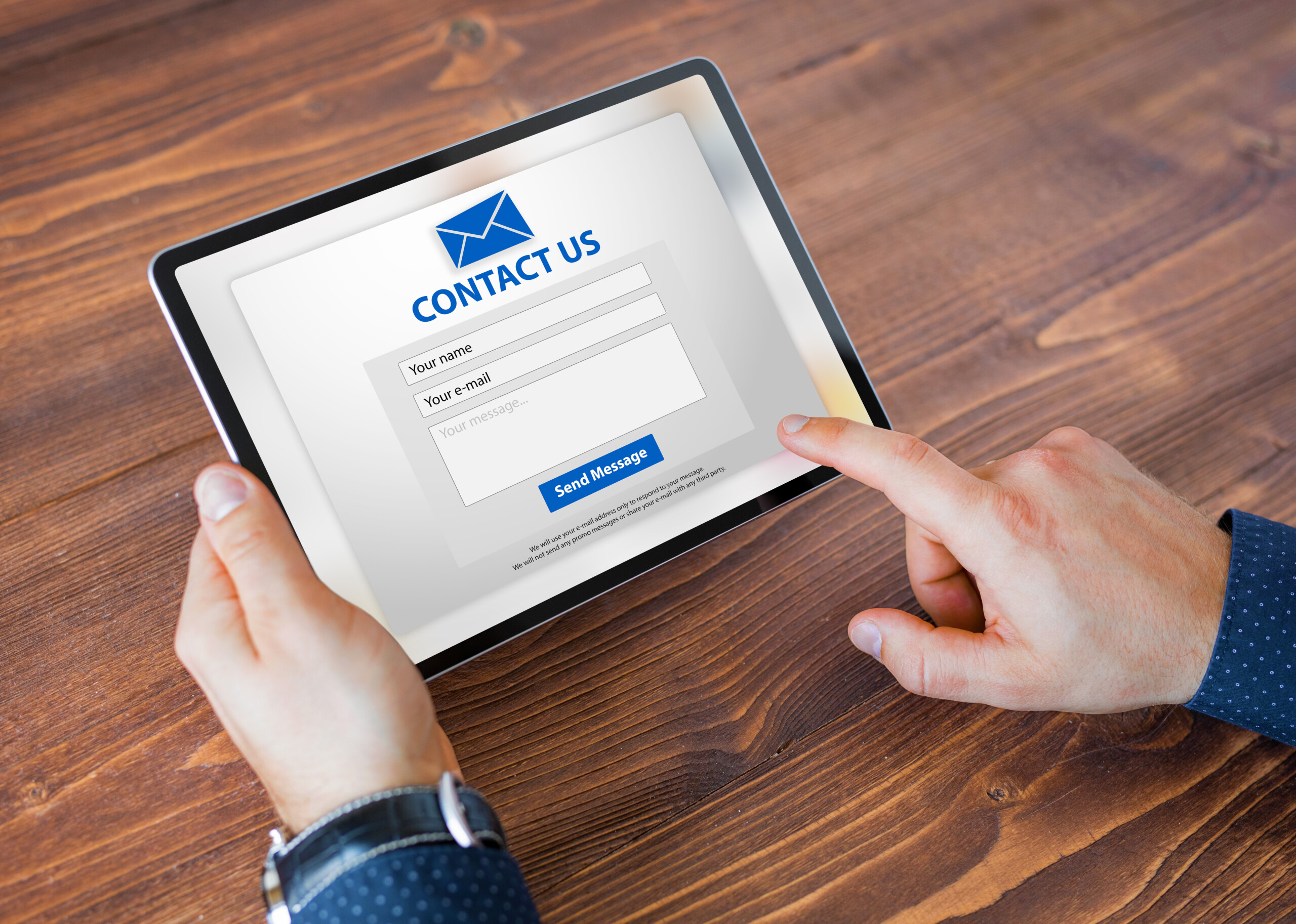 Once you have that set up, you're ready to work with a database to store it all. Otherwise known as a Customer Relationship Manager (CRM).
Once You Collect First Party Data, Store It Using the Right CRM: 
With CRM software, you can stay competitive and build long-lasting relationships with your customers. 
A few examples:
Home Service Providers: (Landscaping, Patio Repair, HVAC): Track customer preferences so you can provide personalized service and upsell additional services. Schedule regular maintenance appointments automatically. 
Retail Stores: Create email lists for  blowout sales, track customer purchasing habits and help to identify customer trends to make inventory decisions. 
Realtors: Manage leads and appointments, create mailing lists, and follow up with interested buyers. 
Depending on your industry, there might be a standard CRM provider built especially for businesses like yours. If you're not sure, here are a few popular options that serve thousands of businesses:
HubSpot CRM – HubSpot is a popular choice for small businesses because it offers a wide range of features and tools for free. It's easy to use and integrates with many other tools, such as Gmail and Google Drive. It offers a versatile overall solution for many different types of businesses. 
Zoho CRM – Zoho CRM is an affordable and easy-to-use CRM that offers a range of features, such as lead management and email marketing. It also offers a mobile app, making it a great option for businesses that need to manage customer relationships on-the-go.
Freshsales – Freshsales is a CRM designed for small businesses that offers features such as lead scoring and automation. It's also affordable and offers a free plan for businesses with limited needs.
Monday.com – Monday.com has an easy interface that allows for task creation and management. The work flows are customizable and it's easy to centralize client communication, making it a good fit for any type of business. Once you have your CRM set up, this will be your centralized location for all customer data and information. You're now free to nurture your past customers, automatically, and keep them coming back while you build your business for your future customers.
Other ways to fill your bucket:
Have you ever seen those raffles at restaurants or salons where they offer a prize if you fill out a form or drop your business card into a bucket? 
Unfortunately, they aren't doing that out of the goodness of their heart… They're using it to build up their mailing lists. And so should you!
Offer prizes, raffles or giveaways to use as an incentive for people to fill out their information. Now that you have their information, you can send them personalized direct mail with general offers to keep them coming back.
Send out surveys or feedback forms after appointments. This will also help you receive any feedback on how your business is doing. 
During sales or customer service interactions, encourage all of your employees to collect the customer information of whoever they are speaking with.
Use that data to create highly personalized direct mail campaigns:
Now that you have your customer data, you can use that to send highly personalized direct mail to catch their attention. 
A few great ways to use this customer data and draw customers in are:
A postcard that features products that are back in stock that the customer has purchased in the past
Sending an offer/coupon for a product or service they haven't purchased in a while
A personalized postcard with the customer's name to incentivize them to come back  
Holiday postcards

using their name and offering a coupon or discount for something they typically buy
Life events with personalization for that event, for example a home purchase date, anniversary, pet birthdays, weddings
A birthday offer, or anniversary offer
Conclusion:
Collect and maximize first-party data to tailor direct mail to each of your customers, increasing the chances of engagement and conversion. In other words, turn your customer information into revenue. When you're ready to execute, make sure you have the right partner to help you maximize your database and get the most ROI from your campaigns. GrowMail is a leading direct mail marketing vendor for automation and personalization. Our marketing consultants have 20 years of experience delivering results for businesses with our full suite of marketing solutions. Ready to begin exceeding your marketing goals? If so, book an appointment with a GrowMail marketing consultant today.
Start Leveraging Your First Party Data With GrowMail Today!