One of the main benefits of EDDM campaigns is the fact that they're so easy to start. But for some people, starting out is the hardest part. That's especially the case if you've never sent EDDM on your own before. That's because the process of choosing the right EDDM mailing routes is much easier said than done. And failing to do it properly could lead to your valuable time and money being wasted. If you're unsure of how to get your EDDM campaign off the ground, keep reading. The insights shared below could serve as the perfect launching pad for selecting your EDDM routes and getting your EDDM campaign started.
Why Is Choosing The Right EDDM Routes Crucial to the Success of Your EDDM Campaign?
Understanding how EDDM differs from saturated mail or targeted mail campaigns is truly essential for getting your desired results from your campaign. That's why the first thing you need to know about EDDM is that mail sent using EDDM gets delivered to every household within a selected route. This eliminates the need for mailing lists. Unfortunately, this guideline also eliminates the potential for added personalization.
That means you need to go above and beyond to create a mailer that resonates with your recipients. While this may seem daunting, taking the right steps to make sure your audience finds your message relevant and compelling is simple. That's because you can always rely on the pros at GrowMail when it comes to crafting and designing your postcard, along with selecting your EDDM routes. If you're more comfortable taking the DIY approach, keeping the steps below in mind as you embark on your EDDM campaign is key to exceeding your goals.
Step 1. Use GrowMail's EDDM Map Tool For Demographic Insights About Your Potential EDDM Routes
The first step to choosing the right routes for your EDDM campaign is to do some research about the areas you're considering mailing. That's where GrowMail's state-of-the-art EDDM Map Tool enters the picture. Let's say you have an auto repair shop that just opened, and you have several zip-codes you're thinking about mailing. If you're trying to drum up more new business for the auto repair shop, you can use the map tool to identify the highest-earning zip-codes near your shop.
This allows you to send postcards advertising your services to higher earners who may be willing to spend a little more on add-on services. The GrowMail EDDM Map Tool identifies several critical demographic insights regarding your potential EDDM routes. These insights include the number of residential addresses, as opposed to commercial ones, the average age, income and more. Considering that the GrowMail EDDM Map Tool is completely free of charge, it should serve as an essential asset for your campaign.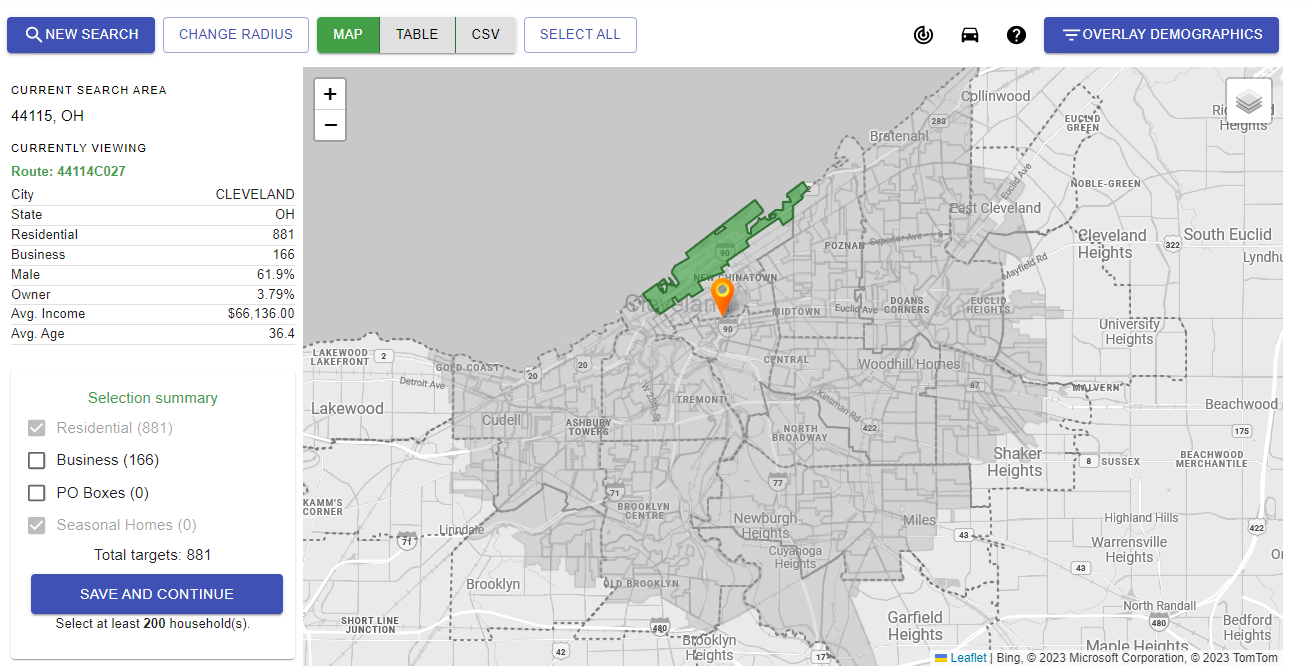 Step 2: Determine Which Demographics Would Benefit Most From Your Mailer
No two businesses are exactly alike. For some businesses income size per household may be the most pertinent demographic factor that informs whether or not an EDDM route is worthwhile. For others, that factor may be whether an area has more homeowners than renters. Regardless, when marketers are successful with EDDM campaigns, it's because they have identified and resonated with their target audience. In order to do that, you need to understand who is on the receiving end of your mailer and provide them with news they can use.
For instance, let's pretend you have a heating and cooling repair company you're considering doing an EDDM campaign for. An area with a low concentration of homeowners would be an awful potential EDDM route because renters simply call their maintenance man if something breaks. On the other hand, an area with home ownership rates of 70% or more may be higher up on your list of potential EDDM routes. That's the case because many homeowners don't have the time, skill (or desire) to repair things that break down around the house. 
Determining the ideal audience for your direct mail campaign is a step you can't skip over because this informs the nuts and bolts of your campaign. You can't begin constructing the most important elements of your mailer, including your promotional offer, call to action, and design until you know exactly who you're talking to.
Step 3: Partner With a USPS-Approved EDDM Vendor For Your EDDM Campaign
If the process of finalizing your EDDM routes makes you nervous, that's okay. The team at GrowMail has a long track record of success when it comes to helping business owners and marketers of all skill levels begin winning EDDM campaigns. That track record is part of the reason why GrowMail has the distinction of serving as one of only six USPS-approved EDDM vendors nationwide. Our knowledgeable and experienced team of marketing specialists can walk you through the process of executing your EDDM campaign from start to finish.
Unless you're well versed in the world of EDDM campaigns, it's completely normal to have questions about finding the best mailing routes. If you're ready to select your EDDM routes, but still have questions about things like sizing guidelines, timing, or pricing we're more than happy to answer them. EDDM is one of the most effective, affordable marketing solutions you have at your disposal – and we want to help you use it to its full potential.
Start Your Next EDDM Campaign Today With GrowMail!
Getting the results you desire from your EDDM campaign is easier than you think. But your success truly depends on your ability to select the right routes for your campaign. If you need guidance when it comes to choosing the right EDDM routes, the marketing specialists at GrowMail are glad to assist. To get your next EDDM campaign up and running, book a free marketing consultation with GrowMail. We've been helping marketers exceed their goals with EDDM campaigns for more than 20 years. To learn why so many businesses continue marketing with GrowMail, book your free consultation today!
Book an Appointment With a GrowMail Marketing Specialist Below