As the summer slows down, now's the time for real estate agents to kick their marketing up a level. That's especially true considering how quickly the holiday season is approaching. Finishing your year strong is as simple as relying on proven real estate postcard marketing strategies like the ones we'll discuss below. The results that a strong postcard marketing campaign can yield are immense. Continue reading below for insights that are capable of helping you have a memorable end to your year.
Leverage a Direct Mail API That Adds Personalization to Your Mailers
Nowadays, putting all your eggs in the basket of generic marketing is one of the worst mistakes you could make. Marketers across all industries are prioritizing personalization, delivering tailored experiences to audiences. That's why a direct mail API that allows you to leverage your first party data to create personalized marketing messaging is essential. Sending a well-designed postcard that personally addresses the recipient by their name, and includes a reference to the city that they live in, will likely resonate with recipients better than a mailer with lots of placeholder text. 
A direct mail API is one of the most effective resources for providing audiences with personalized messaging. Getting started with a direct mail API that allows you to use your customer data in campaigns is easier than you think, too. GrowMail's Direct Mail API allows you to easily put your valuable customer data to use. That's because it can be integrated with your CRM. Including personal details, like a recipient's first name or current city paired with a stellar design could be exactly what it takes to grab the attention of your audience. 
Include Your Data to Share Valuable Market Insights
You can't sell homes without earning trust first. One of the quickest methods for developing trust among members of your audience who may be skeptical of your services is by providing valuable information. If there are changes or newsworthy developments within your local housing market, sharing this information with local leads could be a great method for earning their trust. Providing audiences with this type of information could additionally be responsible for motivating your leads to begin exploring their options for finding a new home.

Imagine sending out a mailer to your audience containing helpful data regarding the rising median home sales price in your area. An older couple toying around with the idea of selling their home receives it and decides to call you to get an appraisal. Long story short, they wind up moving all because of the informational mailer you sent out. Considering how busy your leads probably are around this time of year, it's fair to assume that they might miss out on some valuable information that could impact their decision. Providing those insights could be what sets you apart from other real estate agents in your area.
Track the Results of Your Campaign With One of The Below Methods
Without a method for tracking your campaign, you can't gauge the success of your real estate postcard marketing strategy. If you're unfamiliar with your options for tracking the results of your campaign, they include:
Tracking Phone Numbers





You already know about the importance of including a contact method in your postcards. But adding a tracking phone number to your real estate postcards does more than allow leads to easily contact you. By adding a tracking phone number to your postcard, it allows you to associate home sales that resulted from the call back to your real estate postcard marketing campaign.
Custom URL & Landing Page





Including a custom URL onto a landing page that takes recipients to a unique landing page can also provide you with valuable insights. A custom URL also helps your mailer stand out. After all, it's not often that recipients receive mailers that contain a website with their first or last name in it. And they can provide brand reinforcement by ensuring the branding on your landing page is consistent with what recipients see on the postcards you sent.
QR Code





Even though you're more likely to associate them with your local bar or restaurant, QR codes can be particularly helpful. Another way you could capture the attention of audiences while collecting the insights you need is by including a QR code in your postcards. Including QR codes on your postcards allows you to quickly and easily see how many recipients actually engaged with your mailer.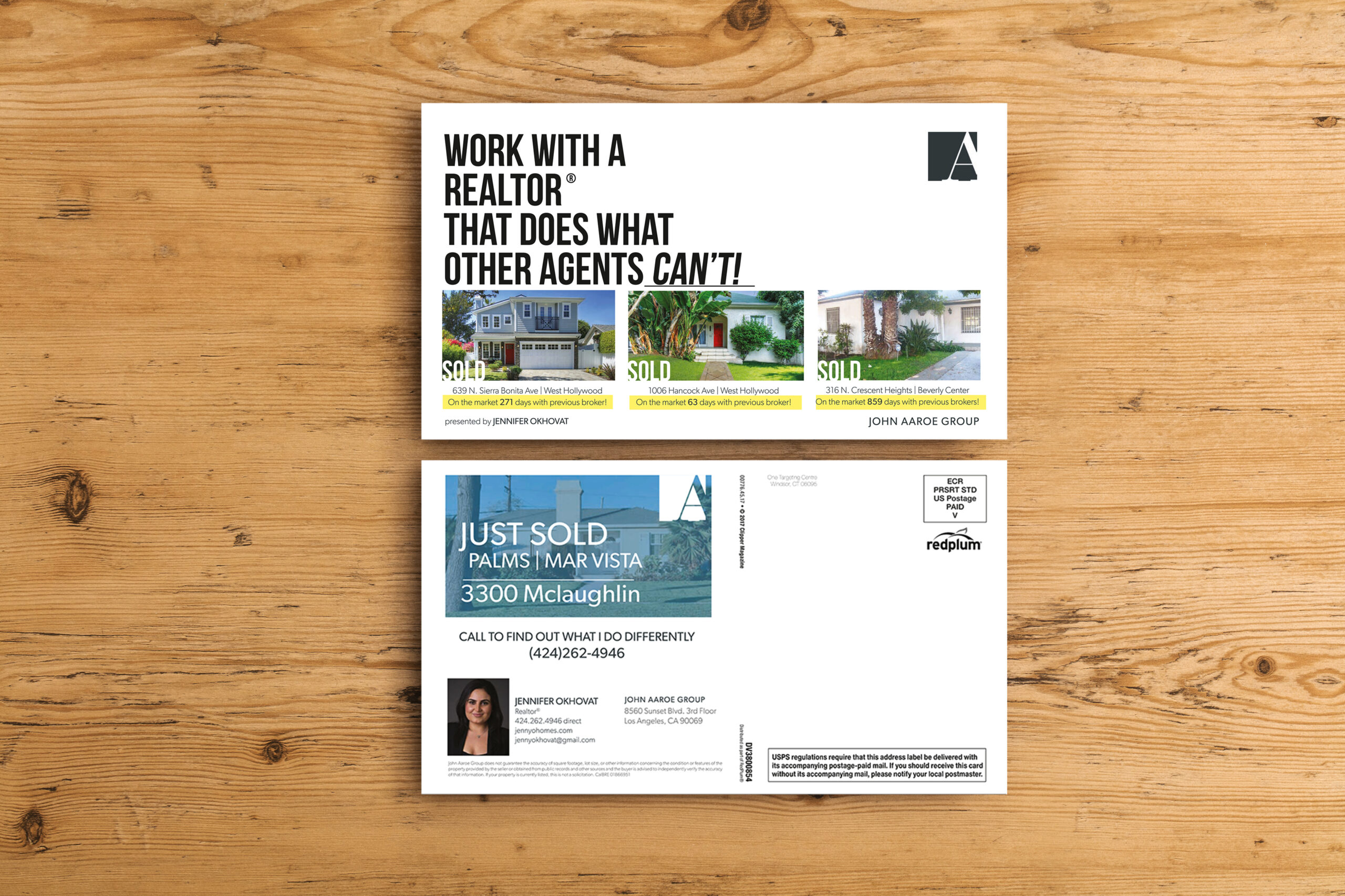 Combine Your Real Estate Postcard Marketing Efforts With Your Digital Marketing Strategy
Don't forget that your audience doesn't consume information from just one specific source. Sharing content on your digital channels is crucial. But you have to consider that there are people offline who might be interested in what you're saying, too. That's why combining your on and offline marketing strategies is a must. Some suggestions for combining them include:
Share Positive Online Reviews & Comments





Online reviews are among the most effective resources you have for winning over new customers. Making them a focal point of your real estate postcard marketing strategy could help deliver the results you need. Imagine checking the mailbox and finding two mailers from competing realtors. One contains multiple five-star Google reviews, while the other contains basic sales copy. It's probably fair to assume the realtor who sent the first mailer would get your business instead of the latter.
Include Photos of Recently Sold Homes





Often enough, people don't want to be the first to take the leap. Show recipients understand that your track record of success by displaying the homes that you've sold recently. Doing so may prove to your leads that you can be trusted to get the job done.
Tell Recipients Where You're Active On Social Media





You never know who might have questions about getting their home sold in the middle of the night. By including the social media channels where you're most active, recipients can leave a comment or message whenever they please. This allows you to respond at your earliest convenience. Informing your recipients which social media channels they can follow you on is a great way to build lasting connections.
Begin Implementing These Real Estate Postcard Marketing Strategies Ahead of the Holidays With GrowMail!
The leaves are falling, but your sales can do the opposite with a sound direct mail strategy. Start using real estate  postcard marketing strategies that deliver results with GrowMail today. GrowMail has 20 plus years of experience constructing campaigns for real estate agents. That experience allows us to provide you with techniques designed to help you finish your year strong. Book a no-obligation consultation with a friendly, knowledgeable marketing specialist below to begin capitalizing on the power of direct mail.