If you're a real estate agent in a popular market, you have your work cut out. As you've probably seen, social media is flooded with agents trying to make a name for themselves. And chances are that you're competing with everyone from seasoned veteran agents in your area, to the stay-at-home mom that sells houses on the side. That's why knowing how to execute a highly effective real estate postcard marketing campaign is a must.
If you're seeking another channel to find new clients, keep reading. Below, you'll learn how real estate agents are engaging audiences using proven postcard marketing tactics.
Elevate Your Approach with Professional Photos
When marketing your services to potential clients, it's important to give them a sense of who they'll be working with by giving them a sample of your professionalism. 
If you haven't already, we highly recommend taking professional headshots. Professional photos of homes that represent your audience's market also work. 
Most agents have real estate photographers that they work with. But if you don't, it's well worth working with a professional who understands what type of photos appeal to clients. We'll outline below how you can tailor your campaign from photos to personalized direct mail advertisements based on your list.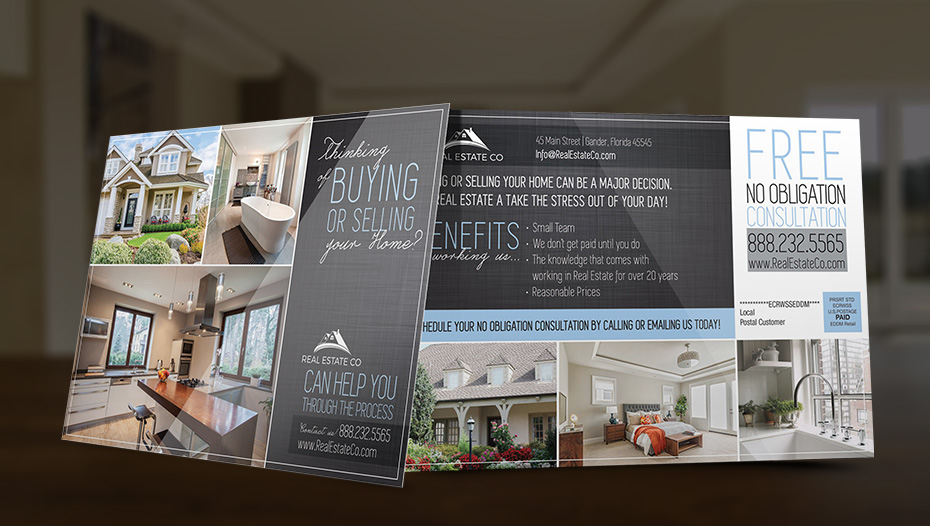 Set Up a "Home" Run Campaign by Picking the Right Delivery Method
Here are a few options to choose from regarding mail delivery. It's important to choose the option that best matches your goals. 
Every Door Direct Mail (EDDM): EDDM is a cost effective method to deliver mail to every house along a mail carrier's route. These lists are not targeted and can be a great option to hit every house in a specific area that you think potential clients will be. 
Targeted Direct Mail: With Targeted Direct Mail, you can build a customer list with options like location, age, income, marital status, home ownership and more. This option helps you hit specific individuals in your market rather than specific areas.
New Mover Direct Mail: Explore this choice if you want to be one of the firsts to welcome to the community, and build a relationship with them. This is a great way to find renters who could become potential buyers or just be the first agent they meet in your area code. 
Automated Direct Mail (API):  Integrate your CRM or mailing list to deliver direct mail to your customers. If you have a system that helps you keep track of client customer information, this is a great system to keep in touch and send them quarterly or yearly reminders, market updates and other materials to stay top of mind.
Draw in Buyers with Personalization
Personalizing your direct mail is a best kept secret that can help you maximize response rates to your mailing lists. 
In a nutshell, you can change the content of your postcard or letter based on the type of recipient. 
For example, you can target certain neighborhoods and use different photos in your postcard based on their estimated price range. You can even use their first and last name to address them personally on the card and mention their area specifically in the text. 
Work with a GrowMail consultant to learn more about how to best segment your mailing lists for personalization.
Execute Your Real Estate Postcard Marketing Campaign With the Right Provider
When it comes to choosing the right direct mail partner, it's important to pick one that understands what you're trying to achieve as a real estate agent so they can deliver results for your business. 
You want a provider who functions as an advisor rather than an order taker so you can trust their expertise. Otherwise, you might be on the hook to make costly decisions yourself. 
Ideally you want a service provider that can help execute the campaign from end-to-end, including design, pre-campaign planning, execution, and post campaign evaluation. Partners like GrowMail, function as advisors, providing top of the line guidance for each step of the campaign.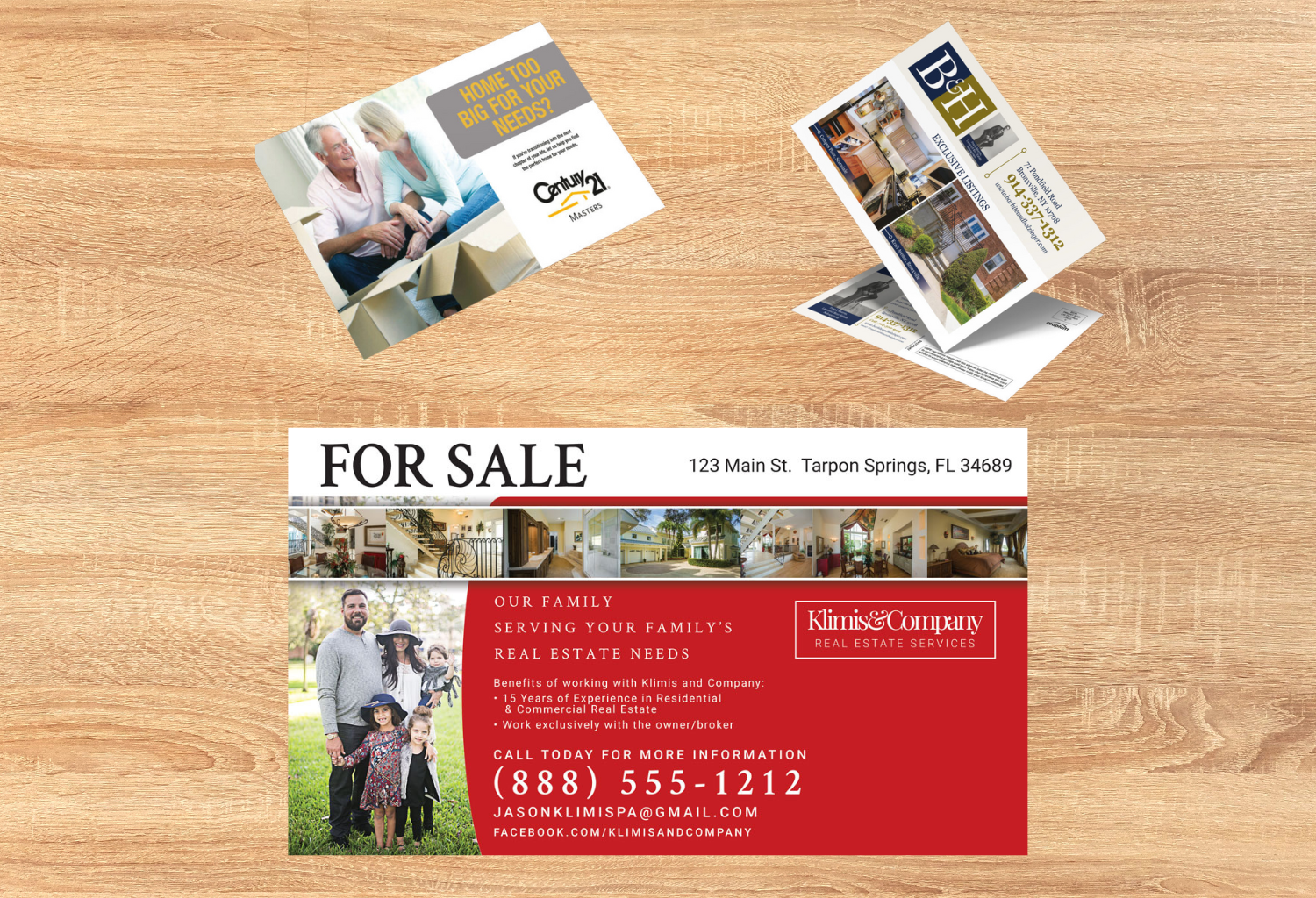 Close the deal with a strong Calls-to-Action
With your mailer, you want to highlight a specific call-to-action for your potential clients that drives urgency and outlines clear next steps for them to work with you. 
Here are a few options to consider: 
Example: "Want to see what your home is worth? Book now"
Some people aren't thinking about selling their house but might change their mind if they find out how much it's worth. Offering an appraisal is a great way to find sellers and listings. 
Point out a problem you can solve 
Example: "House not selling fast enough? Book a consultation now."
Pointing out a problem that you can solve is a great way to capture attention from those who are unhappy with their current agent or maybe are hesitant to take action because they're worried about friction. 
Example: "Call now to work with the #1 Real Estate Agent in the Valley."
It's always a smart idea to differentiate yourself in a sea of competition. Find out what makes you special and use it to stand out. 
Track Leads From Your Real Estate Postcard Marketing Campaign
Tracking is important because you receive insights on the backend capable of helping you make decisions about what markets and customer types are most receptive to your messaging. Tracking also reveals which methods you're using that aren't so effective. 
Here's a few ways you can track your postcard customers:
Landing pages: Use personalization to give each postcard a custom URL to direct to a special website/ landing page for the campaign. Also called, PURL, they will be tracked and give your recipient a place where they can go online to make an appointment with you.
QR Codes: Give recipients a scannable option with a quick call-to-action to get directly to your landing page. The scans can be tracked and it'll give them an interactive way to discover your services. 
Coupon Codes: This option is typically used for businesses that sell a product. But if you're offering a discounted service, such as an appraisal, you can use a trackable coupon code for your reader to redeem. 
Unique Phone Numbers: Work with a service or toll-free number that reports analytics on callers. You can include a unique phone number on your advertisement.
Execute Your Next Real Estate Postcard Marketing Campaign With GrowMail
As a Real Estate agent, using a postcard marketing campaign is a great way to connect with potential new buyers and sellers. 
Implementing a postcard marketing strategy is a proven, cost-effective way to get more clients. To work with an expert who can help with all of the other components, schedule a free consultation with GrowMail. 
With over 20 years experience with helping businesses get results, GrowMail offers a consultative approach with a  full suite of marketing tactics. 
If you're ready to begin getting results from your marketing efforts, book an appointment with a GrowMail marketing consultant.
Book An Appointment to Discuss Constructing a Real Estate Postcard Marketing Campaign Below