As hard as it is to believe, spring has sprung and summer is just around the corner. Some people might be spooked to look at the calendar to see that we're already a quarter of the way through the year. Regardless, if you haven't started thinking about potential postcard marketing campaign ideas that could move the needle for your business, now's the time.
With that said, preparing for all the marketing opportunities for this time of year is daunting. So here's everything you need to know to create postcard marketing campaigns capable of making an impression amongst your audience this spring and summer:
Mother's Day
May 14th, 2023 
Special Discount for Mom:
Offer a special one-time offer to your salon/spa, store or restaurant for Mother's Day to make your business the way they treat themselves on that special day. 
Mother Day Celebration Invite:
If you're a real estate agent or a similar service business that can't offer a one time sale, you can still surprise and delight your audience with a memorable Happy Mother's Day card. If you have the resources, personalize it to show how much you care.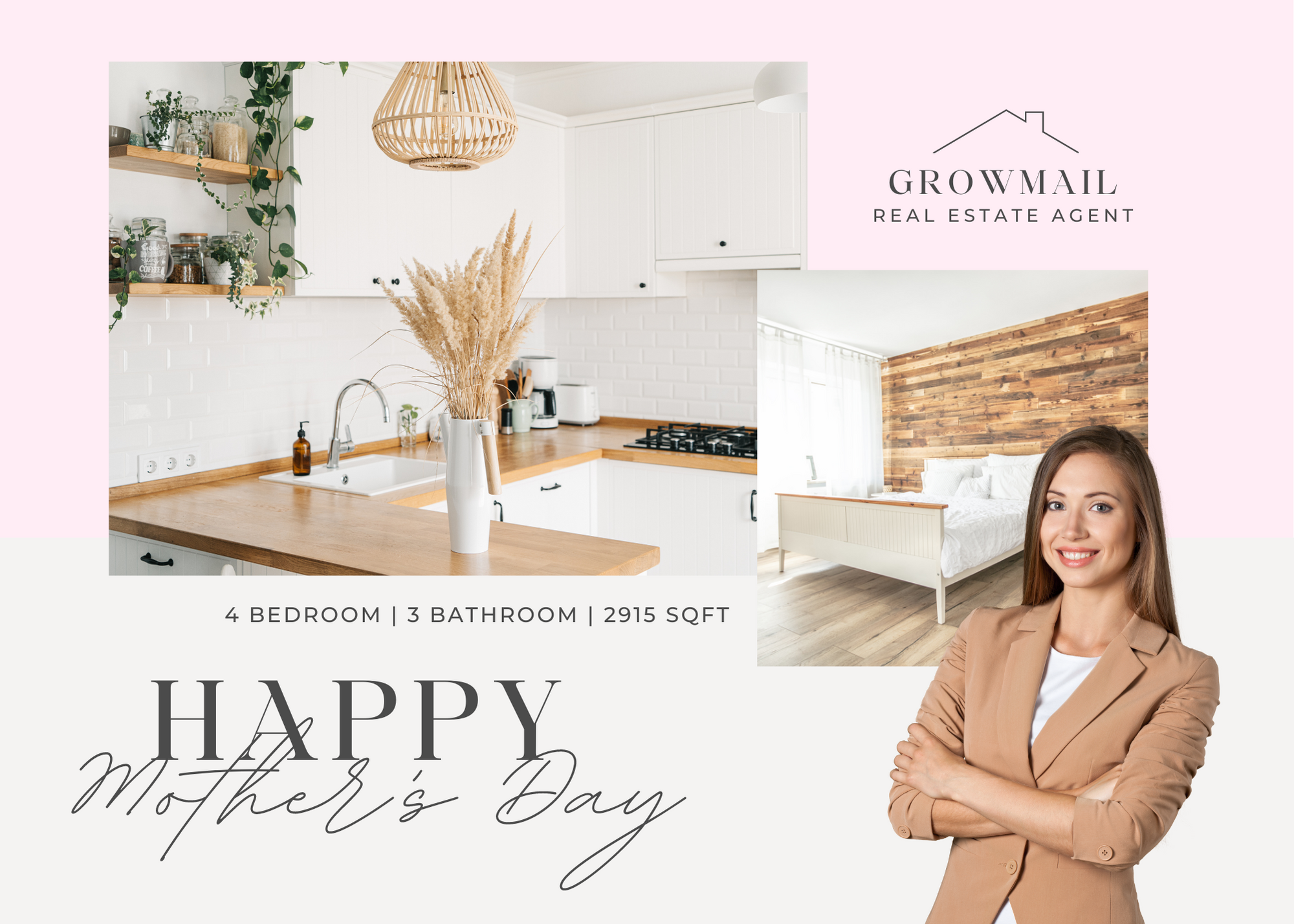 Pro Tip: Use targeted direct mail and personalization to make sure you hit the right audience at the right time.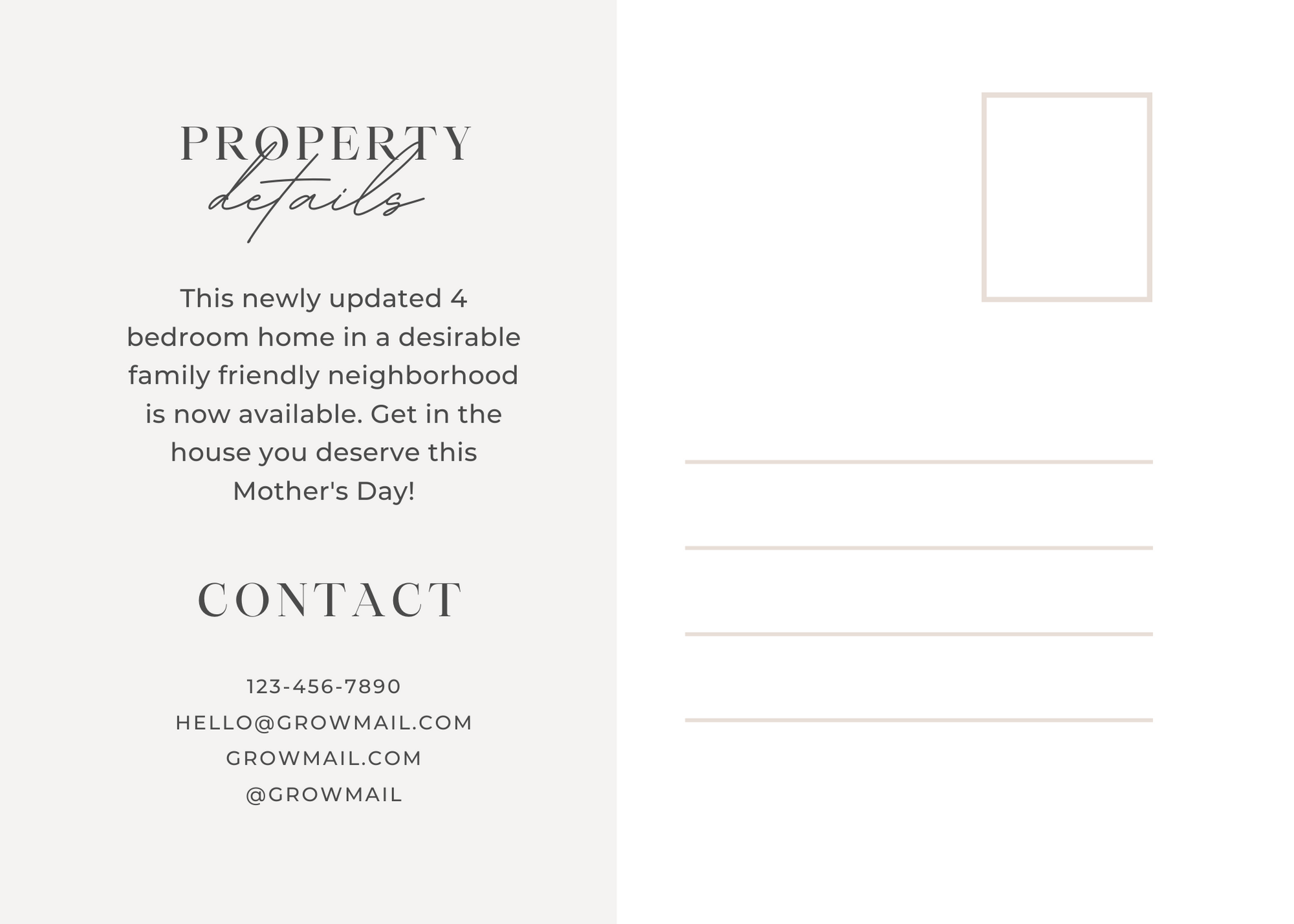 Fathers Day 
June 18th, 2023 
Special Discount for Dad:
Make your business the spot for Dads in mid-June by offering 20% off haircuts or a special discount on any products Dad might like. The possibilities are endless, ranging from grooming products, to grills.  
Celebrating Dads:
If you're expecting a busy father's day already or you don't sell any specialty Dad products, just give a shout out to all the Dad's in your community. This has the potential to make a major impression for a later date.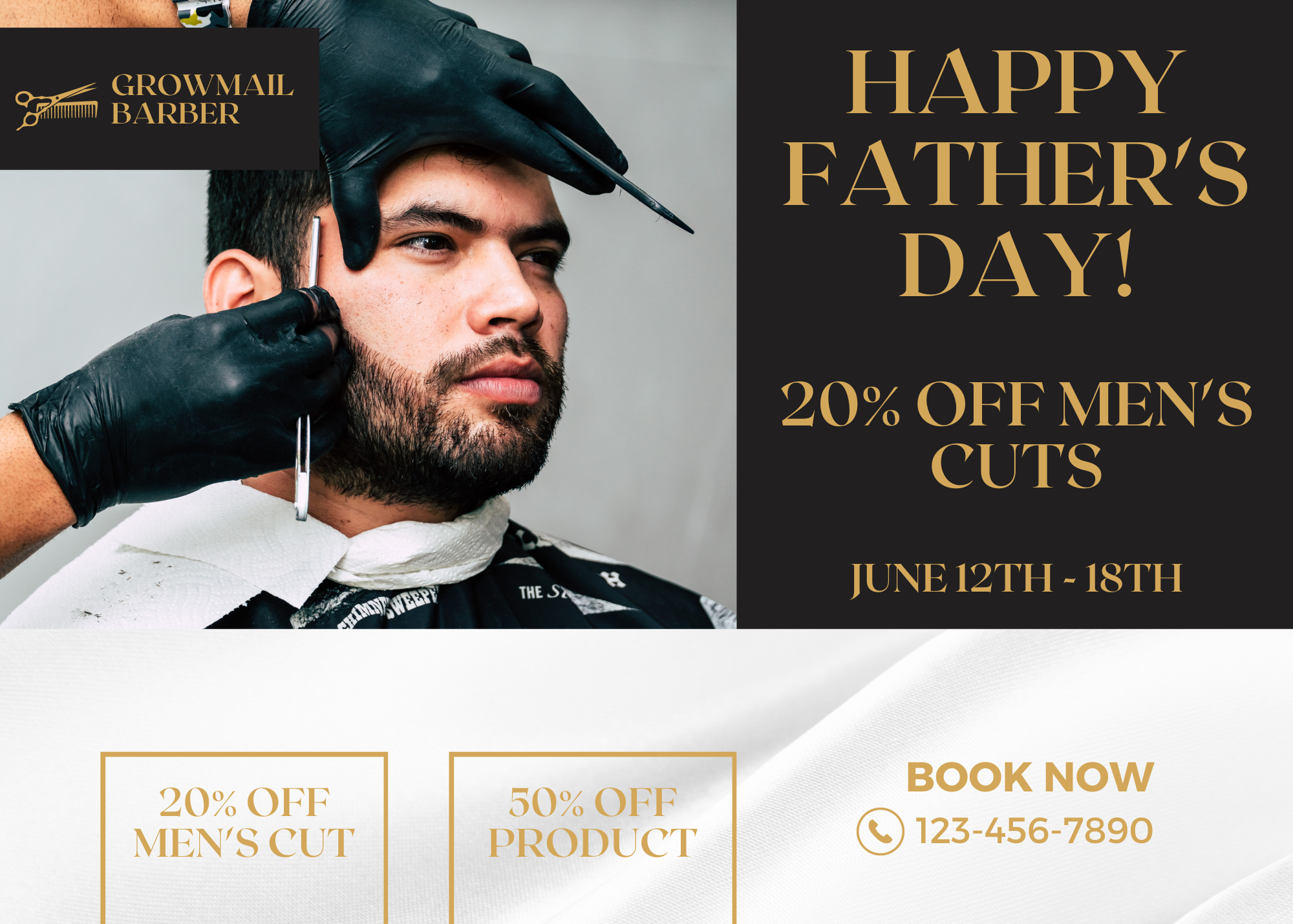 Pro Tip: Use your CRM and GrowMail Automation API to send a personalized direct mail postcard to all of the Dad's who already love your business. Win back the Dad's who haven't been back in a while.
Memorial Day 
May 29th, 2023
Memorial Day Sale:
Not everyone gets the day off work for Memorial Day. But those that do usually are enjoying the fun in the sun to kick off the summer, or shopping for holiday sales. If you plan on having a blowout Memorial Day Sale, you won't be alone. Use vibrant, personalized postcards to position your business as the one to think of on the sunny, patriotic holiday.
Honoring Vets:
Stand out by showing your support for those that might be spending the day in remembrance or mourning a lost one. Especially if your business is veteran owned or connected.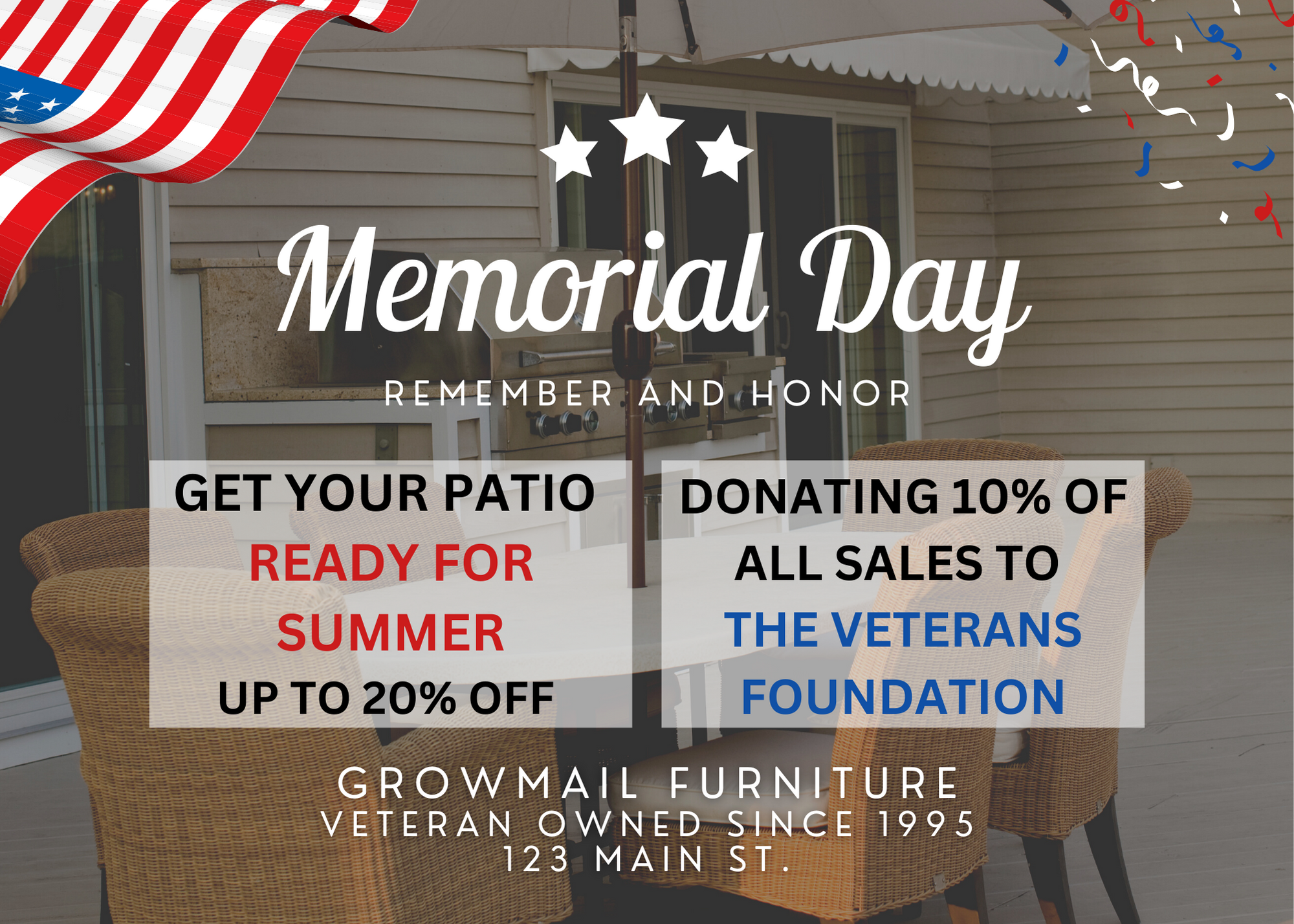 Pro Tip: Work with a consultant to get a free design quote. Our graphic design team has a passion for intelligent thinking and creative design that creates a lasting relationship with your audience.
Fourth of July
July 4th, 2023
Get Summer Ready:
4th of July in the USA revolves around fun, food and fireworks. Make use of patriotic themes, fun in the sun, and specials/sales in all of your Independence Day postcard marketing campaign materials. For home service providers, this is an excellent opportunity for a midsummer check in to offer AC service, pool cleaning, and yard service before barbeques.
Free Seasonal Gift:
Offer a gift with a purchase for the big holiday. This can be in the form of discounts, buy one get one free or even a free seasonal gift if they come to your store. Heat up your business by helping them cool off.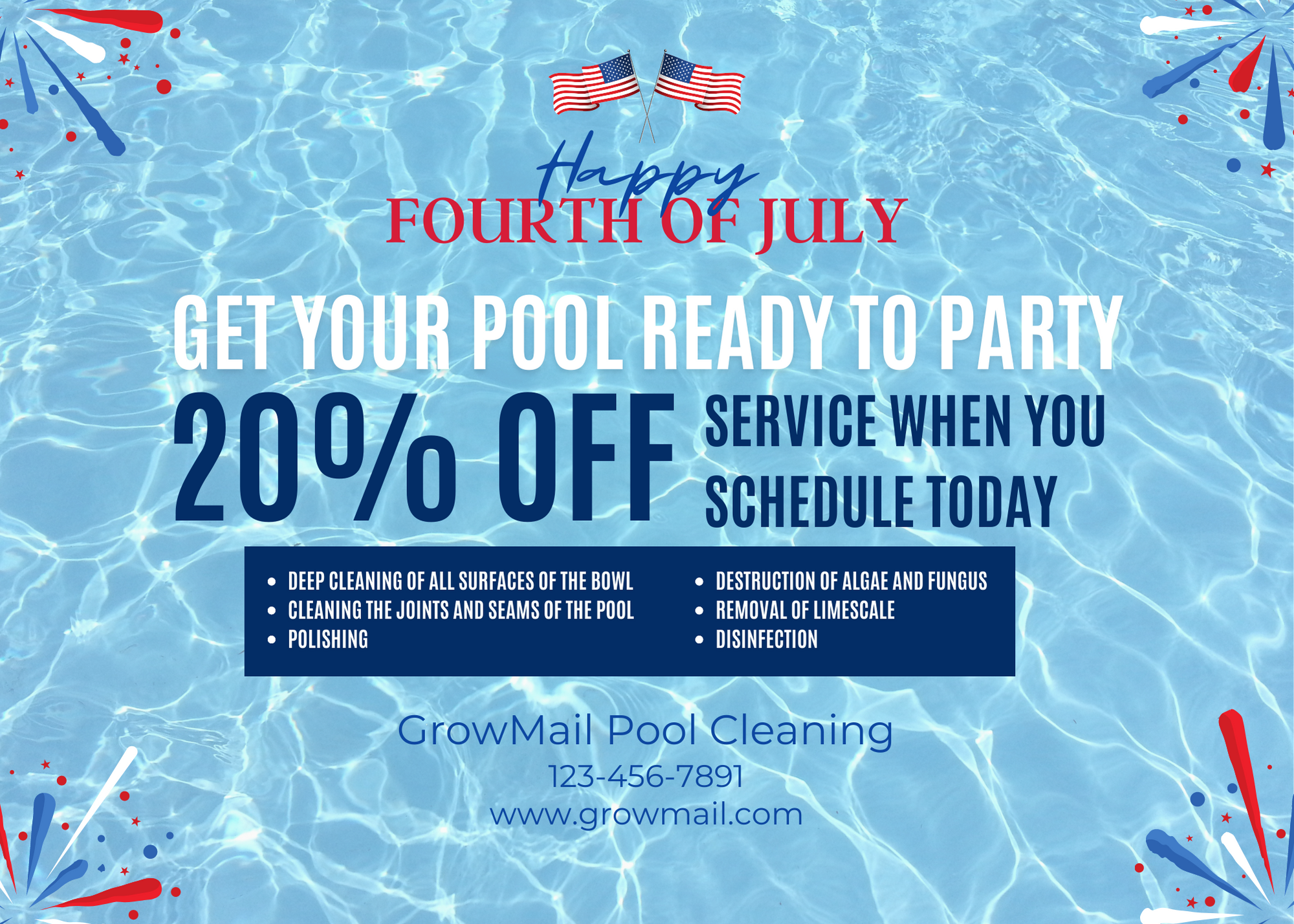 Labor Day
September 4th, 2023 
End of Summer Specials:
Labor day marks the unofficial end of summer and the start of fall. Executing a postcard marketing campaign right around Labor Day could create an ideal touchpoint with your audience who may have been too busy soaking up the sun to engage with your brand beforehand. Providing audiences with with seasonal promotions like Labor Day Clearance Sales, final pool cleaning for the season, or tree and lawn touch-ups could be exactly what it takes to end your summer with a bang.
Getting Ready for the Holidays:
Believe it or not, this is the perfect time of year to begin strategizing for the holidays. You can't begin engaging with your audience around Thanksgiving, and expect your brand to be at the top of mind once Christmas and Hanukkah come around. Executing a postcard marketing campaign that gets your brand in front of your audience in the months well before the weather gets cold is the key to crushing your goals during the busy holiday season.
Pro Tip: If you're feeling creative, learn how to design your own advertisements with Canva. Get them printed and delivered easily with our Build and Price Tool.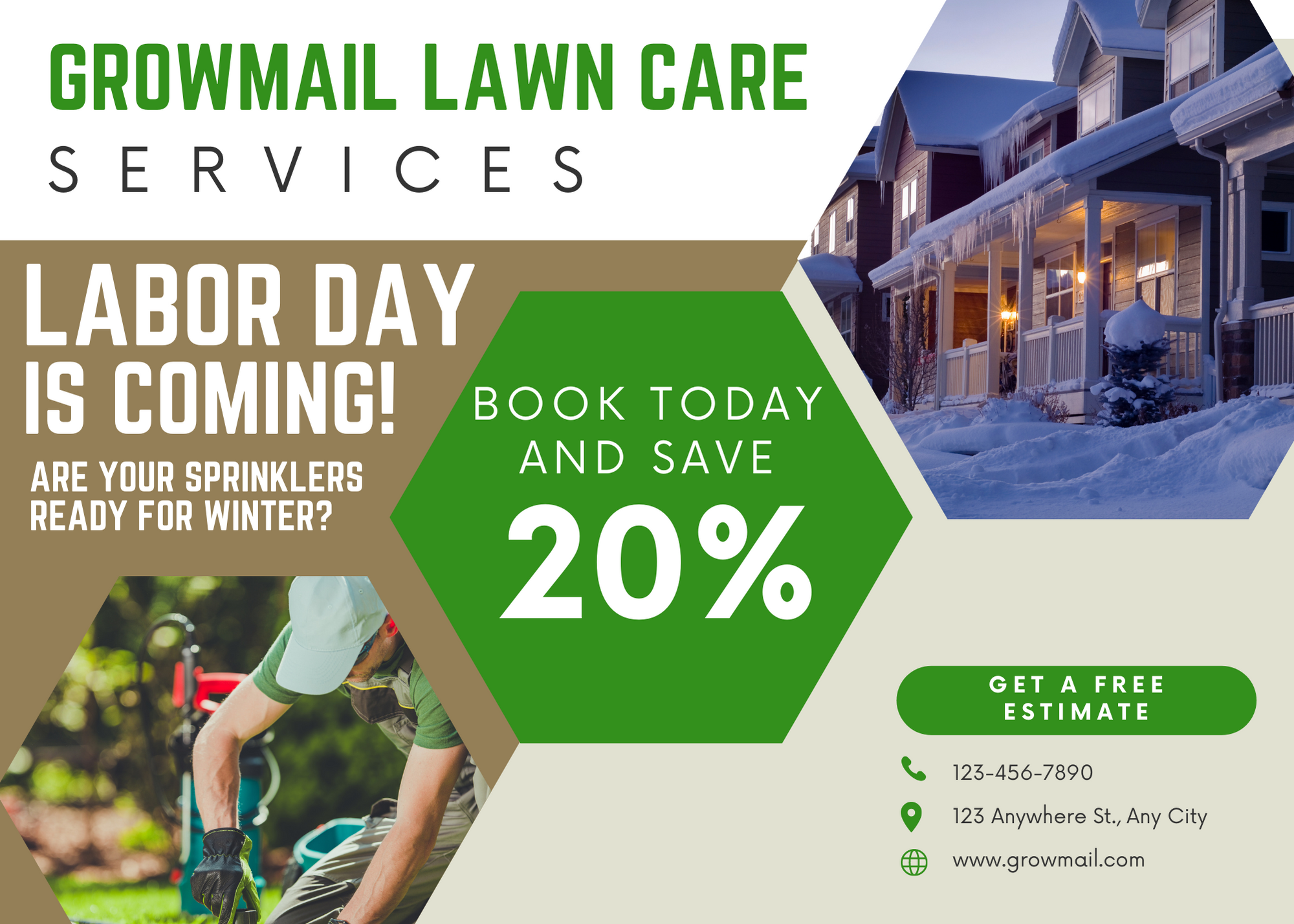 Tips for Maximizing a Spring and Summer Postcard Marketing Campaign
To take any postcard marketing campaign to the next level, you need to be sure that you're tracking your leads. Tracking helps you understand the ROI you're getting from your campaigns so you can make decisions on what needs correcting and what's working.
Here's a few things to think about:
Create a unique landing page with its own URL for the postcard. That way all visitors are tracked and you know each one came from your postcard. From there you can track conversion rates. On top of that, you can personalize landing pages in the same way you can personalize your advertisements. 
Work with a URL shortening service or do it yourself with Bitly.com. You can give each campaign it's own URL to your landing page or even personalize each one for easy access. Example: www.website.com/johnsmith.
QR codes make it easy for your recipient to quickly bridge the gap between the physical world and the digital world to discover your business from. From there, they can be lead to a form for booking appointments. 
Offer a coupon code for your sale with a unique identifier for your campaign. They can use it during appointment bookings, at check out, or over the phone. 
Work with a phone software company or a toll free provider to get a unique number for the postcard. Each caller will be tracked and you'll get access to data on bookings and appointments.
Kick Your Summer Postcard Marketing Campaign Off Today With GrowMail!
The summer heat is coming and your business is about to get hot. Postcard marketing is a proven, cost-effective way to reach your audience and generate leads that could blossom into long-time customers. You can begin reaping the benefits of a well-constructed postcard marketing campaign this summer by partnering with GrowMail.
GrowMail offers everything you need and then some to get better results from your marketing efforts. Our marketing consultants have 20 years of experience delivering results for businesses with our full suite of marketing solutions. Ready to begin exceeding your marketing goals? If so book an appointment with a GrowMail marketing consultant today.
Book An Appointment To Begin Constructing Your Postcard Marketing Campaign Below